I just finished making my way through about half of a video of the Argument of the Month Club debate between Christopher Ferrara and Mark Shea on the question:
Has the modern Catholic Church effectively abandoned the Great Commission?
I have to say, even though I don't see eye-to-eye with Mark Shea's position overall, it looks like he did a pretty decent job of stating his case, and if nothing else, he deserves kudos just for accepting the challenge.
Seriously; you couldn't drag me into a public debate against Chris Ferrara at gun point!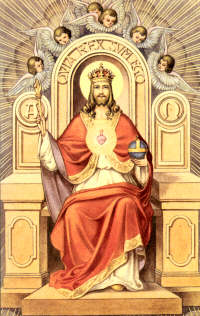 In any case, the point I wish to raise here is simply this:
When our churchmen are no longer willing to proclaim the Social Kingship of Christ, not just by way of mere inference, but loudly, clearly and unambiguously such as it is expressed in the Encyclical of Pope Pius XI, Quas Primas, then there can be no doubt whatsoever that they have effectively abandoned the Divine Commission.
This being the case, the question posed to Messrs. Ferrara and Shea could just as easily been stated:
Has the modern Catholic Church effectively ceased to proclaim the Social Kingship of Our Lord Jesus Christ?
Even Mark Shea would presumably concede that the teaching expressed in Quas Primas is nowhere to be found in "modern Church" preaching, most notably such as it comes to us from the lips of the popes.
In the book, They Have Uncrowned Him, Archbishop Marcel Lefebvre recounted a conversation that took place between himself and Bishop Ambrogio Marchioni (Apostolic Nuncio to Switzerland, 1967–1984) as follows:
Archbishop: "But the social Reign of Our Lord Jesus Christ, what are you doing about this?"
Nuncio: "You know, that is impossible now; perhaps in the distant future?… Right now, this Reign is in individuals; we have to open ourselves up to the masses."
Archbishop: "But the encyclical Quas Primas, what do you do with that?"
Nuncio: "Oh… the Pope would not write that any more, now!"
The witness of the past fifty-plus years indicates that the Nuncio was absolutely correct. In fact, it seems rather evident at this point that the unwillingness of our popes to preach the doctrine transmitted in Quas Primas is because they no longer believe it to be true!
And why is it that they no longer believe it to be true?
Simple – they are sons of the Council.
As such, our churchmen are fully committed to the pluralistic version of religious liberty put forth in Dignitatis Humanae, wherein the Council Fathers insist that governments are to grant a civil right to religious freedom to those who reject Jesus Christ and oppose His reign, and this apart from upholding the obligation to seek the true religion and adhering to it once it is found.
This constitutes an unprecedented betrayal of the Church's mission, the likes of which has never been seen before.
The best that even the most intransigent devotees of the fatally flawed "hermeneutic of continuity" approach to the conciliar text can do is labor to demonstrate that the Council somehow implies that Christ reigns over the nations.
Even if that were true, in order for Dignitatis Humanae to be considered anything close to a good faith attempt to carry out the Divine Commission, one must first believe that Our Lord really meant to say:
Go therefore to all nations and drop hints as to my all-encompassing authority so that gifted theologians may one day come along to connect the dots for the precious few who actually give a hoot…
As it is, in order to carry out the mission that Our Lord gave to His Church, it is imperative for our churchmen to explicitly and consistently proclaim His Kingship to one and all; especially those who exercise civil authority.
Think about it…
Imagine that your neighbor owns a farm with herds of livestock, acres of crops, an on-sight slaughter house, a packaging facility, and a busy market where all of his goods are sold to the benefit of the entire community.
One day this neighbor tells you that he is going away for a few months, and so he commissions you to instruct his staff on all aspects of running the farm until such time as he returns.
What's more, he lets you know that these instructions are not mere suggestions. If they are heeded, all concerned will thrive beyond their wildest dreams, but if they are ignored, the entire operation will most surely fail and all of the people who depend on it will needlessly suffer.
Upon attempting to carry out this mission, what is the first thing you're going to tell the staff?
Obviously, you're going to begin by letting them know that you speak on behalf of he who has all authority over the entire farm, its goods and its employees; from the lowliest all the way up to the chief supervisor. In fact, given the influence that the supervisors have over the others, you're going to make certain that they more than anyone else understand the source of your instructions.
Apart from announcing this crucially important detail, why should any of them listen to you?
Clearly, they won't, nor should they; in fact, you would do well to escape without a beating. This would be the case even if you tiptoe in like a humble little servant bearing the good news, Hey guys, listen up, here's how you are guaranteed to avert disaster and thrive!
Our Lord knew this. That is why He gave the Divine Commission as follows:
All authority in heaven and on earth has been given to me. Go therefore and make disciples of all nations, baptizing them in the name of the Father and of the Son and of the Holy Ghost, teaching them to observe everything whatsoever that I have commanded…
In other words:
I am the King of kings who reigns over all nations and all things – both spiritual things in the heavenly realm and temporal things right here on earth. Go therefore and let it be known that my teachings are truly nothing less than Divine commands.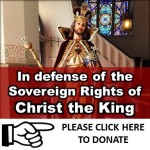 You see, apart from the Social Kingship of Christ and the reality that all authority in heaven and on earth belongs to Him, the Church has no right to teach the nations anything, and to the extent that our churchmen have ceased to proclaim the Sovereign Rights of Christ the King, surely they have effectively abandoned the Divine Commission.