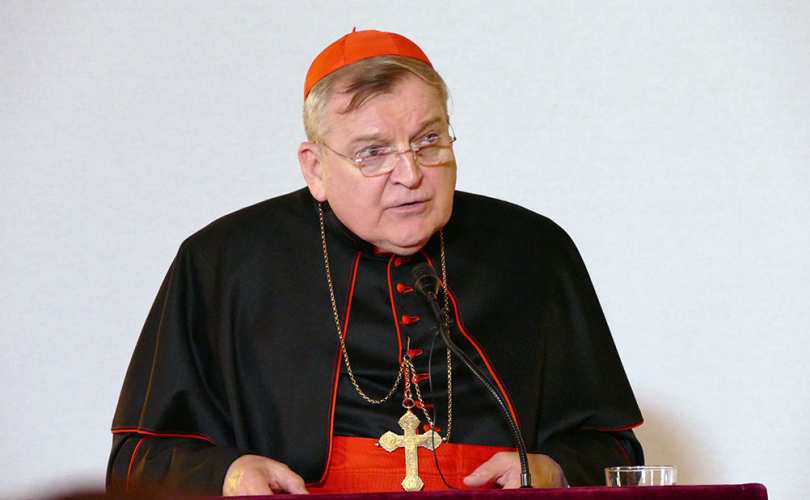 On May 2, yet another petition drive launched in the face of the Bergoglian menace was made public; this one designed to collect the signatures of priests who wish to politely request the bishops' help in addressing the present crisis.
In other words, they are essentially asking the bishops to behave more like fatherly men then like limp wristed lemmings, which is most ironic given that the tenor of the appeal offers a prime example of priestly pusillanimity (or, if you prefer, presbyteral pansiness).
Going by the formal name, Cura Pastoralis (Pastoral Care and Concern), the "Pastoral Appeal to the Bishops for an Apostolic Reaffirmation of the Gospel" is carefully worded to avoid naming the problem.
It begins:
As priests ordained to assist in the pastoral care of God's people, we write to request your help in dealing with a mistaken approach to the Christian moral life that we frequently encounter and that grievously harms those misled by it.
What exactly is this "mistaken approach"?
… the mistaken approach asserts that those who commit objectively evil acts and judge themselves subjectively free of culpability must be allowed to receive Holy Communion … it denies that certain behaviors are always evil and claims that in some circumstances those behaviors are the most realistic good that can be achieved or, indeed, are simply good … [it] declares that those behaviors can be approved or proposed by God.
And where do they "frequently encounter" this "mistaken" (i.e., it's not deliberate!) approach?
They don't say, but every Catholic with an ounce of give-a-hoot knows the answer:
They are having it jammed down their collective throats by "The God of Surprises" – aka Jorge Mario Bergoglio – a flaming heretic who has deified himself to the point where he genuinely desires to see his every diabolical whim embraced by Catholics worldwide as a gift of the Holy Spirit.
The so-called Cura Pastoralis continues:
Although this approach claims to be a new and legitimate development…
What a load garbage! "The approach" doesn't claim anything; Jorge Bergoglio does; primarily in the text of his ersatz "Apostolic Exhortation" Amoris Laetitia, but the authors of the appeal are way too sissified to say so.
On this note, Christopher Ferrara wrote a fairly decent response to this appeal for the Remnant, asking rhetorically:
With all due respect to the distinguished signatories, does not their resolute avoidance of the obvious even tend to render their appeal something of a joke?
Mr. Ferrara correctly referred to their avoidance as "transparently obvious," but if one was to imagine that this is the point; namely, to cleverly make precisely the case that the heretic Bergoglio and his Love Letter to Lucifer are the problems without actually saying so, they would be incorrect.
On May 16, the organizers of the appeal issued a press release stating in part:
Some of the early coverage mistakenly cast the Pastoral Appeal as a veiled criticism of Pope Francis, especially of Amoris Laetitia.
Can this effort be any more pathetic?
Actually, yes, it can.
That the appeal is a joke is obvious enough given that the authors of the text don't have the guts to speak plainly, but if anything truly distinguishes the signatories it is the not so funny errors and contradictions to which they have chosen to attach their names.
For instance:
We believe much of the damage could be healed or mitigated if you were to reaffirm Christ's teachings and to correct those errors with the full authority of your apostolic office.
Nonsense. This is the Council speaking: No need to actually condemn heresy, much less the heretics that are spreading them, just regurgitate the truth and it will magically attract souls to Christ.
The appeal concludes by sheepishly offering ten "affirmations" that the bishops might consider making their own, a number of which cry out for clarification if not condemnation.
For instance:
Christians in communion with God may suffer from ignorance or from impediments to freedom to a degree that mitigates or entirely removes culpability in a particular embrace of evil. Although what they do is actually (i.e., objectively) evil and thus harmful to themselves and others in various ways, they can be personally (i.e., subjectively) not culpable of sin and therefore remain morally unharmed.
There is an obvious contradiction being stated here:
1) Objectively evil acts are harmful – this is true.
2) Objectively evil acts for which one is not culpable are not morally harmful – this is most certainly false.
Any time one is living in opposition to the Divine Law, harm is being done – if nothing else, by virtue of the false witness being given to the ignorant. A lack of individual culpability does not change this.
Secondly, there is an omission here. It should be noted that individuals and their pastors are not capable of making a subjective judgment of inculpability for mortal sin; that is for God alone to judge. (I've written on this many times; e.g., HERE)
Christians who embrace evil without culpability remain in communion with God, but are trapped in situations that are actually harmful and prevent them from fully sharing the abundant life Jesus came to bring. The task of the Church is to help heal and free them by patiently bringing the grace and truth of his Gospel.
Once again, the error in item #3 is made plain: embracing evil without culpability is actually harmful – this is true, but the opposite of what was stated previously.
Reception of Holy Communion in specific cases by those who have remarried following a divorce depends on the objective reality of the bond of their first marriage and on the avoidance of sin and public scandal, not only on their private intention to avoid future sexual activity, their subjective evaluation of the current relationship, or their subjective judgment of innocence regarding sexual activity in that relationship (see Mt 5:32).
The failure to mention that the Church alone can issue a ruling concerning the objective reality of a marital bond, especially in light of the present situation, is another grave error of omission.
So far, it looks like roughly 250 priests have signed this weak and misleading text, and though I trust that the signatories mean well, my advice to them would be to man up, stop fretting over what the bishops are or are not doing, and focus on carrying out their own duty – that is, to condemn in no uncertain terms, by name, both the heresies and the heretics who are spreading them – even if doing so invites persecution.