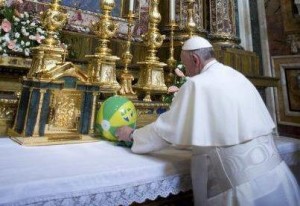 As reported by Vatican Radio last week:
"After his arrival at Ciampino airport, the Holy Father chose to stop at the Basilica of Saint Mary Major to offer a brief prayer to the Blessed Virgin for World Youth Day. Seeing the Pope as he entered the Basilica, a group of young people approached him and offered him a T-shirt and a ball. Pope Francis later offered the gifts to the Madonna."
Reactions to the pope's "offering" were rather predictable. Radical Traditionalists (also known as "Catholics") bristled at the sight of the Holy Father (good intentions aside) placing profane objects adjacent to the tabernacle on the altar of Rome's largest, and best known, Marian church.
Cotton-Candy-Catholics, just as predictably, criticized the "Rad Trads" for their grumpiness, seeing in this simple gesture from the humble Bishop of Rome yet another harbinger of the new springtime being ushered in by the "pope-of-the-people."
I have a question for this latter group:
If the pope had tucked a beach ball into the Blessed Mother's hand on Michelangelo's Pietà, would that have been equally as charming?
If the image below is disturbing (and God knows it should be), what Pope Francis actually did should be exponentially more troubling still.  And yet, I am certain that there are still those who would take a different view. If you're one of them, please, make your case. I'm interested in hearing it.