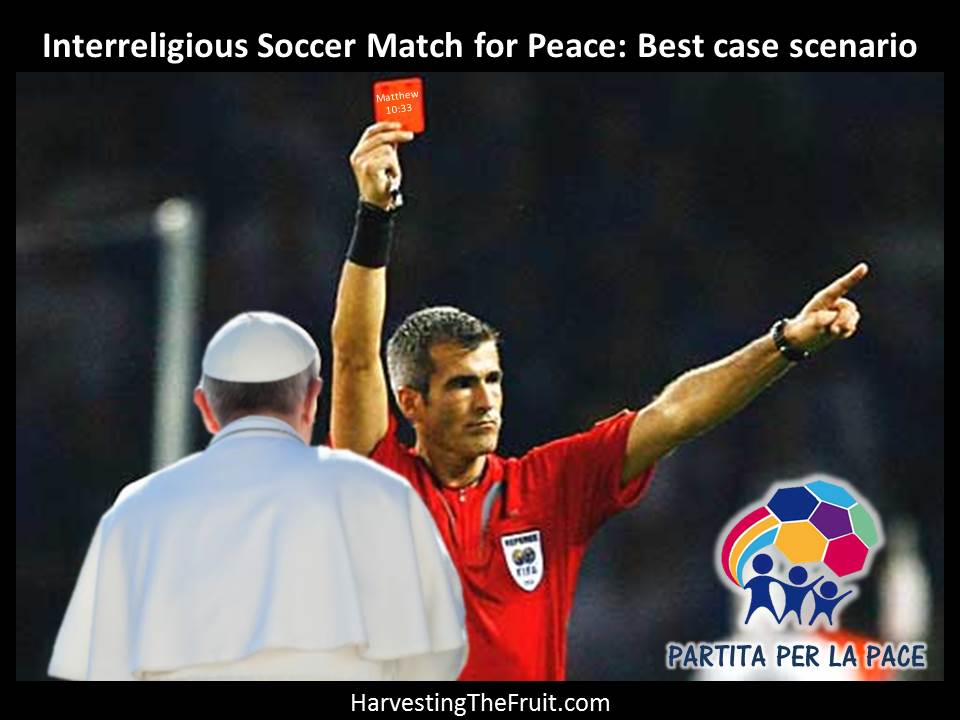 Who among us isn't deeply concerned about the prevalence of evil and discord in the world today; in particular as it relates to Muslim violence being perpetrated against those who profess a faith in Jesus Christ?
Well, fear not Christian soldier; come 8:45 pm Rome time on September 1st, the nations of the world, thanks to His Holiness Pope Francis, will be set squarely upon the pathway to peace!
No, not hand-in-hand with the Madonna on a journey toward the Prince of Peace, but accompanied by the likes of Diego Maradona along the sweaty confines of the "Pitch for Peace."
Like a fella once said, ain't that a kick in the head?
Surely, by now you've already marked your calendars for the upcoming Interreligious Soccer Match for Peace, but just in case details are still lacking, Catholic News Agency (which it pains me to say is quickly becoming the go-to source for those with their heads in the sand, if not elsewhere, for information on the pontificate of Pope Francis) has an article on the upcoming match that, ironically, is piercingly on the money.
Vatican City, Aug 25, 2014 / 08:03 pm (CNA/EWTN News).- A priest and close friend of Pope Francis says the pontiff's idea for an upcoming inter-religious soccer match for peace shows his keen interest in promoting the topic on all levels of society.

"The hope is that after this football match, this sports event, there will be an impact that raises awareness for peace," Father Guillermo Karcher told CNA Aug. 25, explaining to other journalists that "the Pope's concern for peace is very great."

"He sees in this event, this punctual message of the match for peace, a very positive element that gives a contribution, because it's necessary to try to build peace from all sides; from the political and diplomatic point of view," he said.

According to the report, the match will include "different cultures and religions, including Buddhists, Christians – Catholic and Protestant – Jews, Hindus, Muslims and Shintos."
And what, pray tell is so wrong with hosting an interfaith play day?
Well, in and of itself, nothing really. The problem, oddly enough, lies in its lofty goal (no pun intended).
"The Holy Father continued to support [the match], and now comes this very beautiful nuance, which is to invite everyone to believe in peace," Fr. Karcher said.
And therein lies the problem, not just with this event, but with this entire miserable pontificate.
Pope Francis will invite Muslim clerics to plant trees at the Vatican, he'll send personal letters to the United Nations, and he'll host interreligious soccer matches, all with the intent of inviting people to "believe in peace," but the one thing he refuses to do is to invite everyone – Muslim, Jew, and atheist alike – to believe in Christ Jesus, who just so happens to be the only way to authentic peace.
The truth, far too bitter for many to swallow, is simply this:
Pope Francis is a humanist, through and through. His words and his deeds betray a steadfast belief, not so much in the "IHS" that is found in the symbol of the Jesuit order to which he belonged, Iesus Hominum Salvator – Jesus the Savior of men; but rather in man, in keeping with whatever religion he may happen to embrace, as the savior of men.
This being the case, is it any wonder the world is inundated with violence and teetering on the brink of economic, political and humanitarian disaster?