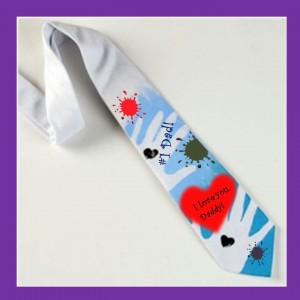 I have to get this off my chest…
Last week, I had a most disturbing conversation with my neighbor; a seemingly decent man who lives rather modestly, and who has a real soft spot for the downtrodden.
Anyway, I complimented him on his necktie, which was obviously a children's craft project, with "#1 Dad" written on it, along with little hand prints and a big red heart with the words, "I love you, Daddy!"
His response really caught me off-guard.
He leaned in close and lowered his voice to a whisper, saying, "Yea, I know, nice isn't it," shaking his head side-to-side in sarcastic disapproval.
"My kids gave it to me. I don't know what the hell they were thinking."
"I mean, seriously, this is the kind of junk my parents used to give to their fathers back when they were in grade school, you know, like 60 years ago! What is this, 1940?"
"Anyway," he continued, "I don't mean to laugh; of course, I acted like it was all well and good, but honestly, this concerns me. Why don't they just say, 'Happy Birthday?' Is there really any need to return to these kinds of practices?"
I couldn't believe what I was hearing!  Here he was, a father, without any apparent shame, making fun of a gift that came straight from the hearts of his children.
Wow, I thought to myself, what kind of man actually does this sort of thing?