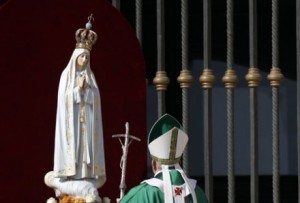 Question: What, if any, is the difference between "entrustment" and "consecration"?
Even those with very little interest in things religious, while perhaps unable to fully articulate it, know that there is a difference; furthermore, they have a sense that it's substantial.
Consider, pretty much every parent has at some point or another entrusted the care of their child to a babysitter. Many individuals entrust the management of their financial affairs to an accountant or investment advisor. Often, we entrust our healthcare, or that of our loved ones, to physicians or nurses.
You get the point. Entrustment is fairly commonplace. It's something that all of us do in some way or another. Consecration, on the other hand, is far more rare; it is solemn, and it is sacred.
While consecration and entrustment are distinct from one another, the former in some way contains within itself the latter, but it also contains much more.
Consecration entails an act that is very similar in nature to the Fourth Joyful Mystery of the Most Holy Rosary, the Presentation of Our Lord in the Temple.
It is the conscious and deliberate setting aside of a person, place or thing for a sacred purpose; giving it over in its totality to Divine purposes, in such a way as to henceforth distinguish it from those things that are properly secular and profane.
Consecration goes well beyond the entrustment of certain needs to another, even religious needs and even to God; rather, it is the solemn act of completely relinquishing to the Divine Will, not only the full and complete use of persons, places or things, but also the giving over of the purposes and the ends for which they will be used.
This brings us to the activities in Rome on October 13, 2013.
When plans for the event were first made public in late August, it was widely reported, as for example in the UK's Catholic Herald:
Pope Francis will consecrate the world to the Immaculate Heart of Mary on October 13. The consecration will take place as part of a pilgrimage that will bring thousands of members of groups promoting Marian piety to the Vatican.
At some point, as the big day drew closer, however, it was more often reported that the pope was going to "entrust" the world to the Immaculate Heart of Mary; not necessarily "consecrate" it.
In the aftermath of the event, many outlets, such as the "Official Vatican Network" (news.va), are reporting, "Pope consecrates world to immaculate heart of Mary."
Catholic News Agency, on the other hand, is reporting, "Pope entrusts world to Immaculate Heart of Mary".
So, what exactly did he do?
Well, it appears that CNA, save for mentioning the Immaculate Heart, got it right.
According to Vatican Radio, which provided the Italian text of the Holy Father's prayer as it was offered, and confirmed by Catholic Family News, the pope prayed:
Blessed Virgin Mary of Fatima, with renewed gratitude for Your maternal presence we unite our voice with that of all the generations who call You blessed. 
We celebrate in You the great works of God, Who never tires to incline with mercy on humanity,
afflicted by evil and wounded by sin, to heal it and save it.
Accept with the compassion of a Mother the act of entrustment which today we make with confidence, before this Your image to us so dear.
We are certain that each one of us is precious to Your eyes and that nothing which dwells in our hearts is unknown to You.
Let us reach Your sweet gaze and receive the consoling caress of Your smile. Guard our life in Your arms: bless and strengthen every good desire; revive and foster faith; sustain and illumine hope; create and enliven charity; guide all of us in the path of holiness. 
Teach us Your same preferential love for the  small and the poor,for the excluded and the suffering,
for sinners and the lost: gather all under Your protection and give all of us to Your beloved Son, our Lord Jesus.
Amen.
Prayer of consecration? Hardly. It was a simple prayer of entrustment, and a generic one at that, asking of Our Lady nothing whatsoever that the average protestant could possibly find objectionable, like, for instance, the very notion of "consecrating" anything to Our Blessed Lady.
Now, don't get me wrong, the pope's prayer was just lovely, but let's not pretend that it has any more heft than a well said Hail Mary.
(At this, I have sounded the neo-con papal apologist dinner bell. Look out for the herd.)
So, what does a prayer of consecration look like?
On October 31, 1942, Pope Pius XII consecrated the world to the Blessed Virgin Mary. The prayer is worthy of reflection in its entirety, but I offer here, for brevity's sake, just a few excerpts:
To You and to Your Immaculate Heart
In this tragic hour of human history
We entrust and consecrate ourselves,
And the Holy Church.
Notice that the Holy Father speaks of "entrusting" and "consecrating" separately. Why? For the simple reason that they are not one and the same.
The Holy Father continues:
We consecrate to You the whole world torn by bitter strife
And consumed by the fire of hatred
The victim of its own wickedness.
From there, Pope Pius XII prayed in a manner that some, perhaps even a certain successor, might criticize for being too "triumphalistic," pleading Our Lady to "hasten the victory of the Kingdom of God."
Clearly, the prayer of Pope Francis is something very different; in fact, precisely the difference between entrustment and consecration.
So, one wonders what changed? Was it ever the pope's intention to consecrate? Was he talked out it? If so, by whom and for what reason? Was it deemed just a little too Catholic?
Only the pope knows for certain, but one thing we can say without any doubt is that Pope Francis did not, no matter what the ill-informed may say, consecrate the world the Immaculate Heart of Mary. More's the pity.