First, what's a "neo-Catholic"? It refers to a "conservative" Catholic who:
Embraces every conciliar novelty they can get their hands on (e.g., religious freedom as expressed in Dignitatis Humanae, the overblown emphasis on human dignity in Gaudium et Spes, and the endless calls for inter-religious dialogue found in Unitatis Redintegratio) regardless of how far afield of authentic Catholic doctrine they may be
Defends most every post-conciliar act of papal irresponsibility no matter how outrageous (like the Assisi abominations, allowing altar girls, and lax liturgical practices)
Seem to have not a clue that the Catholic Church is in the midst of a self-inflicted crisis of unprecedented magnitude
The term was coined by Christopher Ferrara and Thomas Woods in a book more than a decade ago. Ferrara explains:
"Since [conservatives] have not in fact conserved anything . . . we believe that the term 'conservative' invites confusion among casual readers, for whom it carries a positive connotation, while attaching a venerable designation to people whose actions — or inaction, as the case may be — merit no such honor."
With all of that said: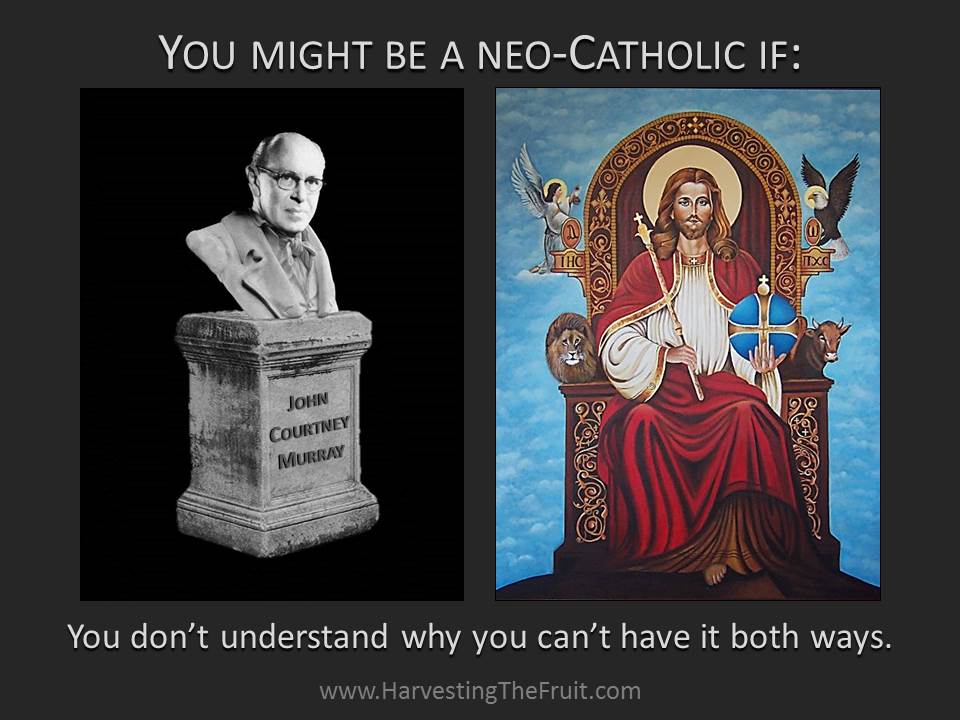 Now, if the above makes very little sense to you, it's not your fault. You've been robbed of precious Catholic treasure, including the doctrine of the Church concerning the Social Kingship of Jesus Christ and the duty incumbent upon both individuals and States to pay him public homage.
If that describes you, you may find the following resources helpful:
A multi-part series of Catholic News Agency columns, "Was John Courtney Murray Right?"
Traditio Faith Formation Series: Quas Primas – On the Feast of Christ the King