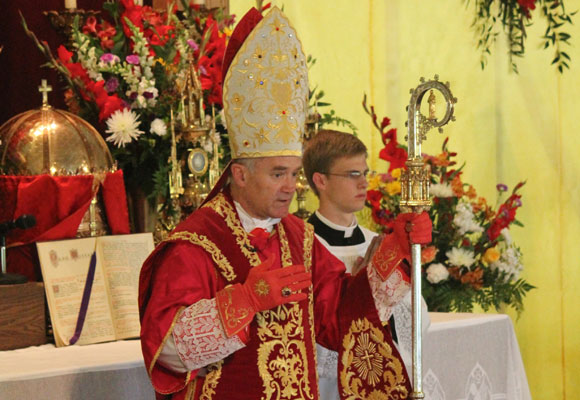 Many observers of the SSPX have been wondering why Bishop Fellay, who in 2013 said of Pope Francis, "What we have in front of us is a genuine modernist," has since been comparatively guarded in his public criticism of the present pontificate.
The information relayed in a recent conference given by Bishop Alfonso de Galarreta (as reported by DICI) seems to have provided the answer.
In short, he said that a process has been underway wherein Rome appears to be on the verge of shelving previous demands and granting formal canonical recognition to the Society "as it is."
Bishop de Galarreta even went so far as to predict that Pope Francis will personally and unilaterally see to it that this happens if necessary:
He [Francis] is going to take his own steps towards recognizing the Society. He has already begun; he is simply going to continue. And I am not saying what I desire but what I foresee. I foresee, I think that the pope will lean towards a one-sided recognition of the Society, and that by acts rather than by a legal or canonical approach.
This, it appears, is why Bishop Fellay's public criticism of Francis has been relatively tempered of late:
Clearly, it would be foolish to risk disrupting a process that appears to be leading toward what Bishop de Galarreta described as "a rather extraordinary apostolic opening [that] would have an extraordinary effect." (We'll have more to say about that extraordinary effect momentarily.)
Bishop de Galarreta described that process as one wherein "they [the authorities in Rome] are taking away their conditions in an effort to succeed."
This naturally leads to the question that is causing so much consternation among those who love tradition; an effort to succeed at precisely what?
On this note, there can be no question as to the long term mission of the Roman authorities: They are Hell bent and determined to promote the conciliar revolution and construct the ecumenical church-of-man over and against the Church of Christ.
In other words, they – and by this I mean the overwhelming majority of those who occupy the highest places in Rome – wish to succeed in effecting either the Society's conversion to modernism, or its total demise.
And let us not be naïve; the regularization of the Society (if indeed it takes place) isn't going to change that, which is exactly why so many find the thought so very concerning.
Equally as certain, however, is the mission of the Society as described in Archbishop Lefebvre's 1974 Declaration:
We hold fast to all that has been believed and practiced in the faith, morals, liturgy, teaching of the catechism, formation of the priest and institution of the Church, by the Church of all time; to all these things as codified in those books which saw day before the Modernist influence of the Council.
There is likewise no reason to believe that this will change in the aftermath of formal recognition either.
Bishop de Galarreta did, however, say:
There would then be two risks: that of creating an internal division and that of conditioning our preaching in certain circumstances.
Let's consider these points individually.
Internal division is already a fact of life. There's no doubt that the "resisters" will make hay over the Society receiving formal recognition, and may perhaps even succeed in swelling their ranks in the process.
The fact of the matter is, however, division is created by sin and confusion; not by embracing "an extraordinary apostolic opening," even if the latter is leveraged by those who choose to divide.
As for the priests and bishops of the Society conditioning their preaching, I suspect that Bishop de Galarreta has in mind conciliatory and fearful silence, like refraining from criticism of the Council, the dangerous words and deeds of the pope, the dangers associated with the new Mass, etc.
This is an understandable concern, but I think it's more reasonable to expect the opposite.
Where prudence currently seems to be leading Bishop Fellay to temper his speech as the process of recognition continues; once it is completed, I would expect him to speak all the more loudly and clearly.
Bishop de Galarreta indicated that the Superior General is prepared to preemptively make this known:
Bishop Fellay told us, 'before answering this proposal from the Congregation of the Faith, I am going to write them an exhaustive explanation to make it very clear how we are and how we act, what we preach, what we do, what we do not do, and what we are not ready to do'," – in order to find out if the Society really is accepted 'as it is'.
Another concern being widely expressed has to do with the Society finding itself under the authority of the pope and others who hold official positions in the Church.
According to the DICI report, Bishop de Galarreta said, "There is always, in one way or another, a submission to the Roman dicasteries or to the bishops [attached to Rome's canonical proposals]. For me, an agreement with today's Rome is out of the question."
What follows is critical:
He added that this is a prudential refusal, dictated by the circumstances – in the absence of the necessary warrantees for the life of the Society – and he was careful to distinguish himself from those who make this refusal an absolute.
It remains to be seen exactly what sort of warrantees will be attached to the Society's recognition, but I trust that Bishop Fellay will do his part to secure them.
It would seem to me that the freedom to operate (i.e., to open chapels, schools and seminaries) apart from the approval of the local ordinary is going to be a crucial part of any future arrangement, as will some treatment concerning the consecration of bishops.
Matters of incardination will also need to be addressed; e.g., how will Rome handle requests from diocesan or religious priests who wish to incardinate in the Society? (Note: In 1971, Rome readily released secular and regular priests from their bishops and their religious orders; allowing them to incardinate with the SSPX. This attitude would later change as hostility toward the Society grew in the early 1970's.)
In any case, one has every reason to expect the Society to remain true to Archbishop Lefebvre's 1974 statement in the face of any abuse of authority that puts at risk the future of the Society and the salvation of souls:
No authority, not even the highest in the hierarchy, can force us to abandon or diminish our Catholic faith, so clearly expressed and professed by the Church's Magisterium for nineteen centuries.
As Bishop de Galarreta said, there is nothing to fear. Even so, the perspective of history may help.
At one time, the International Priestly Society of St. Pius X enjoyed official recognition and even encouragement from Rome, only to later suffer unjust treatment at the hands of the Roman authorities, including popes, in return for their tenacious defense of Catholic tradition.
But what if the Society had never been so punished for its faithfulness? What would its status be today?
It would arguably be just as it was in 1971, an international priestly society of common life beholden in any number of ways to the jurisdiction and pleasure of local ordinaries; e.g., with respect to the establishment of local houses, chapels, and schools.
As things currently stand, after having been unjustly persecuted, there is reason to entertain the possibility that the Society may be granted a canonical arrangement that restores it more wonderfully still; with even greater freedom of operation than it previously had.
As for the effects such an "extraordinary apostolic opening" might have, provided the SSPX continues to boldly defend the truth as I fully expect that it will, the ones that immediately come to my mind are the following:
– Those who hurl accusations of schism against the SSPX will have to find another means of shameless self-promotion.
– Unsavory collared characters who currently refuse to engage the Society directly, ostensibly for fear that vulnerable faithful may "leave the Church" to join them, will have their cowardice plainly exposed.
– Laity who are genuinely confused as to the Society's status will have reason to be so no longer.
– Bishops who have cautioned the faithful to stay away from the SSPX on the grounds that their sacraments lack validity will be without ammunition.
– The Society's positions with respect to the errors of the Council and the dangers associated with the Novus Ordo will be legitimized.
This final point is hugely important. As of this moment, I am aware of any number of priests that agree with the Society's position on key points, but dare not say so publicly since lockstep acceptance of Vatican II whole and entire has historically been treated as the litmus test for so-called "full communion." If this prerequisite is removed, public criticism of the Council will only grow among their ranks.
In spite of all of this, as Fr. Gruner never tired of saying, nothing short of a pope carrying out the consecration of Russia as requested by Our Lady of Fatima will bring about the peace we desire.
Even so, who knows? Maybe the Society's recognition will set in motion the process that in time will give rise to just such a pope.
Many questions remain, but we can be certain that Satan will redouble his efforts to prevent any of this from happening, and you know what that means: It's time for us to redouble our own efforts with prayer and fasting.