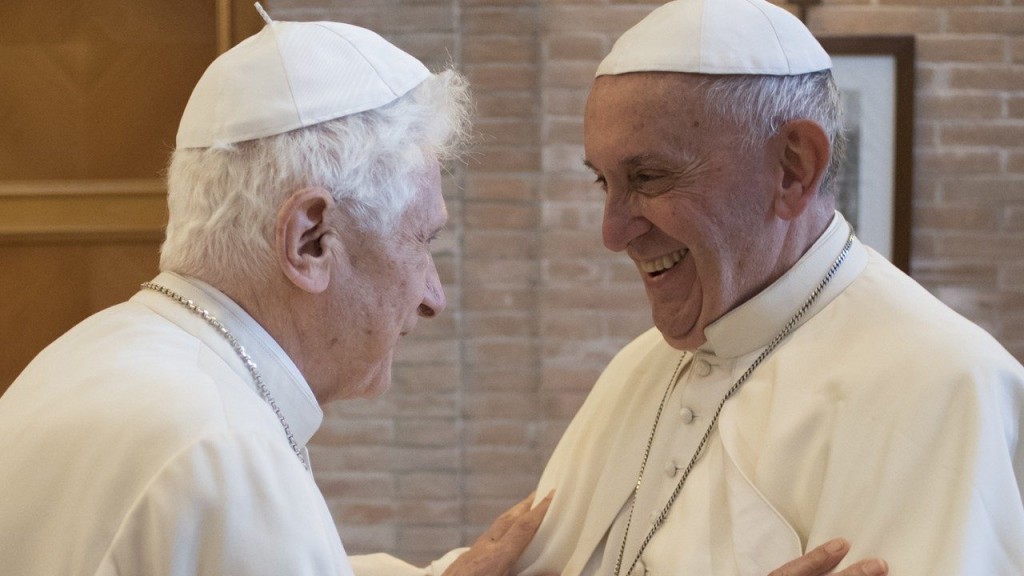 According to a Communique issued by the Holy See Press Office, Francis met with the Pope Contemplatus at his Mater Ecclesiae Monastery residence yesterday to "offer him best wishes for Easter."
First, I must admit that it is an annoyance to me when "best wishes for Easter" are offered by anyone prior to Easter; in particular during Holy Week.  It is all the more annoying when the person doing so is wearing a papal costume.
There is a palpable heaviness that accompanies Holy Week; at least for the believer.
Perhaps that explains why Francis saw no reason to delay his "Happy Easter" visit to Benedict. Then again, maybe the real reason for the visit had little to do with well wishes for Easter and much to do with a certain embarrassing scandal involving a letter.
My first thought when I saw the Vatican News headline, Pope Francis visits Pope Benedict, was that this was damage control in the form of just another manufactured photo-op designed to convince the naïve that all is simpatico in Rome.
And this in spite of the fact that the Holy See Press office is issuing reports about the meeting of two living popes!
Seriously, folks, think about that for a moment.
How utterly numb most of us have become to the sheer lunacy of the present situation!
There is absolutely nothing about the current situation that is even remotely compatible with Catholic thought. As I wrote shortly after Benedict pulled his "resignation" stunt – it simply doesn't pass the Catholic smell test.
And yet, it is treated as a non-issue by most Catholic commentators; even those who posture as traditionalists.
I can well imagine future generations looking back on us collectively as perhaps the stupidest and most gullible fools who ever lived.
In any case, my initial thoughts on this meeting have changed.
Perhaps I am reading a bit too much into it, but for some reason I've been unable to find even one photo of yesterday's allegedly cordial meeting of the men-in-white. The photo above – the same that accompanied today's Vatican News story – is from April of last year.
Odd, isn't it?
I mean, ever since Buona Sera Bergoglio was introduced to the world as Francis, the Holy See Press Office has been a PR machine on steroids; churning out more photo-op propaganda over the last five years than Pravda did during the entire Cold War.
What gives?
Could it be that Francis, who is reportedly given to fits of anger when anyone dares not fall in line, was in no mood to make pretend before the camera lenses yesterday given the seriousness of the discussion?
Of course, we will never know for certain what the "two popes" actually discussed, but I for one don't think it unreasonable to imagine that the Argentinian may have taken the occasion to remind the Abdicator why he agreed to "resign" in the first place, and thus his duties under the new regime.
With this in mind, I wouldn't be the least bit surprised to see a renewed effort on the part of the Bergoglians to leverage Benedict's popularity among ill-informed conservatives to bolster the image of Dear Leader in the weeks ahead.
April 16 is Benedict's birthday. At present, there is nothing on Francis' public schedule. Sounds like the perfect opportunity to snap a few lighthearted images of the two grinning "popes" sharing cake and ice cream and perhaps even a mug of Bavarian beer.
We might even expect something more substantial than a photo-op; perhaps a Benedictine endorsement of Francis that goes beyond claims of "interior unity" (whatever that is).
We'll see.