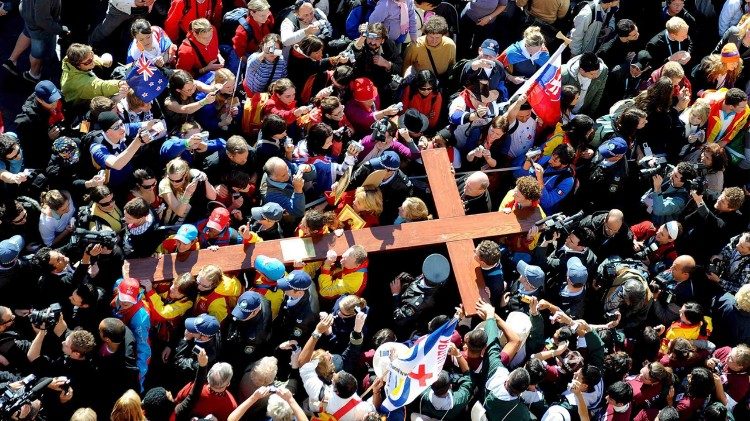 On Saturday, June 22, Jorge Bergoglio (widely known otherwise as "Francis") addressed the Eleventh International Youth Forum in Rome; an event "aimed at promoting the implementation of the 2018 Synod on Young People."
He took the occasion to announce that the conciliar church's next quasi-religious version of Woodstock (aka, World Youth Day 2022) will be held in Lisbon, a mere 75 miles from Fatima, under the theme, "Mary arose and went with haste" (cf. Lk 1:39).
Hey, maybe the still hidden portion of the Third Secret reads:
"In Portugal, the dogma of the Faith will always be preserved, but when the bishop in white choses that nation to host a multi-day 'religious' festival for youth featuring profane music, rampant immodesty, and all manner of sacrilege – under a Marian theme no less – know that he most certainly is not the pope!"
In any case, one may well ask, what exactly informs and inspires the conciliar church's disturbing fascination with young people?
Given that World Youth Day was the brainchild of John Paul II – a man widely credited in Santo Subito circles with defeating the Evil Empire almost singlehandedly – the answer, at least in part, may come as a surprise to many: Communism.
And what does Communism, the conciliar church, and each one's desire to rally young people have in common regardless of who happens to be donning the papal whites?
The answer: Revolution.
As an aside, readers may be interested in knowing that the first International World Youth Day took place in 1987 in Buenos Aires. One can be certain that the potential revolutionary energy of its enthusiastic, flag waving, foot stomping attendees did not escape the notice of then Fr. Jorge Bergoglio.
The aforementioned Synod on Young People resulted in the Apostolic Exhortation (so-called) Christus Vivit (reviewed in part HERE); a text that declared:
Young people are not meant to become discouraged; they are meant to dream great things, to seek vast horizons, to aim higher, to take on the world, to accept challenges and to offer the best of themselves to the building of something better. That is why I constantly urge young people not to let themselves be robbed of hope. (Art. 15)
Don't let the multi-year process of "discernment" leading up to the Synod and all of its many interventions and ersatz deliberations fool you; these are hardly original ideas.
In 1978, the U.S. based Communist periodical, Revolution, published an article entitled, Communism – Road Forward for Youth, outlining the party's plan to establish the "Revolutionary Communist Youth Brigade."
"The importance of this organization," the article states, "is clearly based on the important role youth have to play in making revolution," or making a mess as Bergoglio likes to say.
Using language eerily similar to that employed by Francis, the article explained why the young are ideal candidates for conscripting into their cause:
Growing up with big hopes, dreams and ideas of the world they'd like to live in, with decent lives for themselves and others, they're finding these dreams and hopes run smack up against life today … At the same time youth stand at a crossroads in their lives – and are faced with the impossible task of picking the road to a decent future out of the dozens of dead-end situations…
The article went on to make clear, however, that the youth, once well and truly indoctrinated with Communist ideology, are not just an investment in the party's future, but primarily in its present:
There is also the fact that as Mao says in "Orientation of the Youth Movement," that youth can, in a certain sense play a vanguard role. Youth can be a "shock force", often being the first to take up revolutionary ideas and the struggle for revolution. This constitutes one of the most valuable contributions youth can make and why the Party sees this as a key strata to work among.   
On Saturday, Comrade Bergoglio invoked the very same theme; assuring his wide-eyed audience that they are called, not so much to follow, but to lead:
You, young people, are the chief protagonists of the pastoral conversion so greatly desired by the Synod Fathers. To call you "protagonists" is not just to say something nice about you. Either you are protagonists or you are not. Either you go ahead of the train or you end up as the final car, dragged along by the rest. Protagonists.
The Communist article goes on:
As the Programme of the Revolutionary Communist Party states, "There is only one path that offers youth a genuine opportunity to put to use its enthusiasm, its innovativeness, its daring and its determination to change the world – proletarian revolution … The millions of youth in this country – both working class youth and students–form a powerful reserve for the proletariat."
It is this same determination to effect change (ostensibly on behalf of "those on the periphery" – the Bergoglian proletariat) that the conciliar church is presently laboring to promote by likewise weaponing youth. In the words of Francis:
Young people can help [the Church]… to take the side of the poor and the outcast, to fight for justice… to humbly acknowledge that some things concretely need to change, and if that is to happen, she needs to appreciate the vision but also the criticisms of young people. (cf Christus Vivit 37, 39)
The Revolution article went on to offer the following observation:
Youth are very open to investigating and taking up whole new outlooks and ways of doing things … and in this way channel their daring and unwillingness to accept things the way they are, into the revolutionary struggle.
This dovetails perfectly with Bergoglio's "dream of a 'missionary option'" as outlined in Evangelii Gaudium, the manifesto for his "so-called pontificate" (to quote Fr. Nicholas Gruner), describing it as an "impulse capable of transforming everything, so that the church's customs, ways of doing things, times and schedules, language and structures."
As has been noted in this space many times, Jorge Bergoglio is not a man gone rogue; a freethinker who has no interest in building upon the efforts of his predecessors. On the contrary, he is merely the current version of John Paul II, the same who proudly professed that his own "deep roots" vis-à-vis "the awareness of the Church" extended no further than the Second Vatican Council (cf Redemptor Hominis 3) – the inglorious spectacle launched by John XXIII, whose passion for Ostpolitik led him to order the Council to refrain from condemning pure evil, thus revealing himself as a bona fide Communist sympathizer.
This is the very moment in history when the humanistic revolutionary spirit was made manifest in Rome; it was the "new Pentecost" that gave birth to the conciliar church. As Cardinal Suenens once pompously declared, "Vatican II is 1789 in the Church."
The groundwork for this takeover, however, had been laid long before. As George Neumayr noted in a 2017 article entitled, The Communist Cardinals of Pope Francis:
In 1953, Manning Johnson, a former propaganda director for the Communist Party in America, testified to the U.S. Congress that Marxists had infiltrated Catholic seminaries. "In the earliest stages it was determined that with only small forces available it would be necessary to concentrate Communist agents in the seminaries and divinity schools," he said. "The practical conclusion, drawn by the Red leaders, was that these institutions would make it possible for a small Communist minority to influence the ideology of future clergymen in the paths most conducive to Communist purposes."
Two years later, Jorge Mario Bergoglio entered Inmaculada Concepción Seminary in Buenos Aires; eventually professing as a novice in the Society of Jesus in 1958.
Fast forward sixty-one years and even the most disinterested observer must conclude that the ideology of the man presently known as 'Francis' is more than conducive to Communist purposes!
Consider, for example, his words and deeds in Bolivia; including his grateful reception of the sacrilegious representation of the Crucifix fashioned out of a hammer and sickle as given to him by President Evo Morales.  Then there is his reference to the longtime Cuban dictator as "His Excellency Mister Fidel Alejandro Castro." If that's not enough, surely the agreement he forged with Beijing should suffice. This list could go on and on.
For those who may desire more evidence of Bergoglio's Communist bent, I recommend a report recently issued by Michael Hichborn of the Lepanto Institute: Pope Francis Promotes Goals Created by Communists. 
All of this, however, leads to some very important questions in light of the sure and consistent teaching of the Holy Catholic Church stating that Communism is:
– "That infamous doctrine which is absolutely contrary to the natural law itself, and if once adopted would utterly destroy the rights, property and possessions of all men, and even society itself." (Pope Pius IX, Qui Pluribus, 1864)
– "The fatal plague which insinuates itself into the very marrow of human society only to bring about its ruin." (Pope Leo XIII, Quod Apostolici Muneris, 1878), and therefore…
– "Communism is intrinsically wrong, and no one who would save Christian civilization may collaborate with it in any undertaking whatsoever." (Pope Pius XI, Divini Redemptoris, 1937)
With this in mind, let us ask, what does Jorge Bergoglio's undeniable collaboration with Communism and its purposes say about his status as a member of the Mystical Body of Christ?
Given that he is simply carrying on the great conciliar "tradition" (if you will allow), what does this say about the men-in-white who came before him?
Furthermore, what does all of this say about the institution presently doing business in Rome under the direction of Francis; is it really the same Holy Roman Catholic Church of Leo XIII, Pius IX, and Pius XI?
If, dear reader, you are genuinely unsure how to answer these questions, be not ashamed; surely you are not alone. If, however, you cannot be bothered to prayerfully contemplate them in the light of authentic Catholic tradition, may God help you.