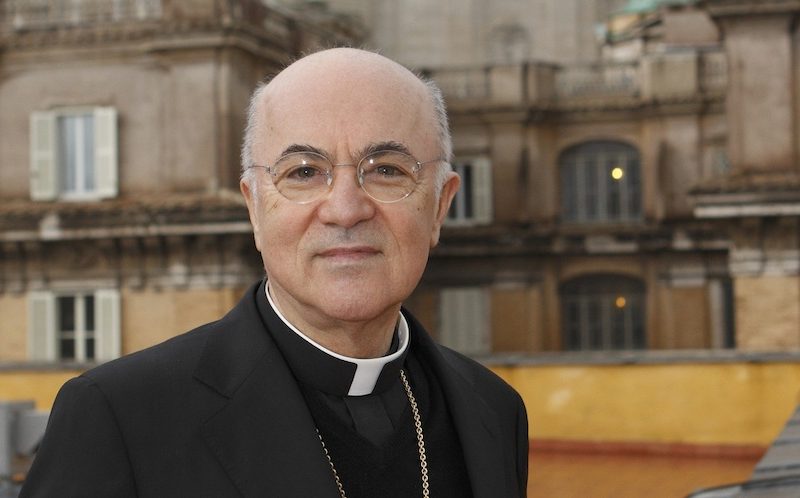 To the horror of corrupt churchmen in positions of power everywhere; in particular those in the Vatican, Archbishop Carlo Viganò has just released his third in a series of scathing testimonies.
Readers will recall that in testimony number two, Viganò made the following plea to Cardinal Marc Ouellet, Prefect of the Congregation for Bishops:
You (Ouellet) have at your complete disposal key documents incriminating McCarrick and many in the curia for their cover-ups. Your Eminence, I urge you to bear witness to the truth.
Being the slippery Bergoglian that he is, Ouellet responded in part by denying allegations that Viganò never made, stating in a letter made public on October 7:
The written instructions given to you by the Congregation for Bishops at the beginning of your mission in 2011 did not say anything about McCarrick, except for what I mentioned to you verbally about his situation as Bishop emeritus and certain conditions and restrictions that he had to follow on account of some rumors about his past conduct … After a review of the archives, I find that there are no documents signed by either Pope in this regard.
In his most recent testimony Archbishop Viganò points out, however, that he never claimed the existence of a documents bearing the pope's signature, or even one issued in follow-up to a papal audience (ex-Audientia SS.mi):
My testimony is that there are other documents: for instance, a note from Card Re not ex-Audientia SS.mi, signed by either the Secretary of State or by the Substitute.
Here, in addition to calling Ouellet out for his deceptiveness, Viganò identifies a specific document, and what's more, he once again directly named Cardinal Giovanni Battista Re, and indirectly two members of the Secretariat of State. This, no doubt, is meant to turn the heat up on Re who has thus far refused to speak of the matter publicly.
Though Archbishop Viganò did not point this out in his latest testimony, Ouellet did, even if only inadvertently, affirm that documents do in fact exist relative to the restrictions that were placed against McCarrick. He wrote:
Thus, the Congregation's decision was inspired by prudence, and the letters from my predecessor and my own letters urged him, first through the Apostolic Nuncio Pietro Sambi and then through you, to lead a life of prayer and penance, for his own good and for the good of the Church.
So, Cardinal Ouellet, where are those letters and what do they say?
Regardless of the letters' contents, Ouellet let another major cat out of the bag; one that isn't receiving nearly enough attention: Ouellet referred to "certain conditions and restrictions that he [McCarrick] had to follow." [Emphasis added]
In this, Ouellet is admitting that McCarrick was not simply being urged to consider leading a life of prayer and penance; rather, restrictions were being imposed on him coercively and "he had to follow" them. McCarrick's disobedience in the matter in no way negates what Ouellet has revealed.
Furthermore, the Congregation for Bishops, according to its official profile, does not place restrictions on any of the bishops. At most, it merely passes them along and monitors them.
NB: Sanctions against a bishop – in this case, a cardinal no less – can come from only one person, as the following citation from The Jurist, a scholarly journal published by the Catholic University School of Canon Law, demonstrates:
The pope alone has coercive power over a bishop; the Roman Curia cannot take any penal action against a bishop, or even threaten him with a penalty, without the express approbation of the pope. (See John M. Huels, "The Correction and Punishment of a Diocesan Bishop," THE JURIST 49 (1989): pg. 540)
Clearly, if conditions and restrictions that McCarrick had to follow existed – as Ouellet himself confirms – they had to come from the pope.
In reaction to Viganò's testimony number three, the portion that has received the most attention thus far is the following:
The underlying reason why there are so many victims, namely, the corrupting influence of homosexuality in the priesthood and in the hierarchy… This is a crisis due to the scourge of homosexuality, in its agents, in its motives, in its resistance to reform.
Yes, the Church has a major clerical homosexuality problem, but that's not the most pressing one, and although Archbishop Viganò does not categorize it as such, he does make mention of a matter of far greater import when he states:
… the successor of Peter is negligent in exercising his principal mission, which is to confirm the brothers in the faith and in sound moral doctrine. When he then exacerbates the crisis by contradictory or perplexing statements about these doctrines, the confusion is worsened.
Homo-clerical predators behaving badly is a problem to be sure, but the real crisis is doctrinal. It is also liturgical. As I've written on any number of occasions, the bottom line cause of the present crisis is the loss of faith and the abandonment of the Church's mission that was institutionalized at Vatican Council II, as well as the new Mass that it inspired.
Until these problems are fixed – that is, condemned in their entirety – the crisis will go on. That said, as Viganò's testimony suggests, the more immediate problem concerns the man known as Francis, about whom Archbishop Viganò wrote:
I am asking, indeed earnestly begging, the Holy Father to face up to the commitments he himself made in assuming his office as successor of Peter … He took upon himself the mission of confirming his brothers and guiding all souls in following Christ, in the spiritual combat, along the way of the cross.  Let him admit his errors, repent, show his willingness to follow the mandate given to Peter and, once converted let him confirm his brothers (Lk 22:32).
In this, Archbishop Viganò is making a huge assumption; namely, that Jorge Bergoglio is not only a member of the Body of Christ, he is also its visible head on earth – a man who presently benefits from the graces bestowed upon the occupant of the Office of Peter.
With every passing day, the consciences of those in possession of sensus Catholicus are increasingly urging them to call into question the archbishop's assumption. This will be the topic of my next post.
In preparation for it, please take a moment to read John Salza's recent Remnant article, Has Pope Francis Lost His Office for Heresy?
If, in spite of its sincere, methodical and teacherly tone you should come away confused, don't fret; I suspect you are in the majority.