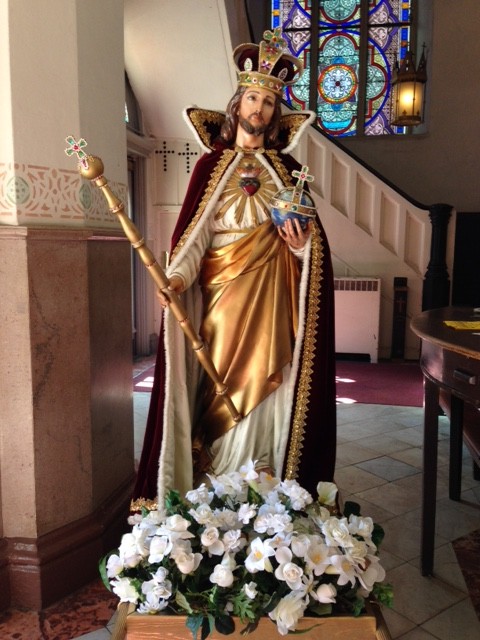 Yesterday afternoon, after a magnificent celebration of the Traditional Latin Mass for the Feast of Christ the King, I left St. Alphonsus Church in Baltimore with competing emotions.
On the one hand, I felt exceedingly grateful for the gratuitous gift of God's grace that brought me to that place after having instilled in me, through no merit of my own, a love and a hunger for authentic Catholic tradition.
On the other hand, I couldn't help but be disturbed, and very deeply so, by the realization that when an unfortunate sermon is delivered amid the timeless beauty of the Mass of Ages, it is a very dangerous thing indeed.
You see, in such a setting as this, doctrinal errors can quite easily be mistaken for solid Catholic nourishment by the unsuspecting faithful there present; even when, in truth, they are but post-conciliar poison in disguise. In other words, when the deceptive smoke of Satan commingles with the incense at a Traditional Latin Mass, it can be intoxicating to the point of causing one to lose his or her sensus Catholicus without even knowing it.
Such was the case, I'm afraid, at St. Alphonsus yesterday.
To be clear, I have no doubt that our pastor meant well, but I also have absolutely no doubt whatsoever that his treatment of Christ's Kingship as given in his sermon was a direct contradiction of the immutable doctrine of the Catholic Church; in particular, as it is taught with great clarity in the Encyclical of Pope Pius XI, Quas Primas, On the Feast of Christ the King.
Specifically, the central theme of the sermon was that the Kingship of Christ amounts to nothing more than a kind of sovereignty over the individual soul, with Father even going so far as to repeat more than once that the Kingdom of Christ is not here on earth.
More than one person with whom I spoke after Mass yesterday expressed how much they were moved by Father's preaching; in other words, they were deceived unawares.
With this in mind, below please find my presentation given at Catholic Identity Conference 2014 – The Mission of the Church vis-à-vis the Kingship of Christ as Illuminated in Quas Primas.

It runs about 53 minutes, and while much of it may be "preaching to the choir" for many readers, I've no doubt that the doctrine expressed therein will be news to others.
It's real value may be in providing readers with a resource that can be shared with family and friends who will most likely stand in need of deprogramming after they attend their Novus Ordo parish Mass for the protestantized version of this otherwise magnificent Feast.