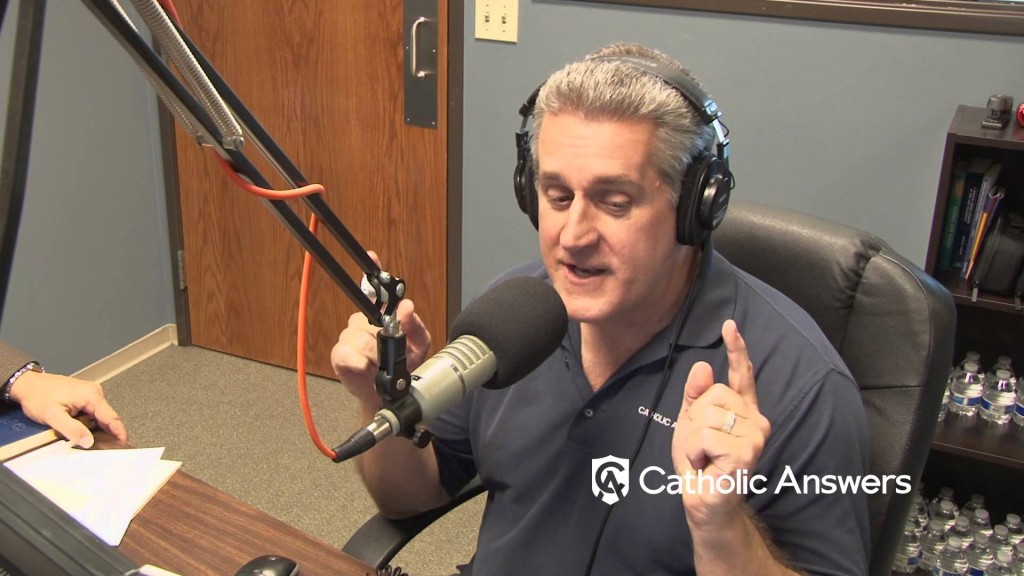 Tim Staples, who as Director of Apologetics and Evangelization at Catholic Answers has a sizable following, is publishing a series of articles on his personal blog entitled, Defending Pope Francis; Parts 1 and 2 of which focus on Amoris Laetitia.
Here, I will offer important points that Mr. Staples overlooked. I've invited him to respond to this fraternal correction for the benefit of our readers.
Getting straight to the point, Staples provides his conclusion up front:
Amoris Laetitia, he says, "is packed with solid Catholic doctrine and practical application concerning our Faith."
The trouble that has been brewing ever since its publication, he believes, is caused mainly by "faulty interpretations of chapter 8."
He begins by setting the stage as follows:
"So what is the controversy?"
"In a nutshell, Pope Francis made a pastoral and prudential judgment to change the practice of the Church that in the past absolutely, and in every situation, forbade any Catholic who had divorced and remarried outside the Church to receive Holy Communion."
Actually, the "controversy" concerns quite a bit more than this, but for now Staples should be commended for at least recognizing what many still refuse to acknowledge; namely, the simple fact that Francis did indeed change the immemorial practice of the Church concerning reception of Holy Communion by the civilly divorced and "remarried."
To those who consider Francis a heretic, Staples objects:
"You can't be a heretic if you don't even change or contradict a single definitive Catholic teaching, right? In fact, he did not even change a single law of the Church, notwithstanding all of the accusations to the contrary."
Be certain to make note of Staples' working definition of heresy; namely, that which constitutes a change or contradiction of definitive Catholic teaching, as well as his contention that Francis did not change "law." We will return to these points later.
Staples' defense of Francis' move to "change the practice of the Church" begins in earnest with the following:
"The truth is: Pope Francis simply applied what is already the commonly held teaching of the Church—everyone who commits an objectively grave sin is not necessarily culpable of mortal sin—to the particular situation of some exceptional and rare cases among people who have divorced and remarried without having received an annulment. Folks, that does not change law. It applies existing law in a different way."
Indeed, it is true that one who commits an objectively grave (mortal) sin may not be fully culpable for having done so. The question that remains, however, is who has the faculty to judge who is, and who is not, culpable?
This is where Staples goes off course.
Here, I will simply quote an excerpt from a public appeal issued by Archbishop Tomash Peta, Archbishop Jan Pawel Lenga, and Bishop Athanasius Schneider in response to Amoris Laetitia:
"The Church, and specifically the minister of the sacrament of Penance, does not have the faculty to judge on the state of conscience of an individual member of the faithful or on the rectitude of the intention of the conscience, since "ecclesia de occultis non iudicat" (Council of Trent, session 24, chapter 1). The minister of the sacrament of Penance is consequently not the vicar or representative of the Holy Spirit, able to enter with His light in the innermost recesses of the conscience, since God has reserved such access to the conscience strictly to himself: "sacrarium in quo homo solus est cum Deo" (Vatican Council II, Gaudium et spes, 16)."
NB: As even the Vatican II document Gaudium et Spes makes plain: God has reserved such access to the conscience strictly to Himself.
This being so, the Church does not have the authority to deem anyone among the divorced and civilly remarried inculpable of the objective mortal sin of adultery.
From here, Staples looks for support in the definition of mortal sin itself, which, as he points out, addresses three necessary requirements:
1.Commit an act that is objectively grave.
2. Have knowledge that what he is about to commit is, in fact, a grave sin.
3. Freely engage his will in carrying out that gravely immoral act.
On point #1, all concerned agree that adultery and fornication are objectively grave acts.
As for point #2, ignorance is easily remedied; in fact, it can be dispensed with in the first minute of the "accompaniment" that we hear so much about these days.
That leaves only requirement #3.
On this note, Staples cites the new Catechism in alluding to "duress, fear, habit, inordinate attachments, and other psychological or social factors" as potentially mitigating factors that may weigh on culpability.
As we have already pointed out, however, that judgment is beyond the Church's capacity.
As such, the Church's pastoral activity must be guided according that which is objective alone, focusing on what is required of each man by the Law itself, and leaving it to God to act according to the subjective judgments that are His sole prerogative.
Even the Catechism that Staples quotes makes this point:
"Although we can judge that an act is in itself a grave offense, we must entrust judgment of persons to the justice and mercy of God." (cf CCC 1861)
St. Thomas Aquinas, who Staples also cites, said:
"The precepts of the Decalogue embody the intention of the legislator, that is God. Therefore, the precepts of the Decalogue permit no dispensation" (Summa theol. 1-2, q.100, a.8c).  
Yes, God may judge one inculpable for having violated the precepts of the Decalogue, but among men there can be no dispensation permitted.
Having overlooked this teaching entirely, Staples insists:
"There is nothing new here, folks. According to the perennial teaching of the Catholic Church a person can commit an act involving objectively grave matter, but have his culpability for that sin either reduced to the level of venial sin…"
"We must make proper distinctions. As we saw from the Council of Trent, and from CCC, a Catholic is only impeded from receiving sacraments in the Church, according to divine law, if he is in mortal sin."
In the interest of space, I will not repeat his citations taken from the Council of Trent and the CCC, but will simply point out that Staples is correct in stating that mortal sin is an impediment to receiving the sacraments "according to divine law."
In fact, he stresses this point quite emphatically:
"It is the infallible teaching of the Church, and a matter of divine law, that only a mortal sin impedes a validly baptized Catholic from licitly receiving the Eucharist-and I must say again and emphasize-according to divine law. Venial sin does not so impede him." [Emphasis in original.]
We will focus on "divine law" in a moment, but at this, please forgive the repetition:
Where Staples errs is in assuming that mere men can judge individual cases of objective mortal sin to be some lesser (venial) offense; thus not serving to impede access to the sacraments.
From here, Staples moves on to "a very important objection that deserves an answer;" namely, that concerning Familiaris Consortio of Pope John Paul II, the key portion of which reads in part:
"[T]he Church reaffirms her practice, which is based upon Sacred Scripture, of not admitting to Eucharistic Communion divorced persons who have remarried. They are unable to be admitted thereto from the fact that their state and condition of life objectively contradict that union of love between Christ and the Church which is signified and effected by the Eucharist." (art. 84)

In reference to this teaching, Staples insists:
"The operative word here is 'practice.' There is not even a question as to divine law here … This is a matter of prudential judgment in a juridical matter, not doctrine."
He tells us:
"Some have argued, 'But doesn't Pope St. John Paul say this practice of the Church is based in Scripture? Doesn't that make it divine law?'"
His answer is no, "not necessarily."
Staples lets us know that even some people that he "respects greatly" have challenged him by claiming "just because St. John Paul used the term 'practice' does not mean this is not a matter of divine law."
He admits that this is true, but insists that this "practice" is neither doctrine nor divine law.
Now, I'm going to go out on a limb here and say that Tim Staples has perhaps the utmost respect for the theological opinions of one Cardinal Josef Ratzinger; in particular, those officially set forth in his role as Prefect of the Congregation for the Doctrine of the Faith. (I suppose we will find out if I assume too much!)
In a 1994 Letter to the Bishops of the Catholic Church, Cardinal Ratzinger, with the expressed approval of Pope John Paul II, wrote:
"Members of the faithful who live together as husband and wife with persons other than their legitimate spouses may not receive Holy Communion … Pastors in their teaching must also remind the faithful entrusted to their care of this doctrine … [The Church] is concerned to accompany them pastorally and invite them to share in the life of the Church in the measure that is compatible with the dispositions of divine law, from which the Church has no power to dispense." [Emphasis added.]
NB: This Letter was issued specifically for the purpose of explaining and upholding the aforementioned teaching from Familiaris Consortio (article 84); making it abundantly clear that the "practice" in question pertains not only to "doctrine," but to "divine law from which the Church has no power to dispense."
There is more in Tim Staples' defense of Francis vis-à-vis Amoris Laetitia that merits correction, but at this we have plainly revealed, in a manner that no one of good will can deny, two very serious errors in his presentation;
Concerning the Church's inability to judge matters of culpability.
The true nature of the immemorial "practice" that John Paul II "reaffirmed" in Familiaris Consortio 84.
Let us hope and pray that Mr. Staples, having been corrected, will respond appropriately.