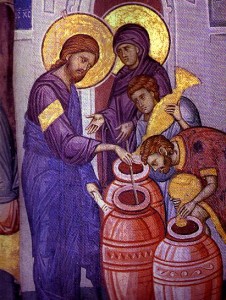 The Gospel for yesterday's Mass in the traditional calendar was about the Wedding Feast at Cana, and being one of my favorite Scriptures, I cannot help but indulge in a little reflection.
Much has been said and written about the scene described in John 2, including commentary along rather earthbound lines like, "See how Our Lady and Our Lord know the value of a good celebration!"
Well, as true as that may be, I am more inclined to think of Mary's powerful intercession and that toward which her actions that day were truly ordered.
It is clear enough from Our Lord's response that Our Lady's words "They have no wine," were received as an invitation to do something far greater than supplying suitable drink for a feast.
"My hour had not yet come," the Lord said in reply; His "hour" being the saving act for which He came as told in Matthew 26:45 "Behold the hour is at hand: and the Son of man shall be betrayed into the hands of sinners."
Yes, His "hour" was nothing less than the inauguration of His saving mission, and indeed one well imagines that Our Lady knew precisely what she was inviting.
With this in mind, "They have no wine" is perhaps better understood to say, "They have no life!"
The Blessed Virgin understood that her Son was the promised Messiah who would restore to mankind what was lost in Eden, bringing the wine of new life to a people once dead, an expectation that remained in the consciousness of the Jewish people for many centuries after Christ.
The thirteenth century Jewish philosopher and scholar Moses Maimonides (aka Rambam), for example, wrote of his people:
"Many affirm that the hope of Israel is that Messiah shall come and raise the dead; and they shall be gathered together in the garden of Eden, and shall eat and drink, and satiate themselves all the days of the world … and that there are houses built of precious stones, beds of silk, and rivers flowing with wine and spicy oil." (Sanhedrin, fol. 119, col. I)
Our Blessed Lord confirmed the association of wine with the restoration of life at the Last Supper:
"And taking the chalice [of wine], he gave thanks and gave to them, saying: Drink ye all of this. For this is my blood of the new testament, which shall be shed for many unto remission of sins." (Matthew 26:27-28)
The "remission" of which Our Lord spoke entails, as we know, a cleansing from the stain of original sin, that which brought about man's death, and it is no coincidence therefore that He made use at Cana of the "water pots of stone, according to the manner of the purifying of the Jews" (John 2:6) as the vessels that would contain the miraculous wine; a foreshadowing of the Precious Blood that would be shed on the Cross unto man's purification from sin.
Neither is it coincidental that all of this took place in the context of a wedding feast, as fallen man and woman, banished from Eden, ventured to be joined together as one flesh before God (quite literally in the Person of Christ who was present) that they may go forth to be fruitful and multiply according to the Creator's command. For all of their good efforts, however, they, like the generations that had come before them, were destined to fall short, for "they had no wine;" no life from which to give life.
Until, that is, the Lord Himself deigned to restore it, and then, only at the behest of Our Blessed Mother.