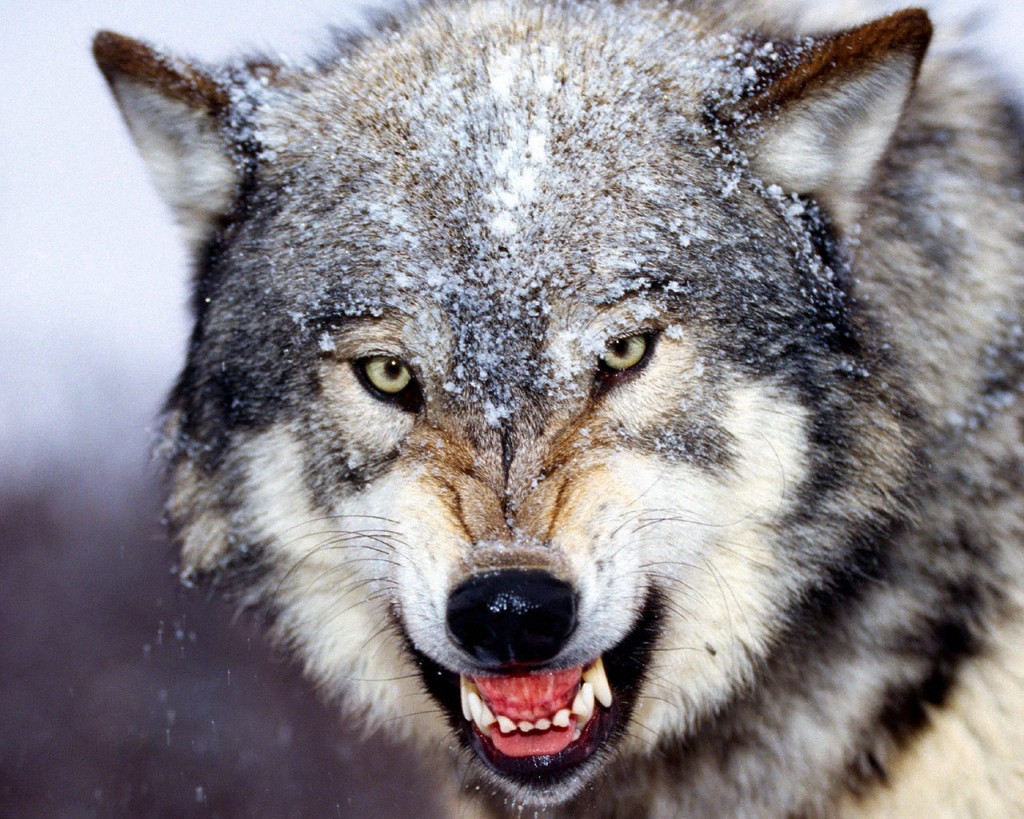 At his Mass of Coronation, I mean, the inaugural of Pope Benedict XVI, the Holy Father said, "Pray for me, that I may not flee for fear of the wolves."
Obviously, we didn't pray nearly enough.
In any case, now that nearly nine months have passed since the abdication, are we prepared to acknowledge the hard truth that the wolves are now running the show?
I am.
Let's revisit Pope Benedict's surprise announcement:
After having repeatedly examined my conscience before God, I have come to the certainty that my strengths, due to an advanced age, are no longer suited to an adequate exercise of the Petrine ministry. I am well aware that this ministry, due to its essential spiritual nature, must be carried out not only with words and deeds, but no less with prayer and suffering. However, in today's world, subject to so many rapid changes and shaken by questions of deep relevance for the life of faith, in order to govern the Barque of Saint Peter and proclaim the Gospel, both strength of mind and body are necessary, strength which in the last few months, has deteriorated in me to the extent that I have had to recognize my incapacity to adequately fulfill the ministry entrusted to me.
Looking back, do we have any more clarity as to what Pope Benedict considered to be those "questions of deep relevance for the life of faith" that required more strength of mind and body than he presently had?
Maybe not, but let's take a stab at it just the same.
The list below contains half-a-dozen items that one might reasonably consider to be the kinds of matters Pope Benedict had in mind as he spoke on February 11, 2013, followed by the current pontificate's approach to the same, such as it has been at this early stage in Pope Francis' papacy.
1. Initially, there was much speculation that the "questions of deep relevance" referred in some measure to the contents of that infamous 300-page report that allegedly detailed, among other things, mismanagement of the Vatican Bank, as well as an underground network of high-ranking gay clergy.
On this note, Pope Francis may have offered a unique twist on killing two birds with one stone by appointing Monsignor Battista Ricca, a man with a decades-long rap sheet filled with allegations of homosexual improprieties, to serve as his representative in reforming the troubled financial institution.
But who are we to judge.
In any event, while it was tempting to believe that Benedict's "questions of deep importance" referred to some largely unknown matters that once met head-on just might set the Church aright, it now seems far more likely that he simply had in mind the very same matters to which he gave priority throughout his papacy.
For instance:
2. Pope Benedict will ultimately be best remembered for his attempt to restore the Church's liturgical life to its former glory, Summorum Pontificum being by far the most profound act of his entire papacy.
The wolves, as one may recall, were beside themselves when the motu proprio was issued. The late uber-liberal Cardinal Carlo Martini, for example, immediately went to the press to express his displeasure, alleging that it represented an undoing of the Council wherein "there was a real step forward in understanding the liturgy." He even made it clear that even though he could speak Latin, he refused to celebrate the traditional Mass.
Pope Francis, for his part, has made no attempt to hide the fact that he idolizes Cardinal Martini, and one of his most significant acts as Roman Pontiff, perhaps not so surprisingly, therefore, has been to approve of a decree placing restrictions on the celebration of the traditional liturgy, in direct contravention of Summorum Pontificum.
3. Throughout his pontificate, Pope Benedict reintroduced some of the traditional and long since forgotten accoutrements associated with the papacy, some of which directly point to the regal dignity of the Petrine Office; e.g., the papal mantum, ermine lined mozzette and camauri, lace albs, and fiddle back chasubles, etc.
Ever since 13 March 2013, these so-called "trappings" of the papacy have been treated as museum pieces at best (more realistically as articles of a shameful past) by a pope who only with difficulty can bring himself to sit upon the papal throne.
4. Reportedly, one of Pope Benedict's deepest regrets upon leaving office was his failure to reconcile with the Society of St. Pius X (SSPX). In 2009, two years after liberating the traditional Mass, the Holy Father poked the liberal hornets' nest but good by lifting the excommunications from the three SSPX bishops, setting in motion discussions ordered toward their canonical regularization.
By mid-June 2012, all indications were that an act of reconciliation was imminent; then, at the eleventh hour, the process fell apart, allegedly after the wolves, both within the Church and without, enforced their collective will and put an end to the process.  (See "No Rome/SSPX Accord?" – Catholic Family News, December 31, 2012).
From the earliest days of the current pontificate, Pope Francis, who has reached out with great affection to all manner of heathens, heretics, humanists, atheists, Muslims and Jews, has repeatedly criticized and belittled so-called "traditionalist" Catholics, making it exceedingly clear that Benedict's overtures will not be repeated on his watch.
5. On December 22, 2005, during his first Christmas Address to the Roman Curia, Pope Benedict arguably positioned as the centerpiece of his pontificate the desire to establish continuity between all that Vatican Council II stated and the timeless teachings of the Catholic Church as articulated throughout the centuries. While this task has proven impossible based on what the present writer considers deficiencies in the conciliar text, at the very least, the Holy Father wanted to refute the idea that a rupture had occurred, even if non-dogmatically and only on paper.
Pope Francis, by contrast, has given every indication that he is quite comfortable with at least some degree of rupture, for example, in his criticism of "these groups that return to practices and to disciplines that I lived through … things that in that moment took place, but not now, they do not exist today."
Likewise has Pope Francis' handpicked advisor, Cardinal Óscar Andrés Rodríguez Maradiaga, articulated a vision of the Church (one presumably shared by the pope) that cannot be understood in any other way than as the product of a rupture.
For instance, the cardinal said that Vatican II "meant an end to the hostilities between the Church and modernism," and that in the Council's aftermath "the Church could not continue posing as a reality facing the world, as a parallel 'perfect society,' which pursued her own autonomous course."
6. On 12 September 2006, Pope Benedict delivered an address on Islam at the University of Regensburg, wherein he indirectly called Muslims to account for their long and shameful history of perpetrating violence against innocent human beings in the name of religion.
The wolves dwelling within were quick to criticize the Holy Father for his ham-handedness, among them, the Archbishop of Buenos Aries who reportedly said, "These statements will serve to destroy in 20 seconds the careful construction of a relationship with Islam that Pope John Paul II built over the last twenty years."
Since his elevation, Pope Francis has practically fawned over the Muslims, even going so far as to assure them that their Ramadan observances, which intend to "magnify Allah," the false god hatched in imagination of the false prophet Muhammad, "will bear abundant spiritual fruit."
This list is by no means exhaustive, but I believe it gives an adequate overview of what one might reasonably consider to be the various battlefronts upon which Pope Benedict XVI felt too weak to prevail, compelling him to turn the See of Peter over to a younger, more vigorous successor.
If that be the case, who can deny that Benedict grossly miscalculated the degree to which the College of Cardinals, the same that would promptly elect Cardinal Jorge Bergoglio as his replacement, was comprised of the very wolves from whom he had hoped not to flee?