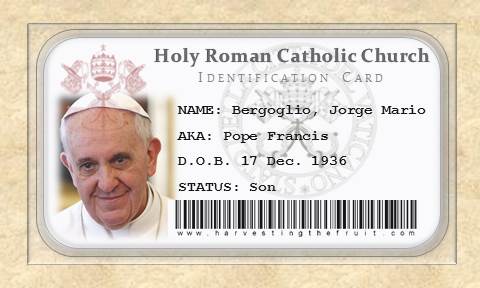 What do George Weigel, Robert Royal, Jimmy Aiken and any number of other "conservative" Catholic commentators have in common?
Each has felt compelled, at some point or another, to mount a defense of Pope Francis in light of the confusion caused by his "new genre of papal speech that's deliberately informal and not concerned with precision," by resorting to the admittedly indisputable fact, "well he said he's a 'son of the church!'" (See interview with Fr. Antonio Spadaro, S.J.)
Even Archbishop Chaput felt the need to play the "son of the Church" card when he was accused of being overly critical of the pope.
"Is there a discontinuity between the leadership of Pope John Paul II and Pope Benedict, and the new kind of leadership of Francis? I think no," the archbishop said in an interview with the Philadelphia Inquirer.
"Francis keeps saying he is a son of the church, which means he's not going to abandon the church's teachings."
Most recently, Aiken went to bat for Francis on his National Catholic Register blog after the pope referred to the multiplication of the loaves and the fishes as a "parable," and this on the heels of having said in his Angelus address on June 2nd:
"This is the miracle: rather than a multiplication it is a sharing, inspired by faith and prayer. Everyone eats and some is left over: it is the sign of Jesus, the Bread of God for humanity."
"We also know that, despite the way he phrases himself," Aiken writes, "particularly when speaking off the cuff (as he often does), that he's a fundamentally orthodox man—a 'son of the Church' as he puts it."
Well then, that settles it! Nothing to see here folks.
Isn't this rather like a defense attorney arguing before a jury that his client cannot possibly be guilty of embezzlement because, after all, "he said he's committed to the American Institute of CPA's Professional Code of Conduct!"
Maybe I'm just a tough nut to crack (or just a nut period), but count me unpersuaded.