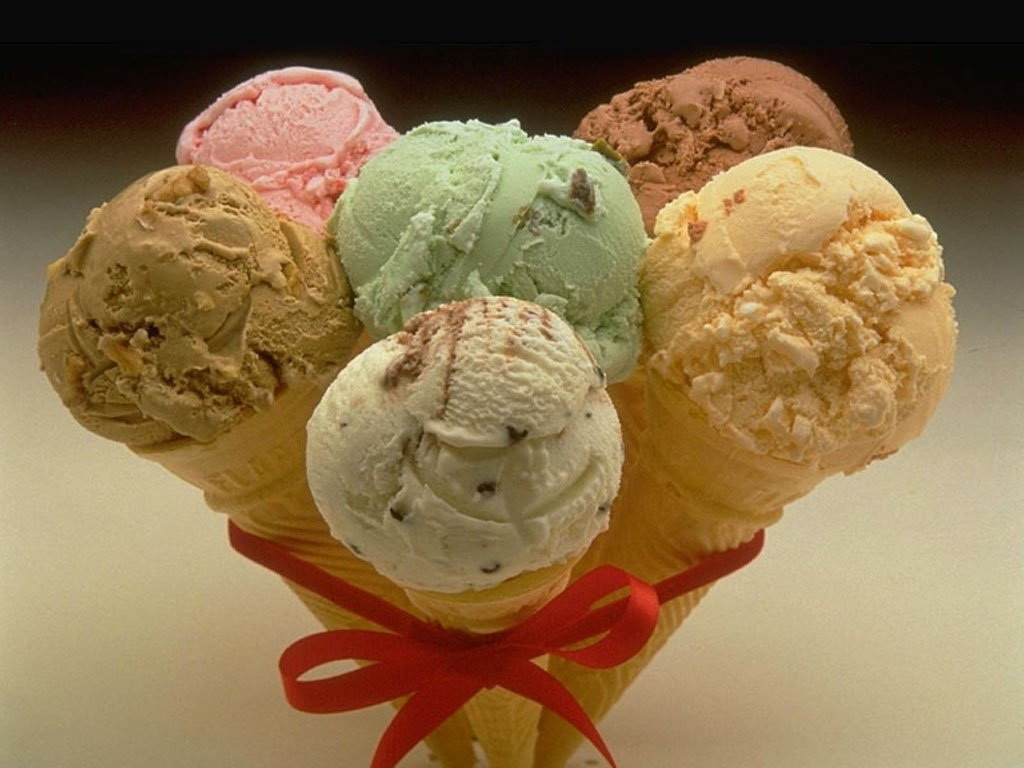 Some years ago, not long before I came to recognize the new Mass for what it truly is, a family friend (baptized in the Church but otherwise not formed in the Faith, and nominally protestant in experience) indicated a desire to go to Mass the following Sunday. This caused me to consider the various options available in my area, which then led to writing an article in which I observed that the Novus Ordo has more flavors than Baskin Robbins.
As flavors go, the traditional Mass would best be considered "Heavenly Hash," but as far as the Novus Ordo is concerned, here are just some of the concoctions to be had within a 20 mile radius of my home:
The 7:30 at a nearby parish. Beautiful, traditional church building. No music. No singing. No nonsense. (Well, not much.) A holy and reverent pastor, but also a regular visiting priest whose homilies tend to set up false dichotomies between social justice and other matters of doctrine. During the Prayer of the Faithful the names of more than 150 people are read aloud at every Mass; those serving in the military and those who are sick. (Yup, I admit it; I was bad and counted them one day, though I usually just pray silent Ave Maria's.) It troubles me, among other things, to think that the parishioners are being conditioned to think that if Bobby in boot camp or Grandma in hospice aren't having their names read aloud they're somehow being cheated. Let's call this Mass, Vanilla with a few Fruity Sprinkles
Later in the day at the same parish. Ever hear of that show called "America's got Talent?" Well, you wouldn't know it thanks to the choir. Not to be mean, but no matter how decent the song choices are, there is nothing sacred about the sound emanating from the loft in this place. I know it's not easy for a pastor to tell his sharp-noted parishioners that their gifts are best suited for the Rosary Maker's Guild, but someone has to do it, and soon! Off Key Lime Custard

The 9:00 or 10:30 at another nearby parish. Modern, theater in-the-round building. In contrast, the choir here (positioned right up front where all can admire how well they "actively participate") is very good. Vocally, that is. The choice of music, however, all too frequently consists of those dreadful hymns that are either all about us, all about us pretending we're "the bread of life," or all about us being Protestant. Not infrequently the congregation is invited to clap for this person or that, but usually only after we've extended a hand in blessing them. The Gospel for the Sunday in question was about the Samaritan woman at the well. This parish, I know from hard experience, traditionally interjects choral refrains of "Give us living water… give us living water…" intermittently throughout the reading. I don't care how many years this exercise works off of my Purgatorial sentence, I can't go through that again. Rocky Road.
The 8:45 or 10:30 at yet another nearby parish. New building, very traditional in design and very beautiful. The pastor is an enigmatic blend of rock solid orthodoxy and liturgical ambivalence. The earlier of the two Masses is the children's liturgy. After enduring one of these several years ago as the kids got to play Mass (reading the readings, gathering around the big marble table for the Mr. Rogers style homily, singing what felt like seventeen verses of "Go Tell it on the Mountain," etc.) I avoid it like Ruth's Chris on Fridays during Lent. The later of the two Masses suffers a unique strain of musical malady, literally, as the music director sometimes treats the congregation to a performance of his original compositions. This gives the Mass a "Prairie Home Companion" feel that I'm not at home with. Make-Your-Own Sunday     
The 7:30 at another friend's parish a little further away. Contemporary 1970's style building, low ceilings, lots and lots of brick. No music. No singing. No predictable order either as the pastor is prone to skipping parts of the Mass when he's clearly in a hurry. When he's not, he delivers lengthy animated homilies on various topics of interest, sometimes even related to the faith! He is, how do I say this… rather flamboyant, and I'm sure this isn't the "welcome home" my friend is looking for.  Rainbow Sherbet.
The 8:30 Novus Ordo in Latin about a 45 minute drive away in a magnificent historic church building. No shenanigans. The readings, homily and Prayer of the Faithful are in English. One cantor leads the congregation in singing beautiful Latin hymns accompanied by pipe organ. Reverence abounds, though the Mass could be greatly improved if were offered ad orientem. Classic Neapolitan
You get the point.
So, what kinds of flavors of Novus Ordo are being dished out in your area?