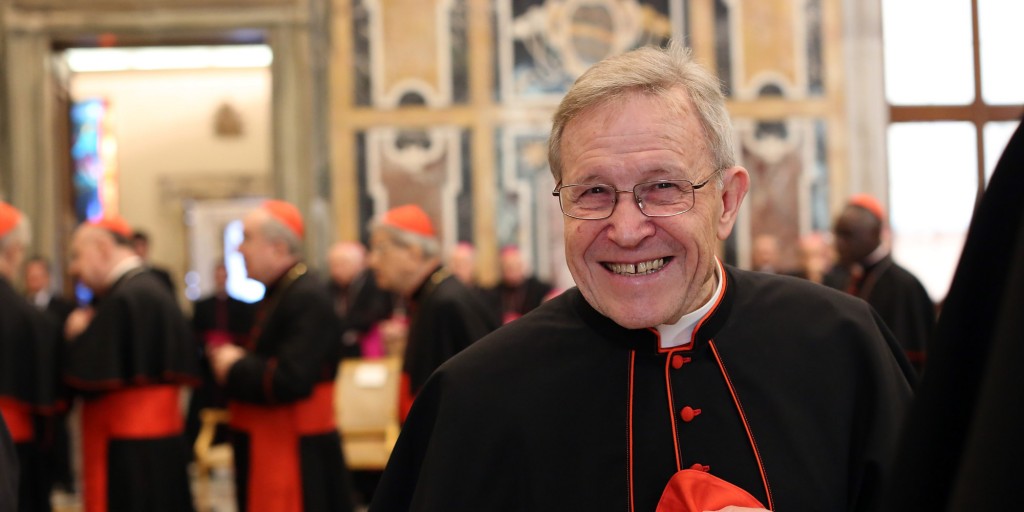 Communiques from both the SSPX and the Holy See provide little detail other than to describe today's meeting between Bishop Fellay and Cardinal Muller as "cordial." That said, one might speculate that there is more to this than meets the eye…
When news of the scheduled meeting first broke, I said that I expected it to lead to an ultimatum. I still do.
If the high crime of a "cryto-Lefebvrean tendency" is enough to incite the powers-that-be in Rome to destroy a thriving religious order, is there any reason to believe that Cardinal Muller doesn't intend to crush the Lefebvreans themselves?
Well, there may be one reason, even if perhaps it has yet to come to pass…
According to both parties, today's meeting focused on "doctrinal and canonical difficulties [and] and the current situation of the Church."
And what, pray tell, is the most critical situation in the Church currently, as opposed to the last time both sides met? In other words, what precisely has changed in this regard since the discussions between the SSPX and Rome last broke off?
The answer: The upcoming Synod, at which the bishops will take into consideration a proposal by one Cardinal Walter Kasper; one that currently poses very serious "doctrinal and canonical difficulties" that were not in play during the last series of meetings between the Society of St. Pius X and the Roman authorities.
And let's not forget (as so many are wont to do) that said proposal also happens to have been publicly hailed by Pope Francis.
When Kasper's presentation at the February Consistory and the pope's praise for the same came to light, I suggested that there will be a quiet campaign afoot to recruit bishops to the pope's way of thinking in the lead up to the Synod.
This ain't rocket science, folks…
In spite of the persistent humbleganda flowing out of Rome (and occasionally abroad as in the Papal Kia story), Pope Francis is not averse to imposing his will. This much is obvious.
He is, after all,  the man at the top, and when the man at the top goes public with his praise for a certain proposal, there is considerable pressure for underlings to fall in line. This is as true in the Church as it is at IBM, and especially so today given the anthropomorphizing effects of the Second Vatican Council.
In the present case, those who don't smile and nod along with Pope Francis in the direction of Cardinal Kasper have reason to expect retribution.
Among those who have thus far refused to join the pope in praising Kasper's ideas is Cardinal Raymond Leo Burke, who if rumors are correct is about to be reduced to a mere figurehead at the age of 66.
In light of this, one wonders what might be going through the mind of Cardinal Gerhard Muller, who joined Cardinal Burke and three other cardinals in writing essays that essentially amount to telling Pope Francis that he is incompetent. (Talk about five Captains Obvious.)
In any case, we have heard comments from certain bishops indicating that the pressure to conform to the mind of Francis (as opposed to the mind of the Church), in whatever way it may have been brought to bear, has had an effect. (Bishop Tobin, for example, recently went public with his own idiotic Kasperian suggestions. Surely there are men of weak constitution just like him all over the planet.)
As such, I cannot help but wonder if the upcoming Synod wasn't among the "doctrinal and canonical difficulties" discussed by Cardinal Muller and Bishop Fellay. If not, I suspect in time it will be.
If indeed the Synod leads to a papal exhortation either adopting, or opening the way for individual national bishops conferences to adopt, the "profound and serene" theology of Walter Kasper, Cardinal Muller et al and Bishop Fellay may come to embody the old adage: The enemy of my enemy is my friend. 
To what end? Who knows, but one thing we do know is that God brings about good in all things for those who love Him; in the upcoming Synod, all involved will be forced to stake a claim, either with Him or against Him, and I for one can't wait to see it unfold.