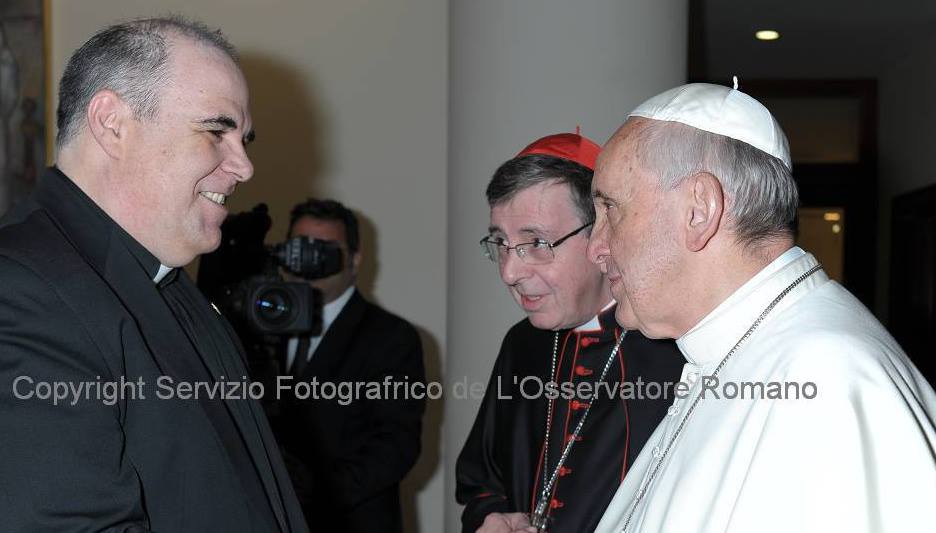 The optimistic title to a recent Catholic News Service article states, "U.S. priest trusts Christian unity is possible."
Highlighted therein is Philadelphia native Monsignor Gregory J. Fairbanks (pictured above with Pope Francis and Cardinal Koch), who specializes in dialogue with the Baptists at the Pontifical Council for Promoting Christian Unity in Rome.
After joining a group of local clergy and pastors who met monthly to share neighborhood concerns and find ways to better work together, he [Msgr. Fairbanks] says he "realized that if the ministers cannot work together, then our people are not going to be able to."
If you're wondering what Catholics and Baptists working together on neighborhood concerns has to do with the Church's mission vis-à-vis her relationship with heretics, the answer, of course, is not so much.
But wait, it gets worse.
"We have to learn what people actually believe, learn where they are coming from, and then learn how we can come together in faith," Msgr. Fairbanks told Catholic News Service.
Well, two out of three's not bad; it's downright pathetic.
Sure, it's important to know what heresies an individual or group might happen to embrace, but the notion that a priest of the Holy Catholic Church must in some sense "learn how we can come together" with them is wholesale nonsense.
The priest, if he actually thinks and feels with the Church, should already know how we can come together; if he doesn't, then he should probably be on the other end of a conversation with someone who does.
To state the obvious, the only way Baptists and Catholics can come together unto the "unity" toward which Msgr. Fairbanks imagines he is, or at least should be, laboring, to quote Pope Pius XI, is for…
"…the separated children [in this case, the Baptists] to draw nigh to the Apostolic See, set up in the City which Peter and Paul, the Princes of the Apostles, consecrated by their blood; to that See, We repeat, which is 'the root and womb whence the Church of God springs,' not with the intention and the hope that 'the Church of the living God, the pillar and ground of the truth' will cast aside the integrity of the faith and tolerate their errors, but, on the contrary, that they themselves submit to its teaching and government." (Mortalium Animos)
According to Msgr. Fairbanks, the Pontifical Council has had its share of successes.
Baptists and Catholics were able to agree to a common statement about Mary, church leadership, the word of God and the Bible. "If I had been asked 10 years ago if the chapter of the role of Mary would ever be written between the Baptists and the Catholics, I would have said no," Msgr. Fairbanks said.
While a professional ecumenist might consider a "common statement" such as this a magnificent breakthrough, from my perspective, it's clearly no great shakes since the Baptists remain separated from the solitary Ark of Salvation.
Indeed, it would appear as though the only concrete result of this common statement has been … wait for it … more dialogue; i.e., it's little more than just another day on the ecumenical treadmill to nowhere.
Even so, Msgr. Fairbanks said that the ultimate goal of ecumenism is not uniformity but "full visible unity," and he explains that as "full communion with each other, fully shared Eucharist, and full sacramental sharing."
He went on to say, "The point of the ecumenical movement is to have a common witness for Christianity so that we can more effectively share the message of Jesus Christ with the whole world."
On Friday, I sent a message to Msgr. Fairbanks asking him whether or not there is any possible way for this unity to be achieved other than that which was articulated so clearly by Pope Pius XI, but as of this writing I haven't received a reply.
In any event, the bottom line is this; an ecumenical movement that has as its "point" the common witness of which Msgr. Fairbanks speaks is truly point-less.
And why?
Simply because the message of Jesus Christ includes the glorious reality that He entrusted the fullness of truth to the Holy Catholic Church alone; it cannot, therefore, be effectively shared by those who refuse to enter her.
Simple logic? You bet, but no one ever accused the modern day ecumenical movement of being logical.