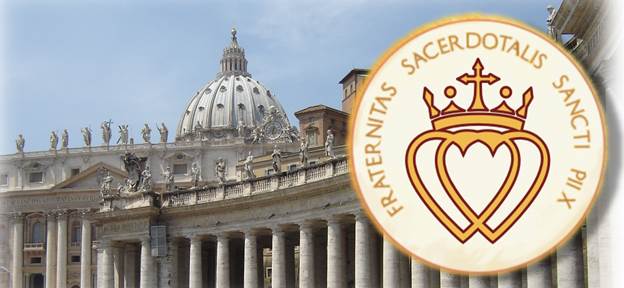 It is being reported that the Society of St. Pius X is on the verge of receiving regular jurisdiction; presumably via a personal prelature.
According to Rorate Caeli:
This Monday evening in Rome, religious correspondent Marco Tosatti (with Sandro Magister, the best reader of the current Pontificate) confirms that just one set of signatures separates the Society from full integration within the Church… It really is a matter more of when than of if.
Given my most recent observations concerning the Society, some seem to assume that I am no longer in favor of Rome's recognition.
This is understandable, but not exactly the case.
Let's set aside for the moment Fr. Gleize's shockingly soft (and oddly selective) treatment of Amoris Laetitia, and his erroneous contention that "anathema" and "notorious heresy" are not incompatible with the papacy.
Regular jurisdiction in this case simply means that Rome is officially recognizing the Society as Catholic, and extending to it that which it is therefore due.
It is not, properly speaking, a pact between Francis and the SSPX; much less is it an endorsement of the former's assorted heresies and blasphemies.
The Society has always been Catholic; it is Rome that departed from the Faith. In other words, it's a matter of justice and a step in the right direction.
Furthermore, anytime objective truth is affirmed, Christ is proclaimed, and it is a cause to rejoice.
All of this having been said, the converse is true as well:
Anytime objective truth is denied, Christ is denied, and it is a cause to lament.
Prior to recent events, it was my heartfelt conviction that much good would come from Rome's official recognition of the SSPX, if only for the fact that it would open the way for confused Catholics (to borrow Archbishop Lefebvre's words) to approach the Society for Holy Mass, the Sacraments and formation.
As for the "risk" that may, or may not, be associated with regular jurisdiction, one can only speculate.
One thing that will always remain unchanged, however, is the obligation that every Catholic individual and organization (the SSPX included) has to openly profess the truth and to condemn error, both in season and out of season.
So, has anything recently changed?
You bet it has.
About six weeks ago, I noted what appeared to me to be the Society's lack of Apostolic zeal in confronting the grave dangers posed by Francis in Amoris Laetitia.
Since then, the Society (via Fr. Gleize) has confirmed my observations; making it eminently clear (to me, at any rate) that one cannot expect the SSPX to provide Catholic clarity and conviction in all cases.
Sure, I think there is good reason to believe that the SSPX, once "regularized," will continue its criticism of the Novus Ordo and Vatican Council II (religious liberty, ecumenism, interreligious dialogue, collegiality and the like), and likewise to continue preaching the traditional doctrine on the Kingship of Christ and the unique rights of the Holy Catholic Church.
And yet, as important as this is, and for all of the good it might do, let's be perfectly clear:
One of the greatest dangers facing the Church at this very moment is Jorge Mario Bergoglio; a threat eminently evident in the text of Amoris Laetitia.
Rome's recognition or not, if the Society of St. Pius X remains unwilling to plainly engage the Bergoglian crisis, including by necessity a vigorous condemnation of the aforementioned "Apostolic Exhortation" in its entirety, one can expect that, in time, the majority of Catholic faithful will lose any and all sense for the reality of mortal sin; not just as it pertains to adultery, but in general.
In other words, the Society will be complicit in ushering souls along the road to Hell.
This being so, while I still find no reason to rail against regular canonical status for the SSPX, at least insofar as things stand today, all indications are that it will make far less of a difference than it should.