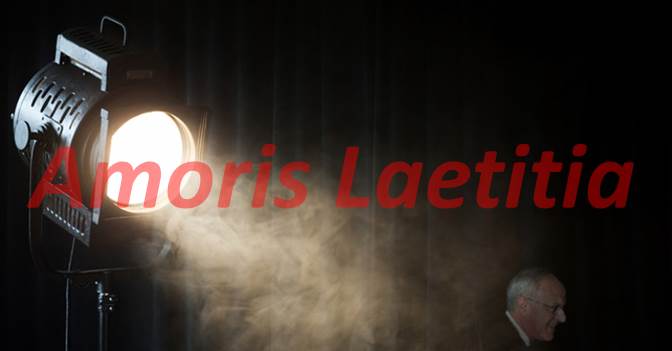 We know that in all things God works for good with those who love Him. (Romans 8:28)
Amoris Laetitia, in spite of so many (unsustainable) complaints about its lack of clarity, is shining a spotlight on Catholic organizations and their leaders; revealing those who are committed to defending the truth no matter the cost, while also exposing those who place a premium, not so much on building the Kingdom of Christ, but rather on fortifying their own particular brand, revenues, popularity, etc.
With this in mind, the following quotes speak for themselves:
"Amoris Laetitia is our guidebook to building up the Catholic family as a domestic church. Moreover, it is the guidebook for our Order's new initiative, Building the Domestic Church While Strengthening Our Parish." – Carl Anderson, Supreme Knight, Knights of Columbus (Supreme Council 2014 revenues: $2.2 billion)
"Amoris Laetitia is a timely and loving exhortation for families towards genuine charity that begins within the nuclear family. It can be described as a new road-map for a culture that has taken a sad and tragic detour." – Fr. Frank Pavone, Executive Director, Priests for Life (2015 revenues: $10 million)
"There is much in Amoris Laetitia that is good, beautiful, and true and that helps you understand the whole document. It is packed with solid Catholic doctrine and practical application concerning our Faith … What Pope Francis is saying, and theologically he is correct, on the objective level it is possible, a pastor can discern that this woman [who persists in adultery], in that case, is not in mortal sin." – Tim Staples, Director of Apologetics and Evangelization, Catholic Answers (2014 revenues: $7 million)
Should We Be Concerned About Amoris Laetitia? "From my perspective this story is a big nothing burger … There have always been exceptions on this [the constant and universal practice, 'founded on Sacred Scripture, of not admitting the divorced and remarried to Holy Communion.']" – Jimmy Akin, Senior Apologist, Catholic Answers
"If I might make bold to summarize a complex 264-page document, I would say that Pope Francis wants the truths regarding marriage, sexuality, and family to be unambiguously declared, but that he also wants the Church's ministers to reach out in mercy and compassion to those who struggle to incarnate those truths in their lives. In regard to the moral objectivities of marriage, the Pope is bracingly clear … [Amoris Laetitia] will be of great service to many suffering souls who come to the Field Hospital." – Bishop Robert Barron, Founder, Word on Fire Catholic Ministries (2014 revenues: $2.1 million)
"It's a real gold mine; in many, many ways … I think the Holy Father's mind is beautifully revealed in this document, and that mind is the mind of the man of the Church and it's placed within the context of the richness of the Church's teaching concerning marriage and family. That's why a number of times Casti Connubii of Pius XI is cited, Paul VI's Humanae Vitae, John Paul's Theology of the Body also Familiaris Consortio." – Dr. Timothy O'Donnell, President, Christendom College (2014 revenues: $19.8 million)
And then there are those who, too clever by half, have chosen to remain virtually silent concerning the unprecedented danger to souls that Amoris Laetitia represents; thereby averting the risk of losing support among benefactors who just might take exception to a vigorous defense of the Faith in light of the heresies put forth by Francis:
– Fellowship of Catholic University Students (2013 revenues: $30 million) Curtis Martin, CEO
– Dynamic Catholic (2014 revenues: $18 million) Matthew Kelly, CEO
– Legatus (2014 revenues: $4.6 million) John Hunt, Executive Director
– Catholic League (2014 revenues: $3.5 million / assets $37.9 million) Bill Donohue, President
Certainly there are others who deserve mention on this list, but presumably the point has been made.
Lent begins tomorrow. It is a season of fasting and penance, but it's also one during which the blessedness of almsgiving is frequently stressed in the context of various fundraising appeals, diocesan and otherwise.
Beware!
Thanks to the spotlight emanating from Amoris Laetitia,  clearly not all "Catholic" apostolates are committed to defending the Faith.