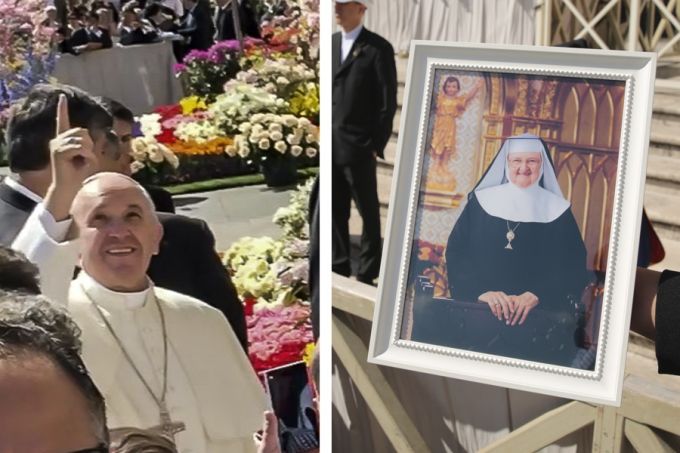 "Mother Angelica (92) R.I.P. Called home to heaven on Easter Sunday."
That's the message that Dr. Scott Hahn (Professor of Theology and Scripture at Franciscan University of Steubenville) delivered to his Facebook followers upon news of Mother Angelica's death.
This Santa Subito moment should be enough to make even the marginally well-catechized wonder if the popular EWTN host and convert to Catholicism is still carting around some serious Protestant baggage.
As unfortunate as it is to have such concerns over a man with so much influence over Catholic minds, that's nothing compared to the red flags that were raised (once more) by the humble Bishop of Rome.
According to the Bergoglian News Agency (formerly CNA):
Pope Francis on Wednesday offered a special blessing for Mother Angelica following her death on Easter Sunday, expressing his confidence that she is already in heaven.

"She's in heaven." The Pope pointed to the sky as he spoke these words to members of EWTN's Rome bureau, who brought an image of the late Poor Clare nun to his March 30 general audience as a sign of affection and remembrance.
Looking at reaction to this story on social media, it appears that the vast majority of Catholics are, not surprisingly, utterly confident that the pope is absolutely right: Of course she's in Heaven! Mother Angelica, pray for us!
Even so, I've been pleased to see how many others, albeit a minority, were rightly disturbed by the pope's comment in light of our solemn duty to pray for the dead in spite of any signs of sanctity the deceased may have exhibited in life.
Among those who recognized the great disservice that Francis' quasi-canonization represents are any number of (for lack of a better description) "Novus Ordo" clergymen.
On the one hand, it's good to know that these men still possess enough sensus Catholicus to realize just how uncharitable, and frankly un-Catholic, it is to discourage the faithful from praying for the dead, even if only implicitly.
On the other hand, however, it is deeply disturbing in that it only goes to show just how little so many of them truly know, or are willing to admit, about the deficiencies of the Novus Ordo rite itself.
If the pope's behavior in this case is cause for concern, how much more should one be outraged to discover that Roman Missal for Novus Ordo Missae – in its official text – likewise discourages prayer for the dead? If that's not bad enough, the Missal actually contains assurances of eternal beatitude, not only for the deceased, but for those present at the funeral Mass as well!
For instance, the Roman Missal for the new Mass provides the following "Final Commendation and Farewell" as an option:
"Although this congregation will disperse in sorrow, the mercy of God will gather us together again in the joy of his kingdom."
Consider for a moment the "us" about whom this text is speaking:
In the vast majority of cases, the deceased isn't very likely to be a person of considerable sanctity like Mother Angelica, but rather an individual like most of us; i.e., one of demonstrably limited holiness. (Heck, the majority of self-identified Catholics today rarely even bother going to Mass much less confession!)
In all cases, the "us" that comprises "this congregation" and thus are assured of entering the joy of God's kingdom frequently includes an assortment of heathens, heretics and even outright enemies of the Church!
This is just one example of how the official text of the Novus Ordo leads individuals away from the true Faith.
Think about it: If one were to take the words of this Mass to heart, they will necessarily come to believe in something false.
This is no small matter! A faithful Catholic should be able to consume every last drop of Holy Mass – every word, every gesture, every sight, every sound – utterly confident that doing so will lead to an even greater Catholic faith!
The cleric who recognizes this terrible situation for what it is, and yet takes comfort in saying, "But I would chose one of the better optional prayers," deceives himself if he thinks he is doing enough. Being "Father" means more than just leading the people in the building; it means caring in some way for the souls of all the faithful and taking steps to protect them from the wiles of the Devil to the fullest extent possible.
As every single clergyman worthy of the name Catholic would surely insist, the Mass is the supreme prayer of the Church and is also therefore that which most profoundly expresses the Catholic faith. Lex orandi, lex credendi.
That is why prior to the invention of the Novus Ordo no serious Catholic could even imagine that a day might come when Holy Mother Church would produce and promulgate a Missal that impresses upon the faithful thoughts and ideas that run counter to the true Faith.
Such a thing, they would surely insist, is utterly impossible!
And guess what; it is absolutely correct to think in this way.
Indeed, Holy Mother Church is incapable of so misleading her children. The liturgy that she provides is as pure and as holy as she is; with no trace of error whatsoever.
Bear in mind, when we speak in this way of Mother Church and her holiness, we are not speaking of her members; not even the most pious among us.
As it concerns the sacred liturgy, it is important to realize that the Mass – even though the rite bears any number of cultural and other human elements that take nothing away from its purity – does not come from the members of the Church; i.e., the rite of Mass is not, properly speaking, the product of human hands even in its individual outward signs.
"The visible signs used by the liturgy to signify invisible divine things have been chosen by Christ or the Church" (Sacrosanctum Concilium 33).
The liturgy is given by Christ, entrusted to the Church, and received by her members (including the pope); as such, we have every reason to fully trust in its purity.
And yet, as the above treatment of the funeral Mass makes perfectly clear, the Novus Ordo Missae contains "visible signs" (in this case, the text of the Missal) that cannot be understood as signifying "invisible divine things" that are by their very nature pure and free of any hint of doctrinal error.
The obvious question then is this:
If not from Christ through Holy Mother Church, from where did the Novus Ordo come?
The answer is also fairly obvious, as are the implications, though acknowledging as much is a solid food that relatively few are willing to digest:
The Novus Ordo Missae came straight from the hands of sinful men who have neglected their solemn custodial duty, most especially Pope Paul the Pathetic; each overstepping their bounds so egregiously as to give the innocent children of the Church the impression that this new rite comes from their Holy Mother and therefore contains nothing but good food for the soul.
Does the new Mass still contain elements of holiness and goodness? Certainly, but let us recall the Scriptural warning about "a little leaven." A glass of water with 2% arsenic is still 98% pure, and what mother or father among us would give this to their child?
In the Novus Ordo Missae, the Lord has allowed an unprecedented evil to take place; a masterful deception wherein innocent people who want nothing more than to be fed the truth are being led into error, and in the context of the Mass no less!
Incidentally, this has nothing whatsoever to do with validity.
Simply because a Mass may be "valid," does not mean that it is necessarily devoid of poisonous elements that can lead to a loss of faith; e.g., even Puppet Masses, Homo-Masses and Clown Masses can be valid, for crying out loud.
In this case, however, we're not talking about liturgical abuse, but something far worse; doctrinal impurity in the Missal itself.
This is a terrible truth to admit, but it's a truth nonetheless…
As for why the Lord has allowed such a terrible thing to occur, we do well to consider the answer He gave to the disciples when questioned about the man born blind:
"That the works of God should be made manifest in him." (John 9:3)

One may rightly say that all of the evil allowed in this world serves as an opportunity for the works of God to be made manifest, if only we are willing to treat it as such; in spite of knowing that persecution may be our reward here on earth.
I know for certain that a substantial number of clergymen read this blog. With this in mind, I wish to offer a challenge to our priest-readers, if I may, asking that you ponder the following, perhaps even sharing your thoughts either in the comment section below (anonymously if you prefer) or with me privately:
– Are you willing to defend the text in the Novus Ordo Roman Missal that assures all present at the funeral Mass that they, without distinction, will be gathered together in the joy of God's kingdom?
– If not, are you willing to say that this text is given by Holy Mother Church to her children in spite of the dangers it poses (e.g., discouraging prayers for the dead, encouraging false belief that all without distinction are saved…)?
– In other words, are you willing to assert that the faithful who expect the entire rite of Mass to be free of all doctrinal impurity expect too much?
– Can you find even a hint of doctrinal impurity in the Missal of Pius V?
– If indeed you do recognize the gravity of the dangers posed by the official text of the funeral Mass, how can you be confident in the purity of the Roman Missal for the Novus Ordo as a whole?
– Perhaps most importantly, how are you going to defend the family entrusted to you from this terrible and unprecedented evil wherein even the official Mass poses a danger to the faithful?