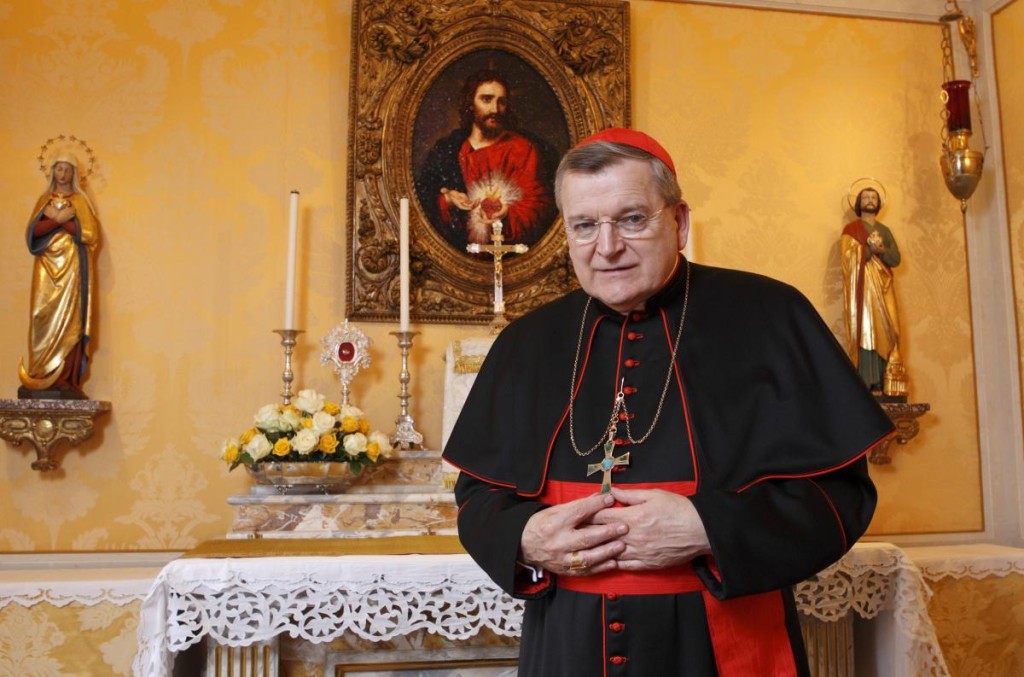 On March 2nd, the Rorate Caeli blog published an exclusive interview with Raymond Cardinal Burke. Though I am certain that most readers here are well aware of its contents, I'd like to offer just a few observations of my own.
When asked about "so much confusion stemming from the daily statements of Pope Francis," Cardinal Burke once more demonstrated that he knows very well how to leverage the media in order to deliver piercing criticism of other powerful prelates, and even the pope himself, with subtlety:
With someone like Pope Benedict XVI, we had a master teacher who was giving us extended catechesis on various subjects. I now say to people that, if they are experiencing some confusion from the method of teaching of Pope Francis…
Please allow me translate:
Cardinal Burke is clearly stating that we do not, at present, have a master teacher in the Chair of St. Peter; sadly, rather, Pope Francis' "method of teaching" engenders confusion.
He continued:
The important thing is to turn to the catechism and to what the Church has always taught, and to teach that, to foster it at the parish level, beginning first with the family … we know for sure what the Church has always taught, and we need to rely on that and concentrate our attention on that.
Elsewhere in the interview, Cardinal Burke suggested that the faithful should devote themselves to studying the Catechism of the Catholic Church specifically.
On this note, I must disagree with His Eminence. If one wants to know "what the Church has always taught," the new Catechism must be avoided as it is infested with conciliar innovations that invite even more confusion still.
I would recommend instead the Roman Catechism, the Baltimore Catechism, the Catechism of St. Pius X and the pre-conciliar magisterium of the popes; adding to those things that are best avoided, the magisterium of the post-conciliar popes who increasingly find it necessary to reference sources no more ancient than the Council itself.
Cardinal Burke was later asked to address the ticking time bomb that is the upcoming Synod:
Here I think it's very important to address a false dichotomy that's been drawn by some who say, "Oh no, we're just changing disciplines. We're not touching the Church's doctrine."
Here, Cardinal Burke is speaking of the likes of Donald Wuerl, the man Pope Francis selected to replace him on the Congregation for Bishops back in December 2013.
In the video below, Cardinal Wuerl puts forth the exact argument that Cardinal Burke is rejecting.
Cardinal Burke continued:
But if you change the Church's discipline with regard to access to Holy Communion by those who are living in adultery, then surely you are changing the Church's doctrine on adultery. You're saying that, in some circumstances, adultery is permissible and even good, if people can live in adultery and still receive the sacraments. That is a very serious matter, and Catholics have to insist that the Church's discipline not be changed in some way which would in fact, weakens our teaching on one of the most fundamental truths, the truth about marriage and the family.
His Eminence might agree that he spoke better when he said that a change in discipline here would "weaken" our teaching; as opposed to his previous statement, "surely you are changing the Church's doctrine on adultery."
I think it's important to say that the doctrine in question cannot be changed; the Holy Ghost will not allow it.
He will, however, allow weak and sinful men to undermine said doctrine by way of "pastoral practice" that is irreconcilable with it.
Can there be any doubt whatsoever that this is precisely what Pope Francis, who according to Cardinal Baldisseri personally approved the infamous midterm relatio, is determined to do?
Moving on to the situation with the Franciscan Friars of the Immaculate, Cardinal Burke once again engaged in subtlety.
After initially claiming to lack the "direct information on which to make a judgment about the matter," he said:
Many friars are leaving, and it would seem that there should be some way of dealing with the whole situation in which the order itself wouldn't collapse, because they were strong, they had a lot of vocations, and they have a great number of apostolates. That's the part that's worrisome to me.
Again, I will translate:
Cardinal Burke is, for all intents and purposes, proposing that the powers-that-be (namely, Pope Francis and his henchman, Fr. Volpi), are at best incompetent, and at worst, deliberately destroying a thriving religious order.
No one with any sense whatsoever remains confused as to what is motivating these men.
The FFI is under attack simply for showing signs of a "crypto-Lefebvrean tendency;" in other words, they are suspected of having an unshakeable attachment to the Catholic faith as it was taught, practiced, and known with certitude prior to the Council, including an attachment the ancient rite.
Pope Francis has been openly attacking such persons (otherwise called Catholics) almost from the very beginning of his pontificate! The attack on the FFI isn't the least bit out of character for this pope.
As for those FFI priests who are effectively displaced, Cardinal Burke strongly encouraged bishops to welcome them:
If there's a priest who desires to leave his religious community, and this a good priest, and there isn't anything contrary to the bishop accepting him, I think a good bishop would certainly accept such a priest and try to help him to become a priest in his diocese. There's a process; it takes time. The priest who is wanting to leave his religious community has to have a welcoming bishop. When a bishop is able to welcome such a priest, I think the bishop should be happy to do that, because it assists a good priest to be able to continue to exercise his priestly ministry.
I am reminded here of the words of Joseph, son of Jacob, who said to his brothers:
You thought evil against me: but God turned it into good, that he might exalt me, as at present you see, and might save many people. Fear not: I will feed you and your children… (Gen 50:20-21)
This pope, so utterly intolerant of those who dare exhibit "an ostentatious preoccupation for the liturgy, for doctrine and for the Church's prestige" (cf Evangelii Gaudium 95), has perhaps unwittingly set in motion the very mechanism whereby any number of good FFI priests, previously concentrated within a solitary religious order, will ultimately be dispersed throughout multiple dioceses where they will be well positioned to feed the children of the Church, even as the Franciscan famine ravages the Body of Christ at large.
This same dynamic is also discernable with respect to Cardinal Burke himself, wherein the Lord will use the very evil done against him to "save many people."
Speaking of the possibility of otherwise disaffected, tradition-loving priests, seeking refuge in the Sovereign Military Order of Malta over which he governs as its Patron, Cardinal Burke said:
The Order has a Prelate [Cardinal Burke, himself], appointed by the Holy Father, who participates in the governance of the Order. He is clearly the lawful superior of any priests incardinated in the Order. Right now, we're studying the whole situation because we have requests from additional priests who wish to be incardinated in the Order. But certainly it has happened in the past, and there's no reason why it couldn't continue to happen, not in virtue of the establishment of an Apostolic Administration, but in virtue of the nature of the Order.
How beautiful is this?
This thorn-in-the-pope's-side Cardinal who has been sent packing from the Roman Curia now finds himself in a position to incardinate precisely the kinds of priests this Holy Father would sooner relegate to extinction.
Yes, the Lord will have the last laugh indeed.
There are as yet many other noteworthy things to be found in Cardinal Burke's interview, and if you haven't yet done so, I highly recommend that you read it.
I'll conclude with what strikes me as a particularly poignant bit of advice offered by His Eminence relatie to the effort carried out on this blog:
I think it's important, too, that devout traditional Catholics get to know one another and support one another, to bear one another's burdens, as the Scripture says. We ought to be prepared to do that and be sensitive to families that might be suffering some particular difficulty in this regard, and try to be as close to one another as possible.
That is precisely what happens here, thanks not just to me, but to each and every one of you.
Deo gratias!