On the heels of the "People's Pope" video that I posted on Thursday, I had to laugh yesterday when I saw a copy of Catholic Review, the newspaper of the Archdiocese of Baltimore (yea, the same newspaper that ran that sacrilegious image of a Crucifix held aloft in LGBT flavored hands).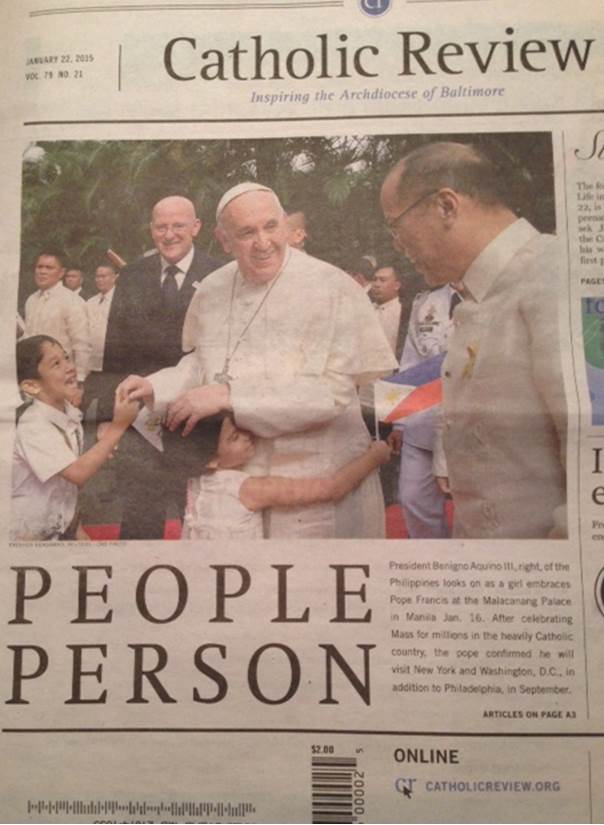 Oh, yes… he's a people person alright; provided you're not one of those people. You know, the kind who happen to think and feel and live like a Catholic.
The pope's recent press conference has any number of commentators talking about the interior makeup of Jorge Bergoglio the man, and one can only imagine that it won't be very long now before the Defenders of all things Francesco burst onto the scene to admonish us to cease focusing on the man's personality.
After all, one can just hear them saying, that isn't really pertinent to the faith; surely we've had good popes whose personal disposition would have invited similar criticism.
Now, they might just have a point save for just one inconvenient fact; Francis is reaping precisely what he himself has sown.
From day one, this pontificate has had precious little to do with the Office of Peter and the duties that go with it; rather, it has been all about Jorge; what Jorge will wear, where Jorge will live, and how Jorge will get there.
It is he who unceremoniously thrust his personality, opinions and preferences on the Petrine Office, remaking the papacy in his own image and likeness to such extent that he's probably graced the covers of more pop culture magazines in the last year than Brittany Spears and Lady Gaga combined.
And let's not forget the near endless stream of Humbleganda that began flowing out of Rome like so much waste from a sewage pipe even before the new "Bishop of Rome" had time to descend from the balcony at St. Peters.
From there, photo-ops just coincidentally began to present themselves before the ever-ready cameras of a media hungry to keep the illusion going, like that unforgettably candid image of the pope kneeling at the confessional; yes, the same whose knees simply will not bend in genuflection before Christ the King present on the altar at Holy Mass.
Let's be honest: The general thrust of this pontificate has never truly been ordered toward protecting and passing on the Faith that comes to us from the Apostles; it has been leveraged instead as a mechanism for revealing the thoroughly Jesuitized mind of Jorge Bergoglio. (Forgive me, St. Ignatius, for I trust you know what I mean.)
Even the much ballyhooed display of collegiality-in-action, the Extraordinary Synod of Bishops 2014, was really just another opportunity to broadcast, and then to place a counterfeit stamp of Catholic approval upon, Jorge's personal desires.
Indeed, even the most noteworthy papal instrument to date attributable solely to Pope Francis, that wretched 53,000 word tome, Evangelii Gaudium, is really nothing more than Jorge's personal diary wherein every stray thought that ever entered his modernist mind is recorded for precisely what purpose God only knows.
No, the attention being paid to the personal character of the current Bishop of Rome isn't unwarranted in the least; rather, it is precisely what happens when the man chosen (be it by collusion or otherwise) to ascend to the Chair of St. Peter makes the Office all about himself.