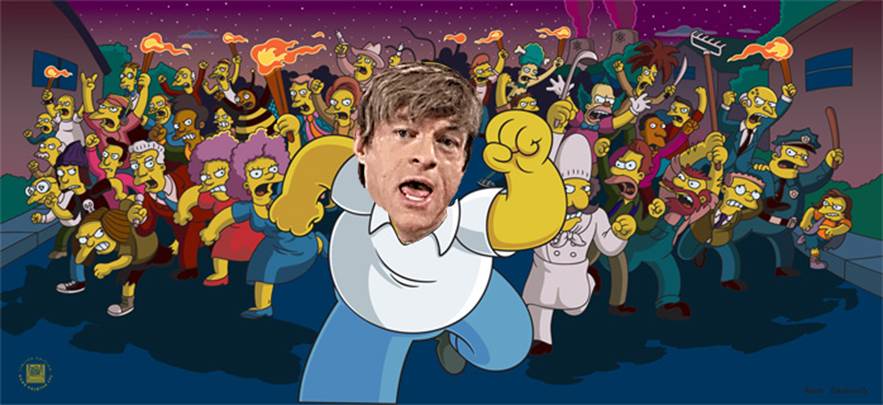 In response to the "Uncle Ted" McCarrick scandal and the attention it has brought to the conciliar church's ongoing homo-clerical crisis, Michael Voris and Church Militant TV, along with a "coalition" of other apostolates, is leading a "peasant Catholic march" to "take back the Church."
The "Silence Stops Now" rally (as it is formally named) is a call for faithful Catholics to descend on Baltimore in November during the USCCB Fall Assembly:
… to demand an end to the silence, to insist on the resignation of those [prelates] responsible, the prosecution of any criminal activity, and an independent investigation of the leadership of the Catholic Church in the United States.
It's not immediately clear what the rally will entail, but I wish them luck in securing a permit to march anywhere near the Waterfront Marriott Hotel where the bishops will be roughing it in 4-Star accommodations again this year. I would expect police presence to make it difficult to get anywhere near the venue, and much more so any individual bishop other than those media hounds who just can't help themselves.
In any case, in a video introducing the rally, Voris said:
The evil of sodomy is what's behind all this … The problem is the gay culture in the Church created by the leaders who could not have risen to their high ranks without allying themselves with it.
Now, don't get me wrong, I am pleased to assume that the organizers, as well as the people that plan to attend, mean well, but I am also entirely certain that the march is a monumental waste of time. Not so much because the USCCB doesn't give a hoot about what some protesters in the street are demanding, or the negative attention it might bring via the media, but because the organizers have misdiagnosed the problem entirely.
Just for fun, let's imagine that the march meets – no, make that wildly exceeds its goal:
Imagine the USCCB suddenly ceasing to be secretive, formally admitting that the Church has a major gay problem, and then it somehow convinces every last homo-deviant bishop and priest, their sympathizers, and their protectors to resign; sacking the ones that resist and even seeing to it that some of them are prosecuted. In other words, a clean sweep.
What then will remain?
A church-of-man overrun by a bunch of heterosexual modernists; a quasi-protestant religious non-profit that continues to thumb its nose at the Kingship of Christ; laughs at Our Lady of Fatima; reverences the Almighty Council as if it were holy writ; denies all manner of immutable doctrine; promotes religious indifferentism; labors to convince the Jews that they're in a saving covenant; stages a bastard rite posing as the Catholic Mass, and, to top it all off, is headed-up by a blasphemous heretic that they call "Holy Father."
In that environment, how many years do you think it will take before the homos are running the boys camp again?
On some level, it seems that Voris – in spite of what he calls the problem that's behind all of this – knows that the disease runs much deeper than queers behaving badly. He says:
… peasant Catholics need to show up in Baltimore as well [as the bishops] — not to convince the out-of-touch prelates and cardinals to return to the Faith, but to give some juice, some encouragement to good bishops to demand change.
Who exactly are these "good bishops" in the USCCB? Seriously, name one. Just one.
They don't exist, folks. If they did, they wouldn't need any "juice" from the angry mob.
Encouragement? The neo-cons have been spewing this nonsense for decades:
We must let our conservative clergymen know how much we appreciate their faithfulness, and that we have their back…
What a load of garbage! If the solemn duty that a Successor to the Apostles has before Jesus Christ and the very real prospect of Hell isn't motive enough to keep and to teach the true faith and to confront evil head-on (and clearly it isn't), then no amount of positive reinforcement from the flock is going to matter.
Every last one of these men need "to return to the faith." Every. Last. One.
Voris said that these bishops could not have risen to their high ranks without allying themselves with the gay culture in the Church.
Perhaps not, but make no mistake – no one climbs the ecclesial ladder unless they embrace the Almighty Council and the New Mass. Those are the rungs; plain and simple.

And now it is imagined that a gang of "peasant Santo Subito Catholics" who likewise reverence Vatican II and the poisonous rite of Paul the Pathetic are going to march into Baltimore and "take back the Church"?
So far, the "Silence Stops Now" coalition consists of CMTV, The Lepanto Institute, Regina Magazine, The Crusade Channel, and Defend Life Magazine.
Let me be clear – there are some good people in this group; a number that I consider friends and who do good work. Even so, I cannot get behind this effort.
And why not? Because laboring to expel the sodomites from the Church (a good thing) while turning a blind eye to the apostasy that allowed them to breed therein in the first place (a grave omission) will only serve to guarantee that souls will continue to be lost.
A kind reader suggested to me that it's only a matter of time before the Remnant joins the "Silence Stops Now" coalition given the following commentary from its publisher:
Well, although lay, we have been called also as part of "The People of God," and we can resist; we have Christ on our side. In this regard, one author has recommended that we put our ideological differences aside when it comes to this issue. In essence, many of us view ourselves as being Traditionalists, Conservatives or Liberals. But all of us are disgusted by this [homo-clerical crisis]. As such, coming together for this limited purposes seems like a good idea.
Maybe the Remnant will jump on board. If they do, who could be surprised? Either way, it is true, we can resist.
No, not by setting aside our differences – which, by the way, are not "ideological" (a Bergoglian buzzword) but rather concern matters of eternal life and death – and certainly not by marching in the streets. If you are considering doing either, don't.
Rather, immerse yourself all the more in Catholic tradition; invite others to do likewise; teach the true faith as often and as well as you are able; charitably but firmly meet error head-on at every turn; assist at the Mass of Ages, and offer acts of sacrifice, prayer, penance, and reparation.