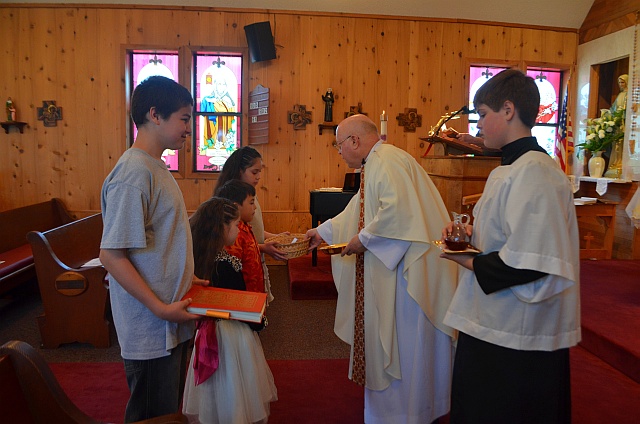 In a recent article in The Atlantic, Fr. John O'Malley, S.J. reacted to news that Pope Francis will offer a portion of today's Mass in Washington, D.C., in Latin, saying:
It's very unusual. It's not unheard of, but it doesn't make much sense, if you're in an English parish, or a Spanish parish, to do it in Latin.
If nothing else, these progressive dinosaurs are tenacious.
"He's the first pope in 50 years not to have participated in the Council," O'Malley said. "That's good, because he's not fighting the battles of the Council."
He can't be serious. Francis is not only fighting the battles of the Council; he's its poster pope.
In any case, the simple fact that the media considers Fr. O'Malley a "go-to" source for insight into the pope's visit to the U.S. tells us all we need to know about the kind of coverage we can expect. (Not that any of us expected anything different.)
The Atlantic article continued:
The mass that will be celebrated in D.C. on Wednesday is not the pre-Vatican II mass. The service will include English, Spanish, and several other languages, according to a Vatican spokesperson, and the pope won't be following the Tridentine liturgy. O'Malley was skeptical that the choice to include Latin is a sign of a traditionalist revival. "I think it can be interpreted that way, if you're looking for that kind of a pointer," he said. "But I don't think that's where it's pointing."
Only a dyed-in-the-wool conciliar revolutionary could possibly imagine that a dash of Latin in the Novus Ordo might be interpreted by anyone as a "traditionalist revival," especially when that Mass is celebrated by the Generalissimo of the revolution himself.
In truth, Latin, and any other assorted smells and bells, including an ad orientem posture, that one might heap upon the new Mass amounts to little more than lipstick on a pig. In the end, the new rite is still the same "banal on the spot production" that it ever was, to quote Cardinal Ratzinger.
While that point is not lost on most of the regular commenters here, I am certain that it remains a stumbling block for many readers who as yet are still coming to grips (as I was not all that long ago) with the liturgical destruction wrought by Pope Paul VI of most bitter memory.
It is with these future traditionalists (aka Catholics) in mind that I offer an excerpt from the Offertory such as it is in the traditional Mass:
Receive, O Holy Father, almighty and eternal God, this spotless host, which I, Thine unworthy servant, offer unto Thee, my living and true God, for my innumerable sins, offenses, and negligences, and for all here present; and also for all faithful Christians both living and dead, that it may profit me and them for salvation unto life everlasting. Amen.
In just this one magnificent prayer, we are given to understand a number of very important truths concerning the Sacrifice of the altar:
– It is offered to God by the priest in a singular way
– It is offered in expiation for sin
– It is offered for the benefit of faithful Christians both living and dead
– It is offered unto the salvation of all concerned
These four points, each one critical for a fully Catholic understanding of the Holy Sacrifice of the Mass, are reprehensible to the Protestant.
It is for this very reason that this same doctrinally rich prayer, along with many others, was unceremoniously stripped from the rite en route to crafting a Novus Ordo; replacing it with the earthbound presentation of the gifts and the preparation of the altar.
The results are plain enough. According to a recent Pew Forum Survey, only 39% of Catholics bother to assist at Holy Mass every week.
Certainly some will argue; Yes, but I still go to Mass every week. I still know, in spite of the regrettable stripping of the Offertory from the Mass, that all four of the aforementioned points are true…
To which I must remind the reader, It's not all about you!
Our focus in all things should be Christ; in the present case, we must focus our attention on the terrible offense against Him that is this stripped down rite that leads so many to lose the Catholic faith.
At this, I would simply urge those readers among us who are struggling to come to terms with the offensiveness of the new Mass – not simply due to abuses, but due rather to the rite itself – to consider coming out of the shadows and posting your questions, concerns, and even your arguments to the contrary.
What you will find is that our regular commenters, while passionate indeed, are mindful of the fact that most of us have been where you are, and will do what they can to help you make sense of this terrible crisis through which we are currently living, with kindness and charity.
Thanks to all in advance for the fruitful discussion to follow.