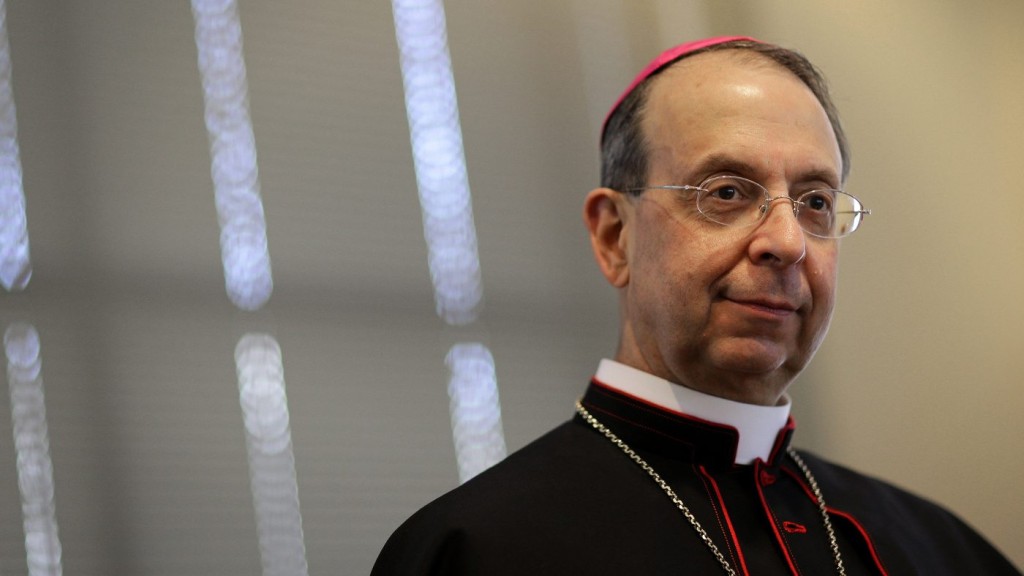 Thanks in large part to the homo-shenanigans of men like "Uncle Ted" McCarrick and the bombshells that have been dropped by Archbishop Viganò, a great deal of attention is being focussed on the inner workings of the Vatican; from the lowest levels of the Roman Curia all the way to the bosses office.
Against this backdrop, many are keeping a watchful eye on the Youth Synod, which gives every appearance of being a well-orchestrated effort to legitimize the "LGBT" cause among other nefarious things.
Though the heightened scrutiny under which Rome now finds itself is well-earned, it occurs to me that we must not lose sight of what is happening in our own backyards.
I, for instance, dwell in the Archdiocese of Baltimore – a diocese with more "gay friendly" parishes per capita than any other in the United States according to New Ways Ministry. Our ordinary, Archbishop William Lori, has been petitioned time and again by the faithful to rid the diocese of this scourge, but alas, he has shown himself to be a dear friend of the movement. In fact, a number of parish-based homo-activist groups were established the very year that Lori was installed as Archbishop, and they even began in that year to organize marches in the local "Pride Parade." It's almost as if the activists somehow knew that it was safe to fly the rainbow flag on his watch. Evidently they were right. (For more on this topic, see HERE.)
It is in parishes like these where a new crop of queer seminarians, priests and bishops are cultivated. This is also the case in certain Catholic schools, where the LGBT cause is openly tolerated.
Those living in the Archdiocese of Portland, OR, under the leadership of Archbishop Alexander Sample, who is among the more tradition-minded of the American bishops, might think that the situation there is better. It is not. There, "same-sex couples" openly kiss one another in school hallways without repercussion, and teachers are keen on using gender-neutral pronouns when speaking to or about those poor confused children who are at odds with their God-given sex.
So, evidently, a traditional veneer on the part of a bishop is no guarantee that he is willing to govern as such in his diocese.
If you think that's bad, get this: A kind reader recently called my attention to the policy manual of a Catholic school, wherein the school's administrators openly publish their tolerance for the LGBT cause. The manual reads:
To ensure that all members of the school community work together in an atmosphere of respect for the dignity of all persons, this policy is adopted to ensure that each student and staff member is provided with a welcoming, caring, respectful and safe learning environment that respects diversity and fosters a sense of belonging.
Acts of bullying, harassment or intimidation because of a school member's race, religious beliefs, colour, physical disability, mental disability, age, ancestry, place of origin, marital status, source of income, family status, gender, gender identity, gender expression and sexual orientation.
The policy manual continues to state that the school promotes a "safe learning environment that respects diversity and fosters a sense of belonging in accordance with the rights of staff and students;" and this includes "An Act to Support Gay-Straight Alliances."
Get that? Welcome at this school are not only are those misguided students who may wish to dress in drag, or insist on being called by some gender-bending pronoun, or proudly flout their homosexual deviancy in some other manner or form; so too are staff members who would do likewise – even as they are charged with forming the young minds in their care.
The "safe learning environment" that this school is determined to "promote" is one that even goes so far as to openly support "Gay-Straight Alliances." Imagine!
So, to what American diocese does this "Catholic" school belong? None.
The school in question is the St. John Bosco School in Alberta, Canada. It serves grades K-9, and it belongs to none other than the Society of St. Pius X, a group that in the minds of many occupies the most militant wing of the Church on earth. (You may read their official policy manual HERE.)
But, hey, at least they qualify for government funding.
Providentially, perhaps, just as I was about to hit "PUBLISH" and make this post public, I received an email from the SSPX – an appeal letter from Fr. Jürgen Wegner to supporters, to be exact.
In it, he seems to address the question raised in his September 29 letter to the faithful; the same that I addressed HERE. Readers may recall that the letter contained the following odd commentary:
I understand that in this time of confusion and crisis, there is a temptation to look for easy answers and a simple causal chain to explain away the corruption in the Church. Be careful. While we cannot discount the adverse effect the Second Vatican Council and its aftermath has had on the Mystical Body of Christ, I fear that the roots of the sexual-abuse crisis run much deeper.
In today's letter, however, Fr. Wegner now proposes:
What is the Cause?
The current crisis did not happen overnight, and it did not begin with Pope Francis. Our dear founder, Archbishop Marcel Lefebvre, warned of it. He foresaw the profundity of the crisis that began during the Second Vatican Council…
OK, then… It appears that Father has changed his mind and is now acknowledging that there really is a "a simple causal chain;" namely, exactly what I stated in the above mentioned post: We find ourselves here today thanks to the abandonment of faith, and likewise the abandonment of the mission that the Lord gave to His Church, as such was institutionalized at Vatican Council II.
The primary purpose of today's letter, however, is to ask for donations. Fr. Wegner states:
I humbly ask you to prayerfully consider making a sacrificial gift to help support the SSPX … I implore you to prayerfully focus on the profound good the SSPX has accomplished and the work that is still to come. I ask you, especially, to remember to pray for the souls who are lost because of this current confusion in the Church.
Fair enough. The SSPX has indeed done much "profound good." In fact, I count myself as one of the beneficiaries of their efforts. And yet, based upon the information above (among other things about which I've written in this space), it is clear that the Society of St. Pius X is also contributing to the "current confusion in the Church."
Bottom line: The bad news is, folks, like starving orphans in search of food left to determine for themselves what is poisonous and what is not, we are pretty much on our own. Sure, the voice of Holy Mother Church continues to speak throughout the ages, but we must labor to find it in places other than those that enjoy some official status; be it in libraries, books, newspapers, online venues, etc., and then we must carefully scrutinize absolutely everything.
Today, there are no truly militant religious groups left in the Church; whether they be of the "full communion" variety or otherwise. None can be trusted. Not. Even. One.
IMPORTANT UPDATE
I have been forwarded a copy of an email that was sent to SSPX priests from the by the District Superior of Canada, Fr. Daniel Couture, stating the following with respect to the policy manual of the Society's St. John Bosco School in Alberta, Canada:
Dear Fathers,

The bad text imposed by the government has been removed from our website and handbook as of last night.  Please let it be known to anyone who write to you.

And pray for the school, that we may be able to finish the academic year, and continue it next year!

AMDG

D. Couture
I have taken a great deal of heat from SSPX supporters for calling attention to the now deleted LGBT-accomodating language in the aforementioned policy manual; a classic case of shoot the messenger. No worries. I expected as much, although not in such degree.
Some folks were pleased to defend the manual's pro-LGBT language by pointing out that the priests and teachers at the school don't actually teach that garbage. Others insisted (in so many words) that it's simply the price for playing ball in Canada, and the good being done somehow justified caving-in to government pressure.
It would seem, however, that more clear thinking heads have prevailed and Society leadership in Canada has come to believe, as do I, that such rubbish as "gay-straight alliances" and respect for "gender identity" never belonged in a publication associated with the name of Pope St. Pius X and the Society founded by Archbishop Lefebvre in the first place.
I applaud the SSPX for moving to correct the situation, and I ask readers to please pray for the Society in Canada, that it may hold strong in the face of whatever persecution may follow.