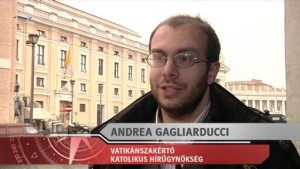 A recent post on Monday Vatican, the blog of Italian journalist Andrea Gagliarduccu, is getting a fair amount of attention thanks in part to Fr. Z who posted key excerpts from the piece.
In it, the writer shares "rumors" from "well-informed people" that changes are coming to the rules that will govern the upcoming Synod:
Some well-informed people say that the 2015 Synod will be completely different from any other. First of all, a midterm report will not be released. Last year, the midterm report was completely revised by some of the Pope's closest collaborators prior to its release, and the report resulted in many controversies … No final report or post-synodal apostolic exhortation is foreseen at the moment, at least according to recent rumors. In this way the adapters hope to convince the Pope to employ vague language so they can eventually exploit his words.
The "adapters" to which Gagliarducci refers are those churchmen that he defines as follows:
Rather than shaping reality on the basis of Catholic teachings, these theologians and priests wanted to adapt the teachings to reality.
Admittedly, I haven't read much from this journalist, but I have to say that based on this particular piece, I have my doubts as to just how dialed-in he truly is to the "reality" of the situation about which he writes.
For instance, notice that Gagliarducci believes that the "adapters hope to convince the Pope to employ vague language so they can eventually exploit his words."
Is he serious?
As my previous post (The mind of a modernist) indicates quite clearly, Pope Francis isn't just an "adapter" himself, he is their ringleader!
If this doesn't tell us all we need to know about whether or not Gagliarducci actually has his fingers on the pulse of the Vatican's inner workings, he left no doubt in my mind when he went on to say:
However, this strategy would amount to forcing the papal will. In certain respects, Pope Francis shows continuity with Benedict XVI. He visited the St. Pius X chapel for the feast of the saint who combated modernism, thus showing that he is in the end attached to traditional values.
Oh yes, we all know just how attached to traditional values Pope Francis is… so attached that he approved, had released and then published on the Holy See website an interim relatio from the Extraordinary Synod that lauds "the gifts and qualities that homosexuals have to offer to the Christian community."
So… with all of this in mind, while Gagliarducci's report that there is a push to alter the rules of the Synod to facilitate a departure from tradition seems entirely realistic, I wouldn't suggest giving him, or anyone else who still feels the need to deny that our current pope is leading the uprising, the time of day.