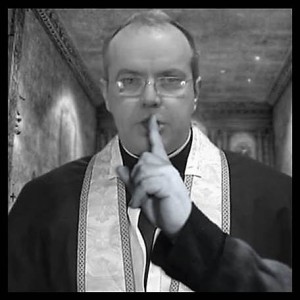 The so-called "Missionary Preacher of the New Evangelization" from Canada, Fr. Paul Nicholson, a man who is perhaps best known for calling attention to himself by hurling outrageous invectives at sincere Catholics, has descended to new a low.
Lately, he's been working overtime trashing the memory of Fr. Nicholas Gruner, a good and holy priest whose sudden passing apparently struck Fr. Nicholson as a golden opportunity for a little shameless self-promotion.
The very day after Fr. Gruner's death, the classless Fr. Nicholson reached deep into his storehouse of calumnies for a video entitled, "Should a priest disobey lawful ecclesiastical authority?"
Here are some excerpts:
Fr. Nicholson certainly has an obsession with money, doesn't he?
Since Fr. Gruner's passing, even those who didn't ally themselves with his noble cause in life have since come forward to express admiration for his tireless devotion to the message of Our Lady of Fatima, his sincere love of the Faith, and his constant exhortations to pray for the Holy Father.
Fr. Paul Nicholson, by contrast, chose to characterize the apostolate established by Fr. Gruner as "quite a business," declaring with a palpable degree of envy that he "profited greatly."
To hear Fr. Nicholson speak one would think that Fr. Gruner was living the high life, when in truth he managed the Fatima Center's resources with the utmost frugality and diligence.
His true colors showing through all the more, Fr. Nicholson even took to task those who lent financial support to the Fatima Center, with the clear implication being: Hey… how about sending some of that money to me!
No surprise, I suppose, coming as it does from the same priest who coined the pathetic and utterly undignified fundraising plea, "A dollar for my collar."
Setting aside for the present moment Fr. Nicholson's unnerving preoccupation with money, I'd like to address the question posed in his video, "Should a priest disobey lawful ecclesiastical authority?"
There's an old saying about glass houses and stones…
Apparently, Fr. Nicholson isn't very familiar with it. Not yet, anyway.
For years now, I've kept confidential my firsthand knowledge of just how Fr. Nicholson approaches the matter of obedience to lawful ecclesiastical authority in the management of his own affairs, and it doesn't exactly paint a picture of priestly propriety.
Well, I'm keeping that knowledge to myself no longer.
It's time for people to see the man behind the brocade just a little more clearly; especially those poor trusting souls who have been duped into thinking that Fr. Nicholson is a model of integrity.
In mid-2013, I spent several days at the Church Militant.tv studios filming a 13 part series on Vatican II, and I saw quite a bit of Fr. Nicholson when I was there.
Shortly after I arrived, I had lunch in Michael's office while he and Fr. Nicholson discussed the logistics of getting his new venture as a "Missionary Preacher" up and running.
I remember well just how happy Fr. Nicholson was when Mike told him that one of the CMTV staff members had just finished placing the order for his new Apple lap top computer, presumably the one he still uses to launch his ill-informed attacks against so many good people.
I can't say that I paid an awful lot of attention to the details being discussed since it really didn't concern me, but even so, I was struck by the covert tenor of the conversation.
The following day, the tone of that meeting would make a lot more sense…
Fr. Nicholson, speaking with me one on one, told me a little bit about the strained relationship that he has with his local ordinary, Bishop Ronald Fabbro.
More importantly, he was excited to tell me that he was entering into an agreement with Bishop Fabbro that would allow him to work fulltime in his own apostolate.
That agreement, however, comes with a major stipulation, he said.
He told me that Bishop Fabbro, for whatever reason, is adamant that Fr. Nicholson is to have nothing to do with Michael Voris and Church Militant.tv., and the agreement to keep him incardinated in the Diocese of London, Ontario while he works freely in the apostolate is contingent upon his maintaining that separation.
Fr. Nicholson, ever given to histrionics, then made the nature of his dirty little secret as crystal clear as the glass house in which he currently dwells as he leaned in close and said, "So remember, Mr. Louis, you didn't see me here…"
The problem is though, I did see him there, and not just for a quick visit.
In fact, our conversation took place in the hallway just outside of Fr. Paul Nicholson's very own office, located right there in the Church Militant.tv facility just a short flight of steps away from Michael Voris' office.
So much for giving a nod to the local bishop, eh?
This, my friends, is the real Fr. Paul Nicholson; the stealthy priest who has been falsely accusing Fr. Nicholas Gruner of being disobedient to his ordinary.
The hypocrisy is nothing short of stunning.
Looking back, I wonder what Fr. Nicholson would have said if I had asked him how he can justify disobeying the lawful ecclesiastical authority in such way, to say nothing of fomenting distrust in the sacred hierarchy by burdening a layman that he just met with the task of keeping his activities secret lest his bishop find out.
If I had, I suspect he would have said something about how unreasonable Bishop Fabbro's demand is, and how it's really more an abuse than it is an application of his authority.
I can imagine that he probably would have cited the terrible condition of the Church in our day; how much good he hoped to accomplish for the faithful, and how his secret collaboration with Michael Voris and CMTV would ultimately aid the Church in her moment of crisis.
In other words, he likely would have said that there are times when the salvation of souls takes precedence over the unjust demands of the lawful ecclesiastical authority.
And you know what?
He would have been right. In other words, he would have answered the very question posed in his shameful video, "Should a priest disobey lawful ecclesiastical authority?"
In any case, now that his question has been answered, I have one of my own for Fr. Paul Nicholson; the same that was asked by Our Blessed Lord who said:
Why do you see the speck that is in your brother's eye, but do not notice the log that is in your own eye?