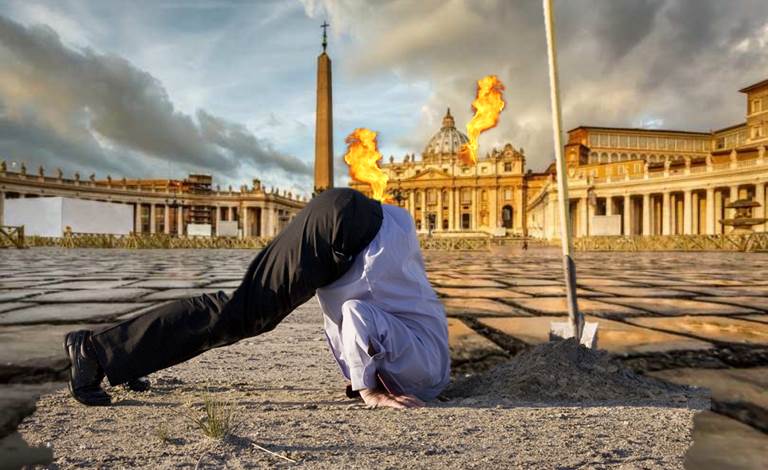 Back in September of 2015, two weeks before the Ordinary Synod of Bishops on "The Vocation and Mission of the Family in the Church and Contemporary World" convened, I wrote:
I'd say that we have more reason than not to believe that the outcome has already been determined, and guess what? It will be precisely what the "God of Surprises," aka Jorge Bergoglio, wants it to be.
Others went even further to suggest that the post-synod document was already substantially written before the bishops even met.
Well, it seems every bit as reasonable to believe that head-in-the-sand neo-cons have all but composed their responses to "Amoris Laetitia" – the post-synod exhortation that will be unveiled on Friday, April 8th at 11:30 am Rome time.
George Weigel, for instance, tipped his hand last week in a piece entitled, Things that can't change. (And no, he isn't referring to the minds of papalatrous Conciliarizers like himself.)
Let's take a look at some noteworthy excerpts.
When the Second Vatican Council was putting the finishing touches on one of its key documents, the Dogmatic Constitution on the Church (Lumen Gentium), Pope Paul VI proposed that it include a statement that the pope is "accountable to the Lord alone."

The suggestion was referred to the Council's Theological Commission, which, perhaps to Pope Paul's surprise, flatly rejected it: the Roman Pontiff, the Theological Commission noted, "is . . . bound to revelation itself, to the fundamental structure of the Church, to the sacraments, to the definitions of earlier Councils, and other obligations too numerous to mention" …

As for those "other obligations too numerous to mention," they include the pope's accountability to the ways things are, which is another boundary to papal authority.
So, according to Weigel, "the way things are" is a "boundary to papal authority."
OK, that sounds rather Catholic, and yet (Quo Primum aside) he apparently believes that the centerpiece of Catholic life, the Holy Sacrifice of the Mass such as it had been celebrated in the Roman Rite for some 1,500 years, wasn't?
Can you say cognitive dissonance?
Though it is eminently difficult to take the opinions of such men seriously, let's continue:
As is his wont, Cardinal Walter Kasper was first out of the starting blocks, announcing that the [post-synod] apostolic exhortation (whose date of publication he got wrong) would be a first step in vindicating his proposals for a "penitential path" by which the divorced and civilly remarried could be admitted to holy communion …

This, of course, set off a counter-reaction in the conservative and traditionalist sectors of the Catholic blogosphere, where the bait was swallowed and all manner of dark speculations about what-it-would-mean-if-Cardinal-Kasper-were vindicated ensued.
Weigel dismissed these treatments as the product of "various Catholic spin machines."
As of last week, he could get away with that characterization.
What if come Friday, however, we discover that Pope Francis really does propose what amounts to "first steps" that will effectively lead to the divorced and civilly remarried (and God only knows who else) being admitted to Holy Communion, what then?
Weigel answered in no uncertain terms:
What was striking about the spinmeisters in this instance was that both the progressives and the conservatives/traditionalists seem to have a false understanding of what popes can do.

By declining Paul VI's suggestion about a papacy "accountable to the Lord alone," Vatican II made clear that there are limits to what popes can do. On the bottom-line matters at issue in the two recent Synods, for example, no pope can change the settled teaching of the Church on the indissolubility of marriage, or on the grave danger of receiving holy communion unworthily, because these are matters of what the Council's Theological Commission called "revelation itself:" to be specific, Matthew 19.6 and 1 Corinthians 11.27-29.
So, if only we really understood what popes can and cannot do, we would realize that there's no real cause for concern!
What a load of nonsense.
No serious Catholic (in fact, not even Walter Kasper) has argued that there will be a change in "settled teaching."
All concerned realize that the pope cannot actually change the doctrine of the faith, but what "traditionalists" know very well, and neo-cons are determined to deny, is that he can change the way in which those "settled teachings" are expressed and lived via the policies, disciplines and practices he chooses to promote; either by word or by deed.
If nothing else, the realities of post-conciliar Catholic life demonstrates just how much havoc a merely "pastoral" exercise with no doctrinal value of its own can effect. Of course, this is a lesson entirely lost on the recalcitrant neo-conservatives for whom the Almighty Council serves as golden calf.
Weigel goes on to provide the final touches on what we can well expect to be the neo-con reaction to the post-synod document regardless of just how "revolutionary" it actually is (to quote the serene and profound papal theologian of choice):
It seems inevitable, alas, that the spin is going to continue, no matter how the pope phrases his call for the pastoral accompaniment of the divorced and civilly remarried.

We may hope that the articulation is not so ambiguous that the battle of the spinners will continue ad infinitum and ad nauseam. But in all of that spilt ink, and amidst all those flashing pixels, let's remember that there are things in the Church that don't change, because they can't.

That's Vatican II.
Please allow me to sum up what I expect to be the neo-con take on Amoris Laetitia:
– Let not your heart be troubled; there has been no change in 'settled teaching.'
– There's nothing to see here folks, this is nothing more than a call for 'pastoral accompaniment.'
– Relax, the firestorm is a result of 'ambiguous language' and nothing more.
"That's Vatican II" alright; at least according to the Weigels of the world…