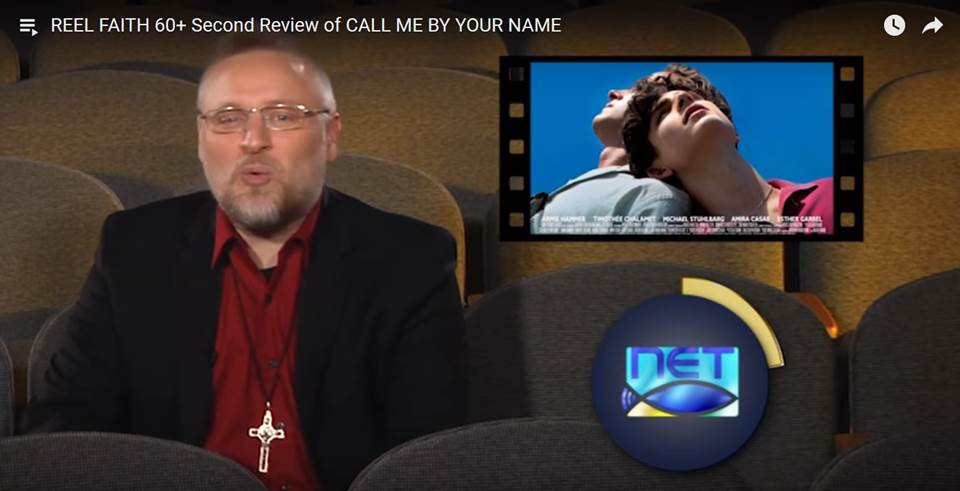 I'll be honest, while I have been familiar with the name Steven Greydanus for some time, I had no firsthand knowledge of anything he has ever said or written until yesterday.
Evidently, he is a film critic whose work is published by the neo-conservative National Catholic Register.
His bio on their website states that he is "the creator of Decent Films, a permanent deacon in the Archdiocese of Newark, and a member of the New York Film Critics Circle."
He also provides film reviews via a program entitled "Reel Faith" that is aired by "NET TV Catholic," which is, according to its website, "the communications and technology arm of the Diocese of Brooklyn."
Yesterday, I happened upon Greydanus' "Reel Faith" review of a film entitled, "Call me by your name," which apparently is Hollywood's latest attempt to "normalize" homosexual deviance.
So, what did the deacon have to say to Catholics who may have been looking for insight into how this particular "reel" measures against the "faith"?
Rather than simply providing the transcript of Greydanus' review, I would encourage you to watch the roughly 1 minute episode for yourself as the written word cannot possibly do justice to what you're about to witness.
Having watched Greydanus' glowing review of a film set in Italy that, according to him, "wants to seduce the viewer" by telling the story of "a young man (a 17 year old minor, that is) … in a relationship with an older man," the actors of which, he gushes, are "attractive and often winsome," I have an idea.
How about we call Greydanus by his name. (HINT: It ain't "Reverend Mr.")
In keeping with the Italian theme, a more appropriate moniker would be something like: mezzo finnoch'
For those who aren't familiar with the term, it describes a testosterone-free male who, although not a self-identified practitioner of homo-deviance, is just this side of full-blown, out-of-the-closet, gay as-the-day-is-long.
Those of you who suffered through the video cannot but concur thanks as much to his cringeworthy effeminate persona as to his drooly description of the film as "a decadent ode to desire and celebration of male beauty."
Seriously, what kind of man, never mind "clergyman," speaks that way?
Oh, yeah, a guy whose NCR bio states, "Steven and his wife Suzanne have seven children."
How proud they must be.
And let us not forget that this particular review bears the "imprimatur" of the Diocese of Brooklyn.
Let's be honest, folks; the Catholic Church in our day, or better said, the conciliar creation presently passing itself off as the Catholic Church, is overrun by homos (like James Martin and Battista Ricca), homo-sympathizers (like Francis and Rheinhard Marx), and pseudo-males (like Steven Greydanus and what by all indications is the preponderance of Novus Ordo clergy in parishes worldwide).
If anyone ever needed proof that Satan has indeed infiltrated the Church even to the highest places, this is it.
As I wrote in a post entitled "It all comes down to the males" back in 2015:
It's rather clear that attacking the male of the species has always been among Satan's highest priorities; undermining maleness in such a way as to tempt men into rejecting the God-given attributes that define "masculinity."
So, you want to read the signs of the times relative to the approaching final confrontation?
Keep an eye on the state of males both in the culture at large and in the Church – their strength, their manliness and their godliness – as you can be certain that this is precisely where Satan is determined to pile up the most casualties.   
If Steven Greydanus is any indication, the excrement is just a hair away from the fan.