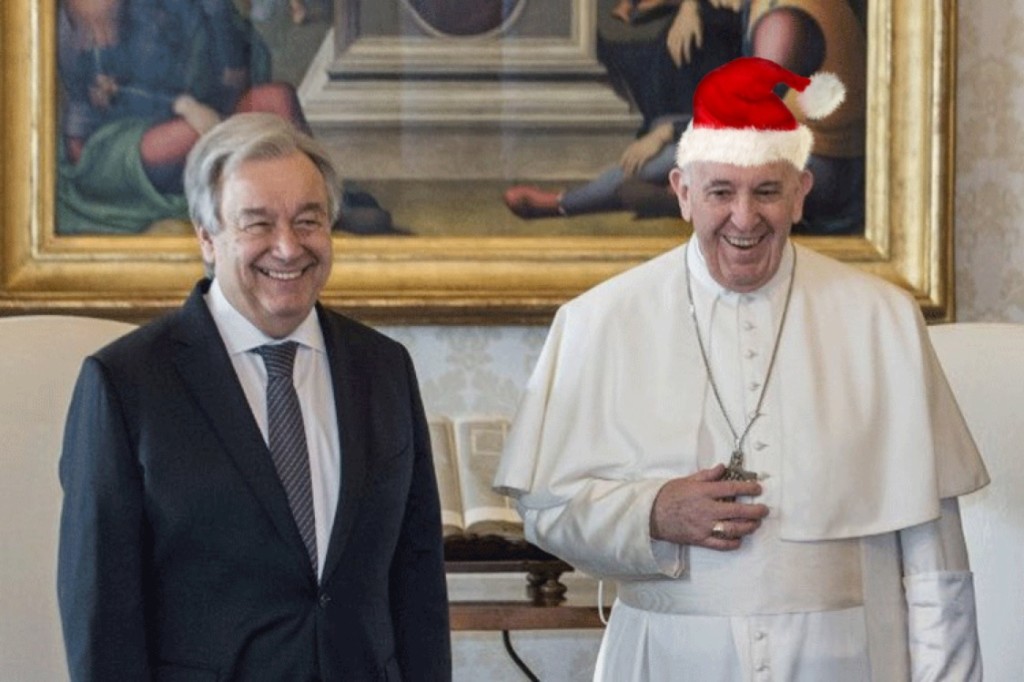 On 20 December, the man posing as the Holy Roman Pontiff leveraged the upcoming Feast of the Nativity of Our Lord as a vehicle for promoting the humanist ideals that are part and parcel of the United Nations' globalist agenda.
In a video published by the Unholy See, Jorge Bergoglio (stage name "Francis"), standing side-by-side with UN Secretary General António Guterres, issued a message that begins:
It is beautiful that we celebrate this meeting in the days before Christmas.
Bear well in mind the opening sentence; it tells us that what follows is Jorge Bergoglio's Christmas Message to the world.
Never mind the ramblings of December 25th when he offered a cheap imitation of the traditional Urbi et Orbi message from the central balcony of St. Peter's Basilica – that was aimed at self-identified Catholics who, in spite of so much evidence to the contrary, are still convinced that he's the pope.
The message delivered on 20 December with his UN puppet master looking on approvingly, that's the one intended for the peoples of the entire world.
Just seconds into his message, Bergoglio professed what amounted to a tacit denial of the Blessed Trinity, effectively reducing to nil the divine sonship offered to humankind exclusively by Jesus Christ, true God and true man, by the power of the Holy Ghost, as he said:
These are days when our eyes go to heaven to entrust to God the people and situations that most touch our hearts. In this look we recognize ourselves as children of a single Father, brothers.
He went on:
We give thanks for all the good in the world, and for all those who commit themselves free of charge, for those who spend their lives serving, for those who do not give up and try to build a more humane and more just society.
Notice that immediately after acknowledging that the Christmas season is approaching, he went on to give thanks – not for the birth of Christ and the gift of salvation that He alone can give – but for people.
From there, reading from a prepared text in Spanish, he established the theme of his four-minute-plus ramble, saying, Lo sabemos, no podemos salvarnos solos.
The English translation offered on the Unholy See website reads, "We know well that we cannot be saved alone."  On this, I am calling B.S.
In other words, even after so many well-documented heresies and blasphemies, there are some in Rome who still remain committed to putting Catholic lipstick on the Argentinian pig.
As I confirmed with Fr. José Miguel Marqués Campo, a faithful priest and friend living and working in Spain, while the English provided is a feasible translation, it may just as easily be taken to mean:
We know, we can't save ourselves alone.
This translation is more in keeping with the Italian that is given: Lo sappiamo: non possiamo salvarci da soli (with salvarci being reflexive, meaning "to save ourselves").
More to the point, We know, we can't save ourselves alone is far more in keeping with the fact that Bergoglio does not mention the Savior (you know, He who was born on Christmas Day) even once, but rather goes about lecturing humankind on how it must go about saving its own hide and improving its own lot in life – this life, to be precise.
Under the inspiration of the Holy Ghost, the Psalmist writes:
It is good to trust in the Lord, rather than to have confidence in man.
Under the inspiration of the Evil One, Jorge the Heretic proclaimed:
Trust in dialogue between people and between nations, in multilateralism, in the role of international organizations, in diplomacy as an instrument for understanding and understanding, is indispensable for building a peaceful world.
Bottom line, folks, with every passing day more evidence is heaped upon other evidence that Jorge Bergoglio is an anti-pope – an utter and complete fake – and head not of the Holy Catholic Church but of an imposter church.
In sum, his entire Christmas Message to the world can be summarized as follows:
Who needs a Savior when we have each other?