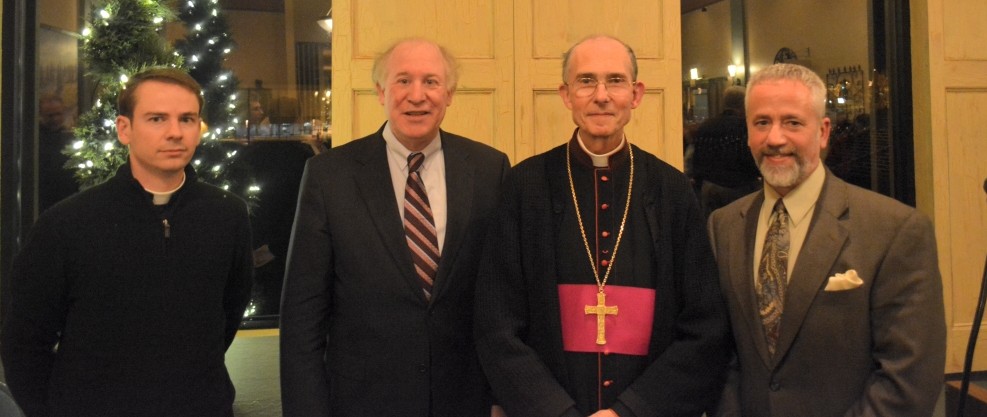 As some of you may know, John Vennari, who has been battling cancer, just posted the following message on Facebook:
"The doctors say I don't have much time left. Please pray for me and for my Purgatory. Was blessed to receive Last Rites yesterday and the apostolic blessing."
I am certain that readers of this space have been, and will continue to pray for John; offering Masses for him and his loved ones.
I have mixed feelings about this…
John Vennari is a good and faithful servant whose reward awaits him. Don't get me wrong, I will honor his wishes to pray for his Purgatory indeed, but I cannot help but believe that Our Lord is sparing him (as He also spared Fr. Gruner) the agony of remaining in the Church Militant as the devastation so evident in our day continues unabated until at long last the Immaculate Heart of Mary triumphs.
For this, we can give thanks to God for His mercy.
That said, I am heartbroken for John's wife and children. Having had the privilege of seeing them interact on a few occasions in person and then only briefly, it was perfectly clear just how close knit this model Catholic family truly is.
More selfishly, it breaks my heart for me. John Vennari, as many of you can also say, touched my life and made it better.
At this, if I may, as a personal tribute of sorts, I'd like to share with you a brief email that I sent to John a few months ago. It speaks for itself.
Dear John,
Of course my prayers for you and your precious family are a given.
You may not realize it, but you occupy a rather special place in my "journey" (such as it is thus far). I can only think of one person other than you that Our Lord was kind enough to put in my path that could somehow "see" something in me that even I couldn't exactly imagine for myself. 
As you may recall, we first "met" on Colleen Hammond's radio program about the SSPX back in 2012, and had only limited interaction afterwards until you generously invited me to speak at the CFN Conference in 2013.
It's only in looking back later that I realized how crazy that was.
You had never heard me speak in person. I had never addressed a conference outside of Novus Ordo diocesan or parish circles. And yet, for some reason, this giant of a man in the so-called "traditional movement" saw fit to extend that invitation to me?
It still doesn't make an awful lot of sense, but I thank God you did it. You opened a whole new world for me, in a sense, and exposed me to so many good people that I never would have come to know otherwise; many of whom will be lifelong friends.
Since then, I've been given enough glimpses of your faith, your work ethic, your family, your inner joy and your inimitable sense of humor to realize that you're a giant of a man – period.
Long story short, I admire you immensely and will always be grateful for all that you've done for me. I look forward to seeing you again. In the meantime, top of my prayer list you and yours will be!
May we all be blessed to see John Vennari again at the time appointed by Our Lord.