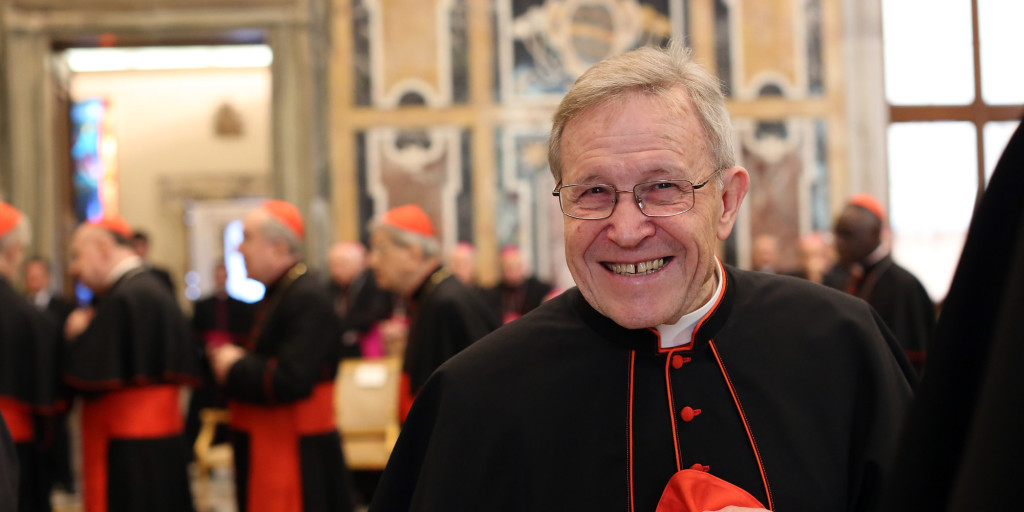 As reported by Catholic News Agency, in a December 7th op-ed written for Vatican Radio, the Bergoglian regime's favorite serene theologian, Cardinal Walter Kasper, said:
With the official publication of the letter from Pope Francis to the bishops of the Buenos Aires region, the painful dispute over the apostolic exhortation Amoris Laetitia is hopefully over.
Cardinal Kasper had more to say, of course, but let's stop here.
What the sentence above confirms is that the primary goal of Amoris Laeitia is to "officially" open the way to Holy Communion for those "who, while bound by a valid marital bond, live together with a different person 'more uxorio' (in a marital way)" apart from a commitment to continence. (cf the Dubia)
Focusing exclusively on this point, however, is shortsighted; in fact, it is more so a symptom than it is the actual disease, which we will identify momentarily.
Don't get me wrong; the so-called "pastoral initiative" to invite public adulterers and fornicators (and let's be honest, active homosexuals) to the sacraments is a terrible offense against Christ to be sure, not to mention a grave danger to souls, but we must not overlook the way in which Amoris Laetitia goes about making its case.
In my view, the most noteworthy phrase in the entire 60,000 word love Letter to Lucifer (aka Amoris Laetitia) is the following:
"It can no longer simply be said…" (See AL 301 and its treatment of mortal sin.)
In addition to being the foundation upon which Amoris Laetitia is built, it is the Bergoglian operating principle in a nutshell; i.e., what the Church has always taught and practiced – every last bit of it – is subject to alteration.
Admitting to Holy Communion the divorced and civilly "remarried," as well as other Catholics in so-called "irregular unions," is just the beginning.
The next step is already obvious; namely, welcoming heretics to Holy Communion.
This, I suspect, is the primary reason why Martin Luther is being celebrated in Rome. This is also why we are hearing rumors about the creation of a so-called "ecumenical Mass."
How is any of this possible?
"It can no longer simply be said…"
But that's not all…
Proselytism is solemn nonsense?
"It can no longer simply be said that we must baptize and teach."
Liturgical translations carried out by local bishops' conferences?
"It can no longer simply be said that this authority rests with Rome alone."
From here it can only get worse…
Married priests in the Latin Church?
"It can no longer simply be said that celibacy is required."
Female deacons?
"It can no longer simply be said that Holy Orders is just for men."
All of this said, we still haven't identified the disease.
HINT: It isn't Bergoglianism, even though this is a particularly virulent strain.
The fact of the matter is, folks, every single one of the conciliar popes have been operating under the same principle, "It can no longer simply be said…" Francis just so happens to be the only one arrogant enough to say it out loud.
And from where did this principle come?
The Second Vatican Council.
Man has the right to religious freedom?
It can no longer simply be said that error has no rights.
Christ uses heretical communities as means of salvation?
It can no longer simply be said that there is no salvation outside the Church.
The Church of Christ merely subsists in the Catholic Church?
It can no longer simply be said that the Church of Christ is the Catholic Church.
Get it?
As I've said many times over, Amoris Laetitia is cut from conciliar cloth; woven of modernist thread.
Many, it seems, wonder why so-called "conservative" prelates like Cardinal Burke, Bishop Schneider and [pick-your-own favorite] do not plainly condemn Amoris Laetitia for the poison that it is, and its heretical author for the danger to souls that he so obviously poses.
The answer is that each one is a man-of-the-Council as well, and each in their own way is also operating under the principle, "It can no longer simply be said…" In other words, it's a cherished part of who they are.
For no man ever hated his own flesh, but nourisheth and cherisheth it. (cf Eph. 5:29) 
As such, condemning Amoris Laetitia and its author, whether they consciously realize it or not, is tantamount to condemning themselves. Therefore, it's not going to happen.