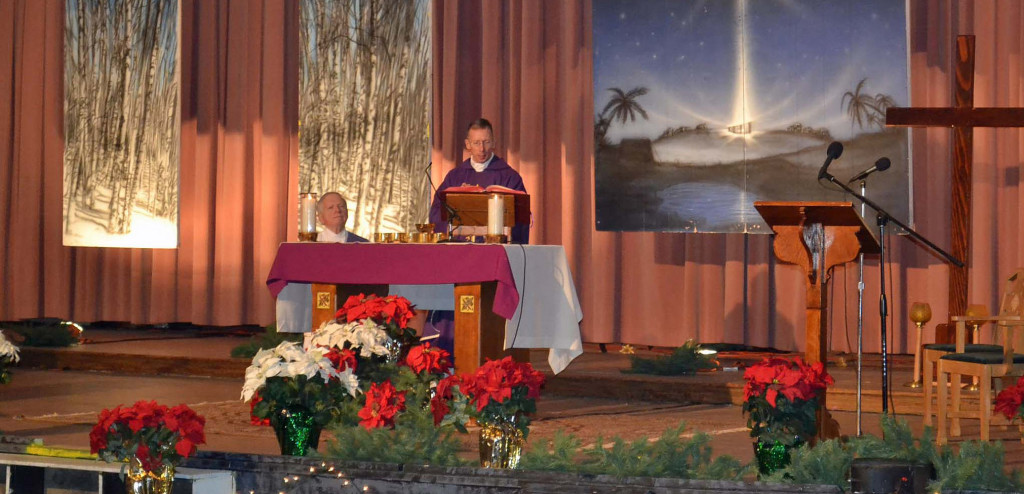 At the General Audience this week, Francis resumed his "catechesis on Mass" by addressing the question: Why go to Mass on Sundays?
How timely.
We've all met them; self-identified Catholics who, at best, show up for Mass on Christmas and Easter in order to participate, even if only begrudgingly, in what is ultimately little more than a time-honored family tradition started by a long since deceased relative well before the Council opened the windows of the Church to the world.
From bitter experience, I can tell you that these people invade Novus Ordo parishes in droves for Midnight Mass on Christmas morning, which back in my "conservative" adolescence meant that I – a "regular" don't you know – had to arrive by 11:30 pm in order to avert the risk of losing my seat (about three-quarters of the way back and to the right) to one of those C&E infiltrators.
Once Mass began, I could spot them a mile away – many if not most part of a multi-generational contingent of chatterboxes in ugly Christmas sweaters that give every appearance of having been exchanged and unwrapped just hours prior at the annual family reunion otherwise known as "Christmas Eve."
Hey, don't get me wrong, I'm not bashing these poor people. I actually feel sorry for them.
For the most part, I see them as victims of the "New Springtime;" people who have no blessed idea what the Holy Sacrifice of the Mass truly is much less why it's important to assist therein.
And guess what?
As his ongoing "catechesis" makes plain, neither does the Heretic-in-Chief.
As a matter of fact, during this week's Audience he managed to provide C&E Catholics with all of the excuses they need for continuing to blow off their Holy Day obligation; family functions notwithstanding.
You can read his Protestant masterclass for yourself if you'd like (the full version of which is available on the Holy See website only in Italian), but here is his ultimate answer to the question Why go to Mass on Sundays?
We Christians go to Mass on Sundays to meet the Risen Lord, or better to let ourselves be met by Him, listen to his word, nourish us at his table, and thus to become Church, that is, his mystical living Body in the world.
Let's stop here for a moment. Yes, you read that correctly, "to become Church" (e così diventare Chiesa) – a phrase taken straight out of the Militant Liberal handbook (quite unlike anything found in the lexicon of the Church Militant).
And let us not overlook this beauty; "nourish us at his table" (nutrirci alla sua mensa).
Altars, you see, are for Sacrifice. Tables? Not so much.
Francis went on to describe what is lost when one fails to belly up to the "table" in order to "become Church," saying:
Without Christ we are condemned to be dominated by the fatigue of everyday life, with its worries, and by the fear of tomorrow. The Sunday meeting with the Lord gives us the strength to live today with trust and courage and to move forward with hope. This is why we Christians go to meet the Lord on Sunday, in the Eucharistic celebration … We Christians need to participate in Sunday Mass because only with the grace of Jesus, with his living presence in us and among us, can we put into practice his commandment, and thus be his credible witnesses.
This guy is a cruel joke in a bad costume, and the laugh is on those who delude themselves into imagining that he has even one Catholic bone in his body or any portion of his backside on the Chair of St. Peter; much less the whole thing.
Bottom line: To Francis, Mass is nothing more than a glorified retreat; an opportunity to recharge one's social justice batteries for the week ahead.
Granted, that's pretty much all that the Novus Ordo Missae has to say for itself, but if that's why we go to Mass on Sundays, then the C&E Catholic has every good reason to sleep in.
If you enjoy watered down, neo-con friendly discourse wrapped in traditional clothing, please do not lend us the financial support necessary to continue our efforts in 2018.