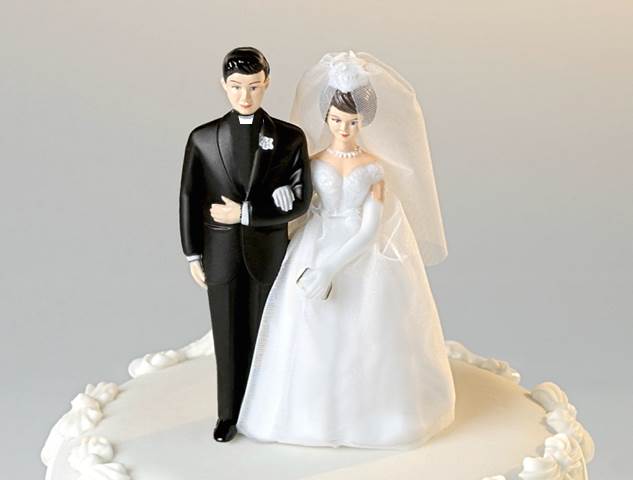 According to a reliable report from the Italian News Agency, ANSA:
"The Pope would like to dedicate the next Synod of Bishops to the theme of peace."
I suppose it only makes sense that as the 100th anniversary of the Fatima apparitions approaches, and grace perhaps pricks at the consciences of those in Rome who have ignored, downplayed, or lied about Our Lady's requests, the theme of peace would come to the fore all the more.
In any case, what a relief, eh?
Rumor at one time had it that the next Synod might target priestly celibacy.
Whew, we dodged another bullet!
Not so fast…
What this tells me is that the blasphemous Argentinian heretic in white has other plans for addressing the idea of married priests; something no reasonable observer can believe he isn't open to at least discussing, and, perhaps even more likely, promoting.
In fact, it would be downright foolish to imagine that clerical celibacy somehow isn't in the Franciscan crosshairs.
For the past three and half years it has been made crystal clear that the entire focus of this alleged "pontificate" concerns matters temporal.
More specifically, we know very well that Francis' vision of the priesthood is utterly earthbound; having nothing whatsoever to do with the salvation of souls, but rather with "service" such as that which anyone can render:
The ministerial priesthood is one means employed by Jesus for the service of his people, yet our great dignity derives from baptism, which is accessible to all. The configuration of the priest to Christ the head – namely, as the principal source of grace – does not imply an exaltation which would set him above others.  (Evangelii Gaudium – 104)
Truly, there is no reason beyond sheer denial to believe that anything is ever really off-the-table with His Humbleness. The "God of Surprises" (aka Jorge Bergoglio), in other words, does whatever he pleases, and apparently, obliterating tradition pleases him much.
So, if not a Synod, what might those other plans be with respect to abandoning the discipline of clerical celibacy in the Roman rite?
How about a motu proprio making celibacy optional?
He has already demonstrated a willingness to issue rulings motu proprio in order to accomplish his goals, such as he did with respect to the annulment process. Is there any good reason to think that Francis wouldn't do such a thing in this case as well?
Asked another way, does Francis himself have any reason whatsoever to fear a concerted pushback on the part of "faithful" cardinals and bishops (if you'll excuse the contradiction in terms) should he move against practically any doctrine or venerable practice in the Church, including clerical celibacy?
Francis has pushed, and pushed, and pushed the modernist envelope to the very edge of outright apostasy, and yet there has been nary a meaningful peep from any of the Apostles' successors.
He literally declared in Amoris Laetitia that adultery isn't necessarily a mortal sin (and may even be God's will!) and the most noteworthy episcopal response to date has been a call for deeper analysis!
As I write, it has been nearly three weeks since Archbishop Gänswein confirmed, in the starkest terms possible, that Benedict did not intend to abandon the Petrine ministry – the only way to render the See of Peter vacant for a successor – but rather simply to relinquish some portion thereof; a proposition that no serious Catholic considers even remotely possible.
And still, not one of the more than 5,000 bishops has stepped forward to address this gravely important matter publicly.
As it is, the naïve, the ignorant, and the confused, having been left fatherless, simply assume that the Keys to the Kingdom truly are in the hands of this madman who hates the Catholic faith. Furthermore, most appear prepared to follow wherever his whims may lead.
Long story short, the Devil seems well aware that time is running short. The crisis in the Church is now progressing at hyper-speed…
So brace yourself, my friends; barring divine intervention, I am convinced that we should expect clerical celibacy to be among the not-too-distant casualties of Francis's unholy war on tradition.
I hope I'm wrong.