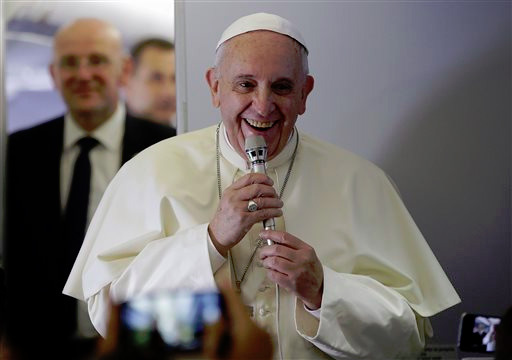 Attention passengers: In preparation for takeoff, please secure all tray tables in the upright and locked position. Our in-flight entertainment this afternoon will be Francis the Talking Pope.
On the return flight back to Rome from Korea, Pope Francis held another casual press conference wherein he fielded questions from reporters. The Italian text is available on the website of the Holy See; an English translation is provided by Andrea Tornielli at La Stampa.
First, let's start with the surreal.
When asked about his planned encyclical on the protection of creation, Pope Francis said:
"I asked Cardinal Turkson to collect together all the material that has been sent in. He gave me the first draft before the trip. It's this big (he said widening his arms, Ed.); it's one third thicker than the "Evangelii Gaudium."
Can you imagine, longer than Evangelii Gaudium! As I've observed previously, the Faith of the Church, being that it is the Faith that comes to us from the Apostles and is ever the same, rarely requires volumes from a given pope to convey in an encyclical, even when it's being applied to relatively unique circumstances.
Novelties, on the other hand, often require copious explanation as they are built on mere human constructs.
As for the upcoming encyclical? I suppose we'll just have to set aside several days to read it before judging it on its own merits, but let's just say with the bar already set at Evangelii Gaudium, I'm not expecting much.
With regard to the persecution of Christians in Iraq at the hands of ISIS, Pope Francis said:
After World War Two, the idea of the United Nations came about; this is where discussion needs to take place, asking: is this an unjust aggressor? It seems so, so how do we stop him? Nothing more than this.
I beg to differ with the suggestion that the terrorist group known as ISIS need only be stopped. The movement must be defeated and the diabolical perpetrators of violence must be punished justly, which to the Catholic mind means via the death penalty. Of course, a truly Catholic understanding of capital punishment is hard to find in Rome nowadays.
The Holy Father continued:
Secondly there are the minorities. Thank you for using this term. Because people talk to me about Christians, about the suffering, about martyrs. And yes, there are many martyrs. But here there are men and women, religious minorities; not all of them are Christians but all of them are equal in God's eyes.
It is unfortunate, and frankly downright disgusting, that Pope Francis feels the need to downplay the fact that people are being killed simply because they profess a belief in Christ. Then again, this is not surprising coming from a pope who is determined to avoid giving anyone the idea that the Holy Catholic Church is in any way superior to the many false religions of the world.
Lastly, on the topic of ISIS the Holy Father offered:
Stopping the unjust aggressor is humanity's right but it is also the aggressor's right to be stopped so he does not cause any harm.
The aggressor has a right to be stopped from doing evil? Really? Perhaps someone smarter than I can explain this manner of thinking. In any event, it would seem that in this pope's mind everyone has rights, other than Christ the King, of course, but more on that in a moment.
When asked about the possibility of visiting the Iraq war zone, the pope said:
I am prepared to do it! It would not the best thing to do at the moment but I am prepared to do it.
It isn't immediately clear what good Pope Francis thinks might come from a personal visit to Iraq, so one wonders…
Would it be his intention to meet with the leaders of ISIS to personally negotiate peace? Does he plan to invite the terrorists back to the Vatican to plant a tree, you know… since the Pentecost stunt worked so very well?
Then again, perhaps he simply plans to kiss their babies and wash their filthy Muslim feet, I really can't say, but one thing seems entirely certain barring Divine intervention; this pope isn't going to proclaim the faith of the Holy Catholic Church in Jesus Christ, the Prince of Peace, come Hell or high water.
And herein lies the problem, not just with this interview, but with this entire pontificate; it is squarely focused, not on Christ, but on man.
In the Italian text provided by the Holy See, Pope Francis invoked humanity more than a dozen times in the relatively brief in-flight press conference. By contrast, he found it expedient to mention Jesus by name just once.
On those rare occasions when God was invoked in a more general way, even then he managed to do so in a way that was convoluted and confusing.
When asked to comment on the relative success of the Pentecost prayer meeting at the Vatican wherein Mahmoud Abbas, Shimon Peres and he planted a tree, and … oh yea… a Muslim cleric chanted a Qur'anic (AKA demonic) verse calling for victory over those who don't buy into Muhammad's perverted daydreams, Pope Francis said:
The peace prayer meeting was absolutely not a failure … Peace is a gift from God which we earn through hard work, but it is a gift.
An earned gift… Is that like credit card points? That's a new one for me.
In any case, as for faith in Christ Jesus, the King of kings to whom all authority in Heaven and on earth belongs?
Well, apparently that's optional.