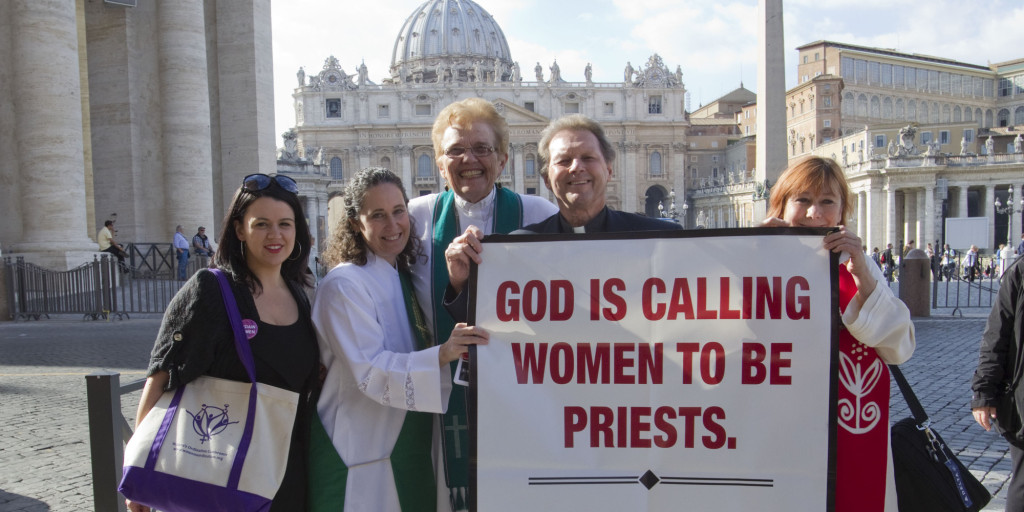 By now, most readers are familiar with Maike Hickson's recent report concerning Cardinal Muller's farewell meeting with Francis wherein His Humbleness allegedly posed five loaded questions to the now former Prefect.
The questions concerned Muller's stance on a female diaconate, the repeal of celibacy, female priests, Amoris Laetitia, and lastly, any lingering resentment he may have over Francis' unceremonious firing of three CDF employees back in December.
In a follow-up piece, Steve Skojec wrote about the question concerning female priests:
This is the sole standout question, the one point of discussion that has ruffled the most feathers. And this is understandable, because the pope has made clear — that is to say, as clear as he ever makes things — that he believes the door to this question was closed by John Paul II. I suspect that this is an issue he will not try to push…
Relieved? Not so fast, my friends…
The hyperlink provided in the quote above leads to an article published by Catholic News Agency, which, as I've written many times, might better be known as the Bergoglian News Agency given its history of deliberately shading their reporting in such way as to make the Argentinian Jesuit appear as Catholic as possible (no small feat).
In the CNA article, which ran under the heading "Pope Francis reiterates a strong 'no' to women priests," we are told:
During a press conference Tuesday aboard the papal plane from Sweden to Rome, Pope Francis said the issue of women priests has been clearly decided, while also clarifying the essential role of women in the Catholic Church.
"On the ordination of women in the Catholic Church, the final word is clear, it was said by St. John Paul II and this remains," Pope Francis told journalists Nov. 1.
This isn't the first time CNA has, shall we say, struggled to translate Italian accurately, and the problem isn't one of language.
Here is what Francis actually said as published on the Vatican website (a video of which can be seen HERE):
Sull'ordinazione di donne nella Chiesa Cattolica, l'ultima parola chiara è stata data da San Giovanni Paolo II, e questa rimane. Questo rimane.  
In reference to the teaching of John Paul II on female priests (as articulated in Ordinatio Sacerdotalis), Francis did NOT say that this is the "final word" (in Italian, parola finale); rather, he said it is the "last word" (l'ultima parola).
The official English translation published by the Vatican is accurate:
As for the ordination of women in the Catholic Church, the last clear word was given by Saint John Paul II, and this holds.
The difference is profound. Francis is essentially saying:
The last time it was directly addressed was by John Paul II, and at present, this stands.
That's it. Nothing more. He isn't necessarily saying that Ordinatio Sacerdotalis  has rendered the issue settled never to be addressed again.
If, in fact, Francis does accept that the "final word" has already been spoken on the matter of female ordination, one would have to logically conclude that Mrs. Hickson's report is inaccurate, and I, for one, have no reason to believe that it is.
As such, I think it's fair to say that female ordination (to the priesthood) is an issue that Francis is willing to push, or at the very least form a commission to "study the question," if and when he ever deems the moment opportune to do so.
After all, he is the "God of Surprises," who, as we have come to discover, does not feel himself bound by his predecessors.