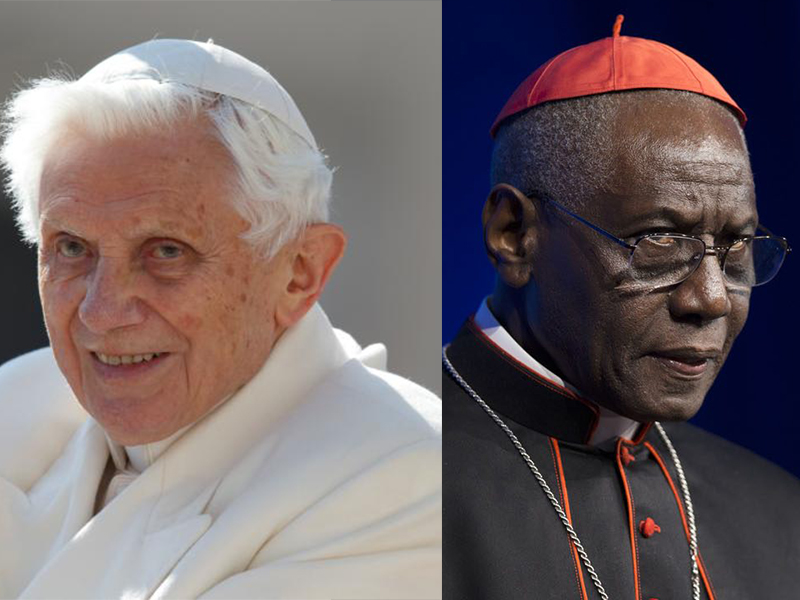 Catholic social media is abuzz with news that he who presently claims to occupy the make-believe Office of Pope Emeritus, and Cardinal Robert Sarah, Prefect of the conciliar church's Congregation for Divine Worship and the Discipline of the Sacraments, have co-authored a soon to be released book defending clerical celibacy.
Defending it from whom, one might ask?
Well, duh… from Jorge Bergoglio, the blasphemous heretic pretending to be the pope (even though one can be certain he is not named anywhere in the text, other than, perhaps, a word or two of praise).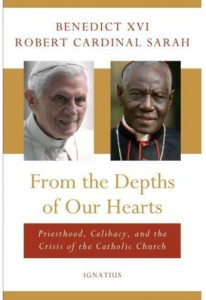 Evidently, the book will consist of individual essays written by each man, but it opens with a hard-to-believe preface to which each one has attached his name. It reads:
Like Augustine we can say: 'I cannot be silent! I know indeed how pernicious silence would be for me… It is to Christ that I will have to account for the sheep entrusted to my care. I can't keep quiet or pretend ignorance.'
We do it in a spirit of love for the unity of the Church. If ideology divides, the truth unites hearts.
OK, let's unite some hearts then, shall we. Here's the plain truth, difficult though it may be for neo-cons and certain starry-eyed trads to accept:
The hypocrisy of Ratzinger and Sarah is matched only by their cowardice.
I cannot be silent on account of the sheep!
They can't be serious.
Hypocrites are very much like serial liars in their self-deception. You see, the hallmark of a genuine master of hypocrisy is that he has so thoroughly convinced himself that his behavior reflects his publicly stated convictions that he has no trouble whatsoever asserting an obvious lie in order to perpetuate the myth.
The plainly observable fact of the matter, however, is that both Ratzinger and Sarah can be silent in the face of all manner of grave dangers being visited upon the sheep.
In the present case, they are speaking out about a frontal assault on clerical celibacy that has yet to actually take place.
How brave of them, you say? Please, these men are nothing more than paper tigers.
Between the two of them they can't piece together enough vertebrae to form even half a spine, which is all it would take for a marginally committed shepherd to speak out against the magnificent blasphemies and heresies that Jorge has already decreed!
I can do no better than to repeat what I wrote of Burke and Schneider back in September when they were pulling a similar stunt in the lead-up to the Amazonian Synod, as the same applies equally to both Ratzinger and Sarah:
If either one of them had any real sense of duty to the Church, her life-giving Truth, and innocent souls, they would at this very moment be on a relentless crusade to call Jorge Bergoglio to account for his blasphemy, condemning, daily if necessary, the errors and heresies in Amoris Laetitia.
That they are not – and have grown practically silent on the matter – is a sure indication that they are heroes-of-convenience, pleased to occasionally pick the low hanging fruit of potential threats, but utterly unwilling to risk losing their benefices by engaging in any meaningful opposition to the clear and present danger right in our very midst.   
Among hypocritical cowards, Ratzinger is a special case whose silence in the face of evil is legendary. Might I remind readers that he was a key player in Operation Third Secret in the year 2000 whereby the Vatican lied to the world about having made the entire vision public.
This also happens to be the same man-in-white who publicly looked Jorge in the eye and publicly proclaimed:
My true home is your goodness. There, I feel safe …  We hope that you will continue to go forward with all of us on this road of Divine Mercy, showing us the way of Jesus, toward Jesus, toward God.
This was months after the publication of Amoris Laetitia.
Even so, there are some among us who believe that Benedict XVI not only resigned under pressure, or did so with a defective intent, but rather that he deliberately tendered a fake resignation. (I'll have more to say about this in a future post.) And get this, they insist that his subterfuge and silence is downright heroic, and that he is acting to save the Church!
Apparently, self-deception is contagious.
In any case, getting back to the battle to preserve the requirement of clerical celibacy in the Roman Rite, mark my words:
If and when the day comes that the Heretic-in-Chief officially relaxes the discipline of clerical celibacy for the conciliar church "in the most remote locations" (as he has signaled), or even if he should make it optional in a broader context, Ratzinger and Sarah will promptly tuck their tails between their legs, zip their lips, and go on reaping the earthly rewards that come from compliance with the Devil.