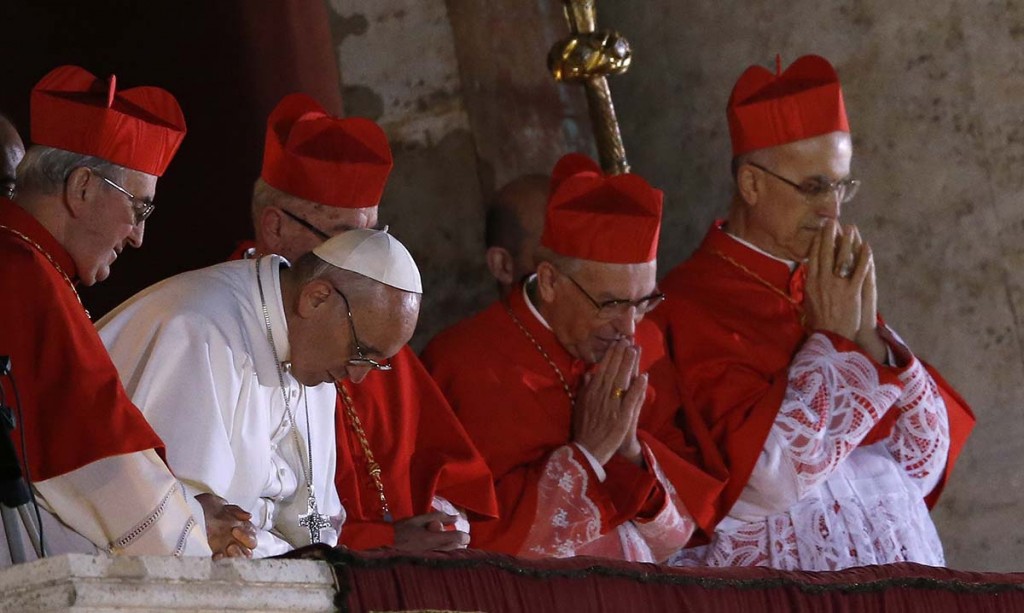 On March 13, 2013, shortly after 1 pm U.S. Eastern Time, I glanced up at the live video feed from Rome on my computer and saw that white smoke was beginning to billow from the Sistine Chapel chimney.
Just over an hour later, while on my knees, I couldn't help but get a little choked up as the doors to the balcony of St. Peter's were finally opened and Cardinal Jean-Louis Tauran emerged to make the announcement for which the entire world was waiting.
Annuntio vobis gaudium magnum; habemus Papam!
In hindsight, as the one year anniversary of Cardinal Jorge Bergoglio's elevation to the Chair of St. Peter dawns, it occurs to me that the Cardinal Protodeacon's announcement could just as easily have been:
Annuntio vobis tempore tribulationis; habemus problema! (I announce to you a time of trouble; we have a problem!)
Let's review just a handful of highlights from the previous year:
– Like pretty much everyone else, I knew next to nothing about Jorge Bergoglio as he walked onto the balcony of St. Peter's as Pope Francis, and yet within mere minutes, the lump in my throat turned into a pit in my stomach.
You know that it was the duty of the Conclave to give Rome a Bishop. It seems that my brother Cardinals have gone to the ends of the earth to get one… but here we are… I thank you for your welcome. The diocesan community of Rome now has its Bishop…
And so began the first papal address of the newly elected Supreme Pontiff, a discourse of roughly nine minutes duing which he referred to himself as a mere bishop no less than five times and pope not even once.
Reality really began to set in, for me anyway, as the Vicar of Christ and earthly head of over one billion Catholics bowed his head and asked for their prayers.
While certainly there is nothing wrong with praying for the pope, and indeed we must, my first thought was, This is not what we need. We need a father and a sovereign.
–  From these very first moments onward, Pope Francis made it clear that his own ideas and personal preferences would take precedence over papal tradition. From his beat up shoes to his living quarters, the way he would dress and his chosen modes of transportation, things would be done his way – period end of discussion. Welcome to the new definition of "humility."
– During his first meeting with leaders of other faiths, the new Bishop of Rome relinquished the elevated throne in favor of an ordinary chair. So much for giving the world the impression that the Sovereign Pontiff of the Holy Catholic Church reigns superior over the purveyors of false religion.
– On the ides of March, disgraced American Cardinal Roger Mahony sent out the following message via his Twitter account:
"Mass with Pope Francis: moving from HIGH Church to LOW and humble Church! What a blessing that we are encountering Jesus without trappings!"
– The following day, just three days into his pontificate during a gathering with journalists in Paul VI Hall, Pope Francis raised a red flag that only the willfully blind could fail to see.
The relevant details were described by Dr. Robert Moynihan as follows:
The moment had come for him to impart to all of us his Apostolic Blessing, but he did not do this in the usual way. In fact, he made no exterior gesture at all. He did not lift his hand, he did not move it in the form of a blessing, and he did not speak "in the name of the Father, and of the Son, and of the Holy Spirit" out loud. He said, in Italian: "I cordially impart to all of you my blessing. Thank you." And then, in Spanish, he explained as follows: "I told you I was cordially imparting my blessing. Since many of you are not members of the Catholic Church, and others are not believers, I cordially give this blessing silently, to each of you, respecting the conscience of each, but in the knowledge that each of you is a child of God. May God bless you!" And with that, he turned and left.
– On this very same day, Cardinal Roger Mahony went back to Twitter to say:
"So long, Papal ermine and fancy lace! Welcome, simple cassock, and hopefully, ordinary black shoes! St. Francis must be overjoyed!!"
All of this took place within the first few days of the new pontificate, and already Francis mania was making itself known.
Now, here we are a library of casual homilies, a handful of loosely worded newspaper interviews, and a 50,000 word tome Cardinal Burke still hasn't quite figured what to call later, all of which are presented in the "new genre of papal speech not concerned with precision," and all indications are you ain't seen nothin' yet.
Yes, my friends, habemus problema. Year number two promises to be one for the ages.