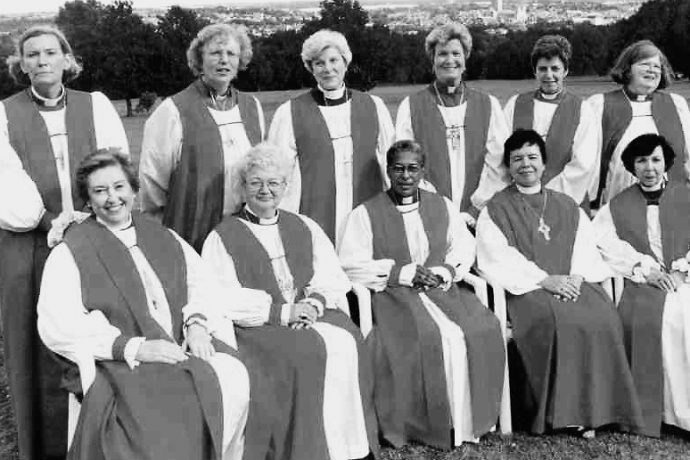 Francis has appointed a committee to study the "question" of female deacons; a matter already truly and properly settled.
Sound familiar? It should.
Speaking of his generation of priests who came of age following the Council; the same who were duly formed in its revolutionary ways, Francis said:
"For us, Paul VI was the great light."
Readers may recall Pope Montini's own use of commissions…
In 1963, Pope John XXIII created a Commission on Birth Control that was comprised of just six non-theologians in preparation for an upcoming U.N. conference on overpopulation.
Following his death, Paul VI greatly expanded the Commission to include theologians, physicians, women without medical credentials, and an executive committee that included both bishops and cardinals.
He also expanded its mandate to include examining a "question" that wasn't really a question at all.
According to esteemed moral theologian and Committee member Dr. Germain Grisez:
[Paul VI] was interested in finding evidence and reasons that would justify any sort of legitimate development of the traditional teaching. The Commission failed to provide any justification for change. . . . They presented the best case that could be made for change, but, after carefully studying that case, Paul VI found it wanting.
The "best case" for change to which Dr. Grisez referred represented the position of the majority of Committee's members. It, along with the "minority" view in defense of tradition, was presented to Paul VI in a report that was supposed to have been kept private.
The report was leaked to the press, however, and the bedlam that ensued is presumably well known to all.
In May of this year, when asked about female deacons during a meeting with female religious, Francis recalled a conversation he had years ago with a professor who studied the historical role of "deaconesses" in the Church:
What were these female deacons? Did they have ordination or no? It was a bit obscure. What was the role of the deaconess in that time? Constituting an official commission that might study the question? I believe yes. It would do good for the church to clarify this point.
It may have been a "bit obscure" to the professor then and to Francis now; the reality of the matter at hand, however, is anything but.
An in-depth 2002 report produced by the International Theological Commission (which, according to its official profile, is charged with "helping the Holy See and primarily the Congregation for the Doctrine of the Faith in examining doctrinal questions of major importance") offered no evidence whatsoever that these "female deacons … had ordination."
Long story short, here's what I expect to happen in the present case:
The thirteen member commission charged with studying the ordination of female deacons will most certainly, given that it includes at least one individual clearly in favor (Phyllis Zagano), produce a report that includes an argument in support of that position.
Never mind whether or not this is the minority view; the important thing to expect is that it will make its way into the press and into the hearts and minds of progressives everywhere; fueling their already raging fires.
The million dollar question, however, is WWJD – what will Jorge do?
I do not expect a decree from him proposing the ordination of females, but not necessarily because the Holy Ghost won't allow it as so many others are arguing.
As I wrote back in May:
I cannot help but conclude [for numerous reasons given elsewhere on the blog] that the alleged resignation of Benedict XVI is invalid until proven otherwise; which even though I will, in humility, allow as a possibility, I do so convinced that the burden of proof is all but insurmountable.
Since then, my opinion is unchanged.
Look, we all know that the Holy Ghost prevents popes from binding the faithful to error in matters of faith and morals. The question one might ask, however, is whether or not He prevents the products of invalid conclaves, otherwise known as anti-popes, from giving the appearance of so binding?
I think not. This being the case, His Humbleness just might end up pushing forth the ordination of female deacons.
Even so, I don't believe that he will; for the simple reason that he's smart enough to know that doing so would lead to a loss of credibility among those who as yet remain open to following him.
Francis doesn't want to destroy the Church; he doesn't want to empty the Church – he wants to fundamentally change it.
For example, he doesn't want to run priests and faithful off the reservation, which he risks doing by ordaining women, he wants to change what they do and how they think of themselves. Capsice?
Getting back to the "great light," Paul VI…
Arguably, Pope Montini didn't envision the disaster he ended up creating in the Church. Francis, by contrast, makes no bones about his desire to "make a mess."
For this reason (and based on the bitter experience of the last three years), I can well imagine that he will create a semi-official "ministry of deaconesses" that may include things like their own institution ceremony, deaconess costumes and special titles, perhaps "Reverend Miss."
They may even be given their own little office in the Curia, perhaps even under the auspices of the Congregation for Clergy just to make certain that confusion reigns supreme.
Who knows? One thing is certain; a mess will be made.
All of this having been said, I would like nothing more than to see a motu proprio from Francis instituting Holy Orders for female deacons; assigning to them all of the roles, liturgical and otherwise, that male deacons perform.
Why?
Because it would serve to open the eyes of the blind; though certainly not all as some cardinals would probably argue that it's not "magisterial," while other prelates would likely respond by issuing calls for faithful interpretations and deeper reflection…