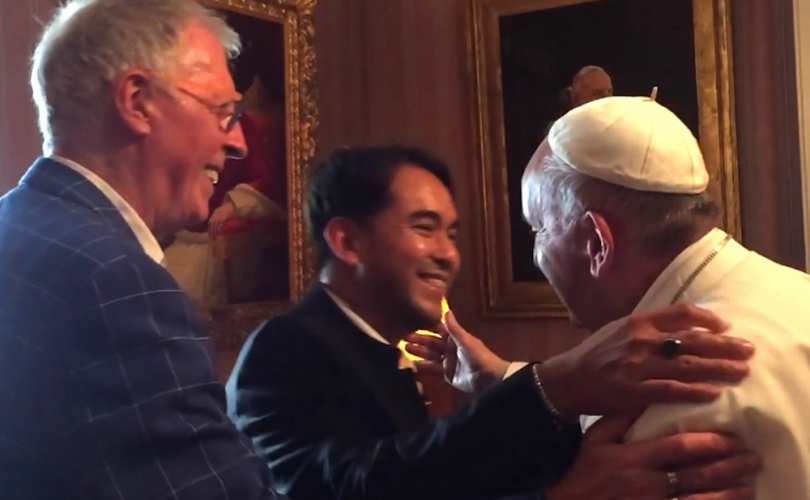 Earlier today, Francis addressed the Conference of Rectors of German Language Seminaries, gathered in Rome.
The conference is taking place in the shadow of comments made by Cardinal Reinhard Marx, President of the German Bishops' Conference, suggesting the possibility of blessing homosexual unions.
Those unfamiliar with this story would do well to read Maike Hickson, whose English language reporting on the activities of the Church in Germany is unparalleled.
As most readers likely recall, in a recent interview, Cardinal Marx said:
This [decision to confer a blessing on homosexual couples] I really must leave up to the local pastor and the accompaniment of that person.
He went on to say that there cannot be "any general rules" on the matter.
Sound familiar?
In the opening paragraphs of his Love Letter to Lucifer (otherwise known as Amoris Laetitia), Francis criticized "an attitude that would solve everything by applying general rules or deriving undue conclusions from particular theological considerations." (cf AL 2)
He would go on to encourage "pastoral discernment of particular cases," saying:
If we consider the immense variety of concrete situations such as those I have mentioned, it is understandable that neither the Synod nor this Exhortation could be expected to provide a new set of general rules, canonical in nature and applicable to all cases.  (AL 300)
As readers are now well aware, the kinds of conclusions (general rules) that Francis had in mind are those drawn from such "theological considerations" as mortal sin deprives the soul of sanctifying grace and is never willed by God.
There's a reason Cardinal Marx is firmly entrenched in Francis' inner circle; they are cut from the same unholy cloth.
Yes, but Amoris Laetitia is focused on 'accompanying' men and women who are in relationships involving adultery and fornication.
Let us not forget that the Bergoglian Exhortation from Hell also states:
Those who manifest a homosexual orientation can receive the assistance they need to understand and fully carry out God's will in their lives. (AL 250)
The specific kind of "assistance" in this case is not spelled out in Amoris Laetitia, but let's not be naïve.
With respect to those actively engaged in "concrete situations" involving adultery and fornication, Francis plainly states, and has since confirmed (e.g., his endorsement of the Buenos Aires guidelines now incorporated in the AAS):
In certain cases, this can include the help of the sacraments. (cf AL, infamous footnote 351)
With all of this in mind, there is no reason whatsoever to imagine that Francis, or anyone in the Curia who wishes to remain in is good graces, will lift a finger to prevent the blessing of homosexual couples in Germany, or anywhere else for that matter.
In fact, given his comments to the German speaking rectors, I would say that all signs indicate that Francis actively supports the idea.
Speaking to the men who bear the primary responsibility of forming Germany's future "local pastors," the same who must, according to Cardinal Marx, decide whether or not to bless homosexual unions, Francis said:
We must recognize that new and different cultural forms are emerging that do not fit into our known models. We must strip some habits we are attached to and engage with what is still unknown.
What is still unknown…
Bear well in mind that Francis' address comes on the heels of news that the German bishops have set up an internal commission to engage with the topic of blessing homosexual unions.
And who can be surprised?
For modernists like Francis & Co., damn near everything is still unknown, open to investigation, and a candidate for so-called reform!
As reported by Maike Hickson (citing an article by Marco Tossati), Cardinal Christoph Schönborn, who was anointed by Francis as the go-to interpreter of Amoris Laeitita, recently commented on same-sex unions, saying:
The question of 'marriage for all' poses some challenges for us as a Church, to which we do not have certain answers. We ought to find accurate answers to these questions, which concern the dignity and salvation of the interested souls.
Yes, you read that correctly. One of Francis' chosen mouthpieces has declared that the Church isn't quite certain about marriage between persons of the same sex.
In conclusion, while most likely found nothing especially noteworthy in today's address to the rectors of the German-speaking seminaries, those who are paying attention will not fail to recognize that Francis has just signaled that he is all-in with the idea of blessing homosexual unions.
Is akaCatholic helping you sharpen your focus? If so, please help us continue!