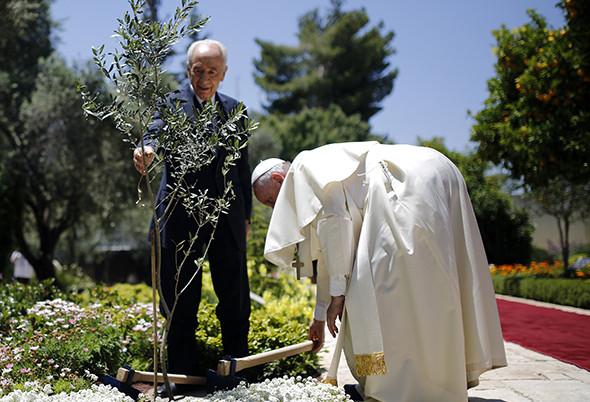 On August 6th, Pope Francis announced that the Catholic Church, following the lead of the schismatic Orthodox (seriously?), would institute its own annual "World Day of Prayer for the Care of Creation," with its inaugural event to take place on September 1st.
In his letter establishing the pedestrian perennial practice, "FRANCISCUS" proposed:
The annual World Day of Prayer for the Care of Creation will offer individual believers and communities a fitting opportunity to reaffirm their personal vocation to be stewards of creation, to thank God for the wonderful handiwork which he has entrusted to our care, and to implore his help for the protection of creation as well as his pardon for the sins committed against the world in which we live.

The celebration of this Day, on the same date as the Orthodox Church, will be a valuable opportunity to bear witness to our growing communion with our Orthodox brothers and sisters …

…with due regard for local needs and situations, it can be properly celebrated with the participation of the entire People of God: priests, men and women religious and the lay faithful.
Throughout the letter, Pope Francis painted the feel-good initiative as a decidedly Christian one; calling on all "individual believers" and the "entire People of God" to take part.
Wow! Talk about a snubbing of the Jews!
Are they not also believers? Have they somehow suddenly ceased to be the People of God?
Please, someone correct me if I'm wrong, but I'm pretty sure that Nostra Aetate insists that Christ reconciled the Jews and the people of the New Covenant in such a way as to make both one in Himself. (cf NA 4).
In fact, I am absolutely certain that this has been the official "company line" flowing out of Rome ever since that wretched document was promulgated.
So, what the hell happened?
I can say with a relatively high degree of certainty that what didn't happen (in spite of the title to this post) is that Pope Francis underwent a profound conversion experience such that he emerged so committed to the Catholic faith that he now realizes that Nostra Aetate is largely bunk, and the Jews in our time, by virtue of their rejection of Christ, are not to be numbered among "believers," much less the "People of God."
That leaves just one other explanation; a magnificent oversight that cannot but wound the Church's relationship with our "elder brothers in the faith."
One can only imagine just how hurt the likes of Rabbi Skorka, and other liberal Jews, must be…
I mean, think about it, liberal Jews are at the very forefront of the earth worship movement. Arguably, they, more than any other group, have incorporated radical environmentalism into their religion (such as it is) making of it a religion all its own.
As a whole, the Jews received Pope Francis' envirocyclical, Laudato Si', more enthusiastically than most Catholics!
The Connecticut Jewish Leger, for example, ran a piece reflective of the broader community's enthusiasm, saying, "Laudato Si', Pope Francis' powerful new encyclical, is likely to go down in history as the most important religious text of our time;" ultimately concluding that while it may be Catholic teaching, "it is also a very Jewish document."
An editorialist for the Israeli publication Haaretz, even went so far as to ask in reference to Laudato Si', "Where is the Rabbi who can inspire us like Pope Francis?"
And now this…
It's sad to think about, isn't it?
It's kind of like coming to the realization that no one thought to invite Aunt Dorothy to the family reunion even though she never forgets a birthday.
Surely the Captains of Dialogue in Rome will eventually come to recognize their interreligious faux pas for what it is, and will seek to mend fences.
As such, keep an eye open for Pope Francis or Cardinal Koch to invite the Jews to join in the fun; perhaps even inviting them to take part in some embarrassing tree-hugging dog and pony show in Rome on September 1st.