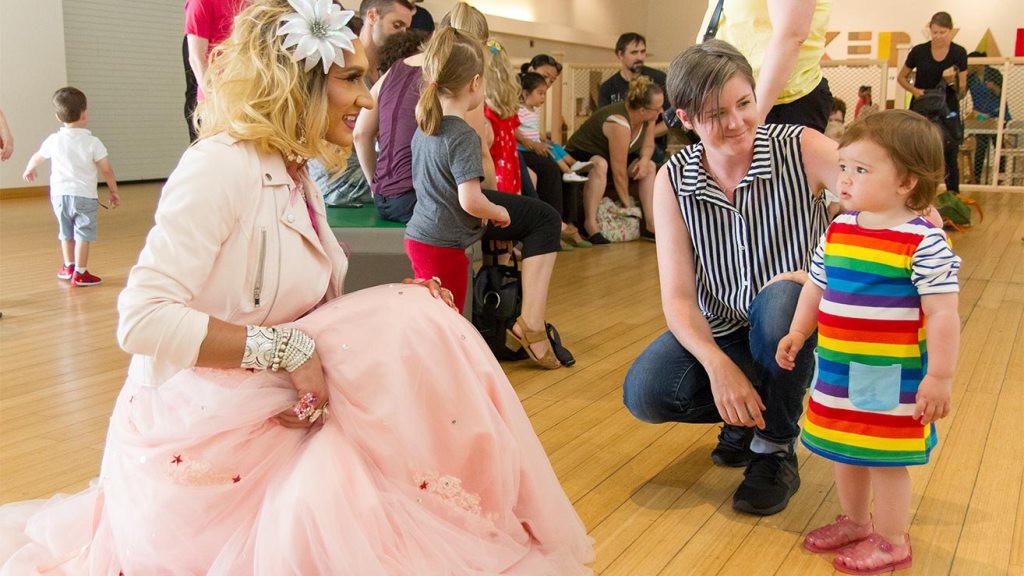 Never heard of Drag Queen Story Hour? Get with the program! According to organizers:
Drag Queen Story Hour (DQSH) is just what it sounds like—drag queens reading stories to children in libraries, schools, and bookstores. DQSH captures the imagination and play of the gender fluidity of childhood and gives kids glamorous, positive, and unabashedly queer role models. In spaces like this, kids are able to see people who defy rigid gender restrictions and imagine a world where people can present as they wish, where dress up is real.
DQSH…One may wonder why homo-deviant groups are so enamored with acronyms, but the reason is plain enough. It's a deliberate attempt to mask their diabolical agenda behind a misnomer designed to make the effort appear as wholesome as alphabet soup on a cold winter's day.
My favorite is GLAAD; an LGBT activist group that was established in 1985, the acronym of which stands for "Gay & Lesbian Alliance Against Defamation." Funny thing is, however; a current search of their official website reveals exactly ZERO references to the organization's full name. This, of course, is a matter of strategic marketing.
In 2013, the organization announced that it "has formally dropped the words 'Gay & Lesbian Alliance Against Defamation' from its name and will be known going forward as simply GLAAD."
"It is a natural progression that reflects the work GLAAD's staff is already leading," said the group's spokesperson Wilson Cruz. "We respect and honor the full name that the organization was founded with, but GLAAD's work has expanded beyond fighting defamation to changing the culture."
In speech, GLAAD is commonly referred to as "glad" (a close cousin to "gay"); when in reality the movement they represent is about as far from either one as you'll ever find. According to a Centers for Disease Control report, incidence of "rape, physical violence, and/or stalking by an intimate partner" is highest among – get this – lesbians!
I digress…
Back to DQSH: The photo at the top of this post is prominently featured on the homepage of their official website. Presumably, this is what they consider to be an especially accurate representation of their brand.  I would have to agree. Just look at the expression on that innocent child's face! Clearly, the poor little girl is horrified. (Then again, that could be a male victim of "gender fluid" child abuse.)
Speaking of branding, is it just coincidence that the "Drag Queen Story Hour" logo bears such a striking resemblance to the "Disney Princess" logo?

DQSH is a pet project of the American Library Association (ALA), the website of which states:
Founded on October 6, 1876 during the Centennial Exposition in Philadelphia, the mission of ALA is "to provide leadership for the development, promotion and improvement of library and information services and the profession of librarianship in order to enhance learning and ensure access to information for all."
Sounds harmless enough, but that was then. Today, the ALA is no more about advocating for literacy and learning than GLAAD exists to make people happy.
In its own words, "ALA's Core values, key action areas and strategic directions" include "Equity, Diversity, and Inclusion," and "ALA will apply a social justice framework to the ALA strategic directions." This includes an effort to secure "library services" for every sort of "sexual orientation, gender identity, and gender expression."
In the world of homo-activism, ALA is no Johnny-come-lately. According to its website:
The Gay, Lesbian, Bisexual, and Transgender Round Table (GLBTRT) of the American Library Association (ALA) was founded in 1970 as ALA's Task Force on Gay Liberation. It is the nation's first gay, lesbian, bisexual and transgender professional organization.
In other words, this group has been at the cutting edge of homo-activism for decades. Drag Queen Story Hour is just one of its latest initiatives.
In the May 2018 ALA Newsletter, Jamie Campbell Naidoo, President of the Association for Library Service to Children (ALSC), which is a division of ALA, wrote about:
… librarians who are creating inclusive programs that celebrate creativity and diversity through Drag Queen Storytimes … Another program celebrating global diversity is the United States Board on Books for Young People (USBBY) co-sponsored program hosted by ALSC … The program, "The Four D's of Translation in Children's Publishing: Diversity, Drag, Disguise and Delectation," explores what it takes to create a good translated book for children.
Diversity, Drag, Disguise and Delectation…  This is what the ALA considers "Library Service to Children," and they are determined to provide it by hook or by crook.
Writing in the June 2017 ALA Newsletter, Tess Goldwasser – an ALA committee member and "children's librarian" at the St. Mary's County Library (Maryland) didn't even attempt to hide the organization's nefarious strategy for stealthily indoctrinating children with their twisted homo-ideology. She writes to fellow librarians:
Do you wish you could do more to make your library more inclusive to the LGBTQIA+ community, but meet with resistance?
The question is rhetorical; if you're a dues-paying, newsletter-reading, member of ALA, then of course you're down with the cause. Goldwasser goes on to offer "Tips and tricks to being a secret librarian advocate operative." Her advice begins:
Sure, you want to eventually get to Drag Queen Storytime, but you should start with something simple!
She encourages her fellow secret homo-activist librarian operatives to press management to allow for a "GLBT Book Month display in June." And if the answer is no?
Don't stop asking. Ask next year, and the year after that, and the year after that. One year they might say yes. And the year after that they might say "Sure you can do that again." And it might become a tradition, and every year you can put up more rainbow flags than the year before.
Goldwasser has some special instructions for those librarians whose "library isn't ready for Drag Queen Storytime" or "any kind of LGBT programming." [Programming… a good choice of words.] She writes:
That doesn't mean those programs can't still be held in your library. If your library has meeting space, reach out to groups like your local PFLAG chapter, or local schools' LGBT student groups, and let them know that they can hold meetings and host programs at your library.
She encourages librarian-operatives to "Sneakily fit stuff into current programs," like "Regular Old Storytime."
Try to "sneak" inclusive messages into your current programs. For instance, if you're reading a book about a Mama bear and a Papa bear, maybe when you read it you just change it to be about 2 Papa bears! Or if you're reading a book about a rabbit who likes to get dirty and play sports, maybe when you read it you pointedly say it's a girl rabbit. If there are characters in a book where the gender is unidentified or irrelevant, feel free to play and change it up! Chances are kids and families won't even notice, but for that same-sex family or gender-nonconforming child who does, it will really mean a lot to them to know their librarian has their back.
Yes, I am certain that the homo-activists at the American Library Association would like nothing better than to have our children's backs, and then some. How do they intend to get them? In part, by partnering with other seemingly harmless organizations. According to its website:
In support of its mission, the American Library Association maintains collaborative relationships with a variety of outside organizations.
Among those groups are "Affiliate Organizations" that are described by ALA as follows:
Independent groups having purpose or interests similar to those of the Association. Pursuant to Article X, Section 1, of the ALA Constitution and upon application formally made by the proper officers, the ALA Council has voted to affiliate with a number of societies.
In other words, a given "society" doesn't just decide to become an "ALA Affiliate;" rather, there is an application process by which the group's purpose and interests are scrutinized to see how well they mesh with those of the Association, at which point, the ALA Council may or may not vote to accept it as an "affiliate."
While no data is available online indicating what percentage of applications are denied, ALA, in its press releases, refers to a group's approval as "an achievement." Apparently, it's quite an honor! Once accepted as an ALA Affiliate, the group is even given its own webpage on the ALA website.
Among those organizations so honored is Catholic Library Association.
Yes, you read that correctly. In this day and age when the bishops of the Unites States are feverishly trying to convince the faithful, States Attorneys General, the world at large and perhaps themselves that they are serious about "protecting youth" from homo-predators, the Catholic Library Association is openly affiliated with a diabolical enterprise that plainly exists for the purpose of indoctrinating innocent children with the tenets of militant homo-activism.
The American bishops have a well-earned credibility problem when it comes to this issue. Demanding of the Catholic Library Association that it either withdraw from its affiliation with ALA or cease using the "Catholic" name would be one small step toward fixing it.
You can reach the Jonah Dycus, Communications Director for Cardinal Daniel DiNardo, President of the USCCB, at jdycus@archgh.org.
Please help us to continue the research necessary to create more articles of this nature!