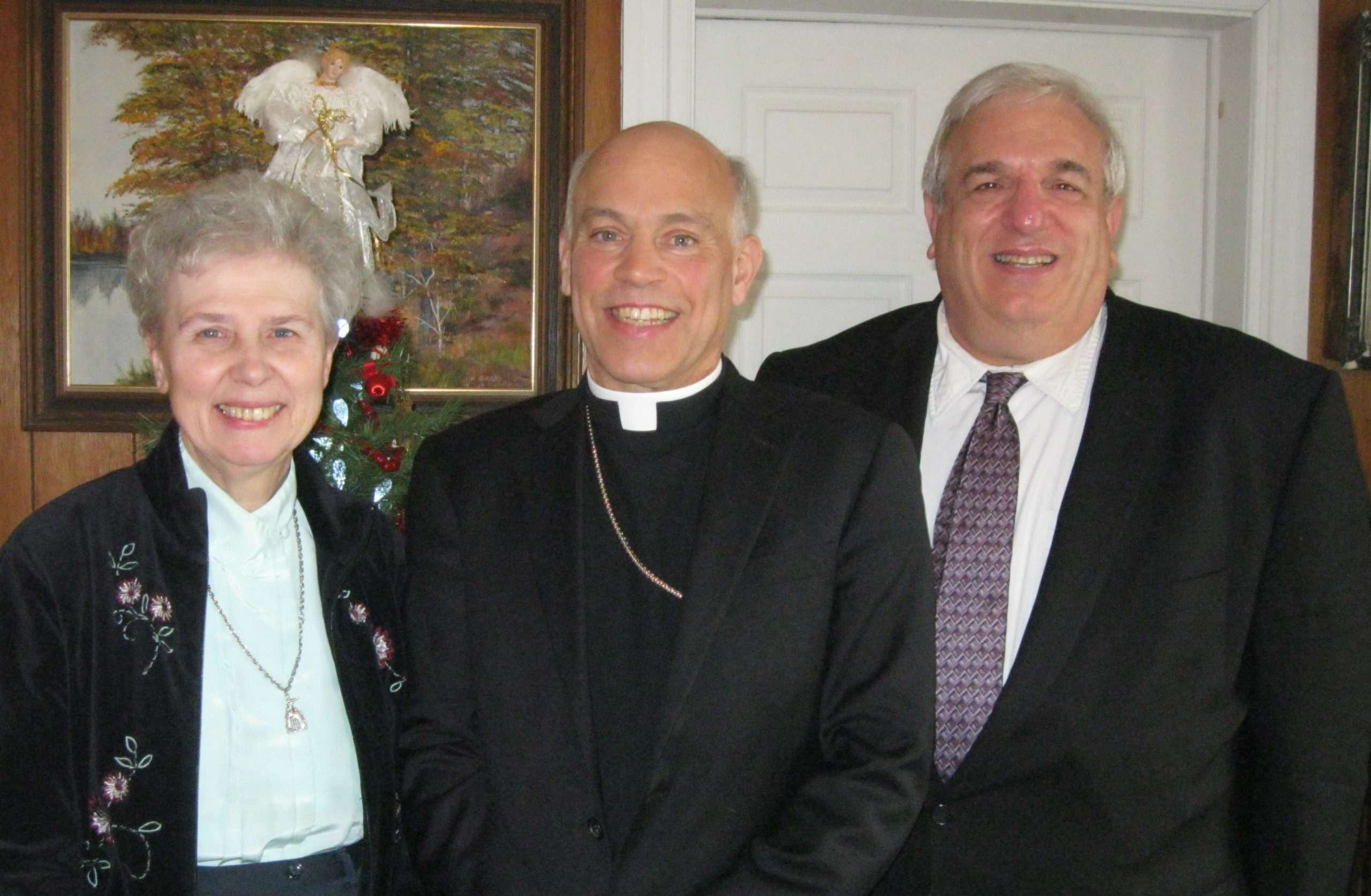 The latest wildfire news item to blaze a trail through Catholic media circles concerns the notification sent to Nancy Pelosi by Archbishop Salvatore Cordileone barring her from Holy Communion until such time as she repents of her support for abortion.
As expected, tradservatives from sea-to-shining-sea, ever desperate for a shiny new clerical hero, immediately anointed him Salvatore the Lion Hearted, a heroic and courageous defender of the Faith.
As I recall, one of the last full communion prelates to receive such an enthusiastic outpouring of praise was Cardinal Raymond Burke (middle name Leo the Lion) after he promised to issue a "formal act of correction" of Bergoglio's Love Letter to Satan, Amoris Laetitia. No doubt readers are well aware of how that turned out.
At this, let's place Archbishop Cordileone's action in context.
Salvatore Cordileone was named Archbishop of San Francisco on July 27, 2012. Just four days later, Nancy Pelosi reaffirmed her support for abortion-on-demand as she voted against the "Washington, D.C. Pain-Capable Unborn Child Protection Act," which would have outlawed abortions past 20 weeks.
Over the course of the next decade, Pelosi consistently made great fanfare of her Catholic bona fides while vowing to defend a woman's "right" to mutilate her own offspring at will.
For example: June 2013, just shy of Cordileone's one-year anniversary as her ordinary, Pelosi once again voted against a "fetal pain" bill that would have prohibited abortion in the last four months of pregnancy. During a press conference held after the vote, she even went so far as to declare herself "a practicing and respectful Catholic" while, in the same sentence no less, referring to late-term abortion as "sacred ground." 
In his Letter to the Faithful explaining his notification to the Speaker of the House, Archbishop Cordileone wrote:
Unfortunately, Speaker Pelosi's position on abortion has become only more extreme over the years, especially in the last few months.
No, it hasn't, not really.
While the particulars have evolved, Pelosi has been nothing but consistent in her unbridled promotion of abortion-on-demand under the guise of healthcare. Unchanged as well since 2012 is the Catholic position on the murder of the unborn.
The only thing that has changed is Cordileone's willingness to act. One wonders why now? Whatever the impetus, better late than never, I suppose.
While Cordileone's smackdown of Nancy Pelosi is welcome, it hardly qualifies him as a defender of the Faith. It's more the case that he's earned the right to be hailed as a Defender of the Almighty Embryo, the demigod of the pro-life movement, which is the real reason his popularity has soared among so many.
One might even say that Cordileone performed a political act with religious implications, as opposed to a religious act with political implications. Indeed, one notes that the notification includes no less than ten references to laws, legislators, politicians and the like, and not even one to Our Blessed Lord.
In truth, the notification itself is best viewed as an ode to human dignity:
…the dignity of human life in every stage, especially the most vulnerable, beginning with life in the womb. His Holiness, Pope Francis, in keeping with his predecessors, has likewise been quite clear and emphatic in teaching on the dignity of human life in the womb … Pope St. John Paul II was also quite consistent in upholding this constant teaching of the Church, and frequently reminded us that "those who are directly involved in lawmaking bodies have a 'grave and clear obligation to oppose' any law that attacks human life.
The notification ends with a plea to the faithful to pray for legislators to "undergo a conversion of heart in this most grave matter and human life may be protected and fostered in every stage and condition of life."
Is the protection of innocent human life a grave matter? Absolutely!
Is it the most grave matter under discussion? The Catholic answer is no, it is not.
The most grave matter at hand concerns profanation of the Most Holy Eucharist. It concerns the first demand of justice, giving to Almighty God the adoration and worship that He deserves, first and foremost. It's about our duty toward Christ the King.
That, however, is not how the conciliar religion is ordered, it's a belief system built upon the unshakable conviction that "all things on earth should be related to man as their center and crown" (Gaudium et Spes 12).
So, if you were expecting Cordileone's notice to include a defense, or even just a passing mention, of the infinite dignity of the Blessed Sacrament wherein "contained truly, really, and substantially, is the Body and Blood together with the Soul and Divinity of Our Lord Jesus Christ" (Council of Trent, On the Most Holy Sacrament of the Eucharist, Canon I), surely you were disappointed.
You shouldn't have been surprised, however.
According to the latest Pew Research Center Survey of U.S. Catholics, of those who attend Mass (overwhelmingly Novus Ordo) on a regular or semi-regular basis, 75% believe that the consecrated bread and wine are mere symbols. The reason for this is obvious: The Novus Ordo rite doesn't exactly convey "Real Presence," rather, it practically screams human dignity!
Go ahead, torture yourself, take a look at the Novus Ordo as it's celebrated at Holy Trinity Catholic Church in Georgetown, the parish where Pelosi skipped up to be fed on the Sunday after Cordileone forbade it.
I randomly glanced at one such liturgy (from February 6, 2022) and the so-called "Prayer of the Faithful" was just as vomit-worthy as one may have expected:
Let us pray for the Church.
[Long awkward pause.]
May we heed the call to clothe the naked, shelter the oppressed, and feed the hungry. We pray to the Lord.
In the conciliar religion, "the Church" isn't the solitary Ark of Salvation, it's an NGO.
Let us pray for peace in areas experiencing war and violence.
[Long awkward pause.]
May justice and dialogue lead to lasting peace. We pray to the Lord.
In the conciliar religion, dialogue and diplomacy – not Christ – pave the path to peace.
Let us pray for those who are homeless.
[Long awkward pause.]
May this community reach out in generosity to meet the needs of those who suffer. We pray to the Lord.
In the conciliar religion, it's all about what "we" and the "community" can do.
Shortly thereafter it was consecration time, which looked like this: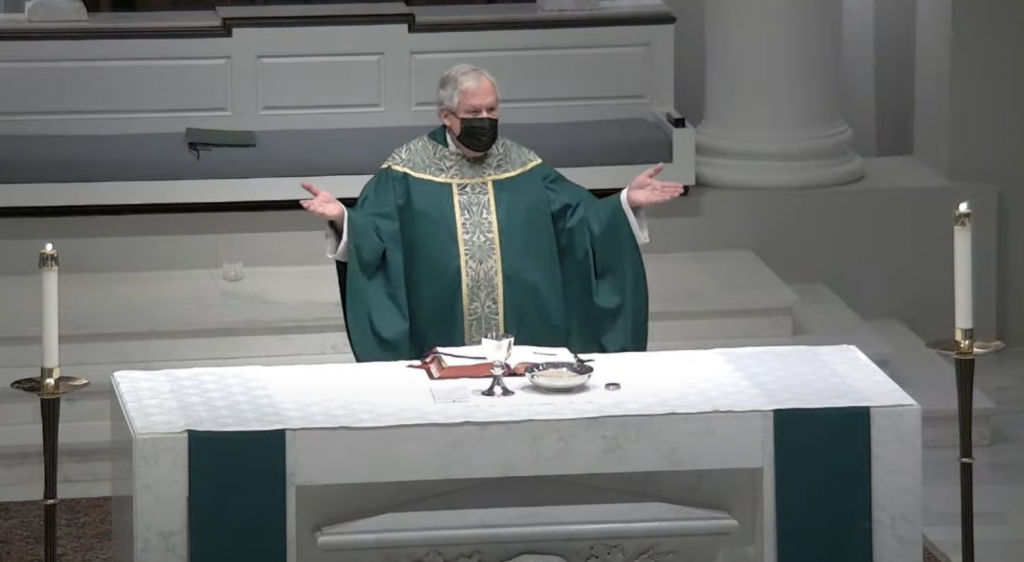 As for where Pelosi pays homage to man when she's back in California I cannot say, but the Archdiocese of San Francisco – even after a decade under Archbishop Cordileone's direction – is known far less for Eucharistic piety than for gay activism. (See collection of articles by Joseph Sciambra)
Speaking of Eucharistic piety, Cordileone, like so many other "conservative" prelates, hasn't spoken one cautionary word about Amoris Laetitia, the blasphemous Epistle of Jorge to Satan that serves to turn Holy Communion into a cattle call.
The "Amoris Laetitia" page on the Archdiocese of San Francisco website, in addition to providing access to a series of mealy mouthed reflections by the Archbishop himself, offers links to five "commentaries" on Bergoglio's diabolical screed, including "Top Ten Takeaways" courtesy of the notorious homo-cleric, Fr. James Martin, S.J.
And now, given his passionate defense of the human embryo he's henceforth to be hailed as a fearless defender of the Faith?
Sorry, not by this guy.