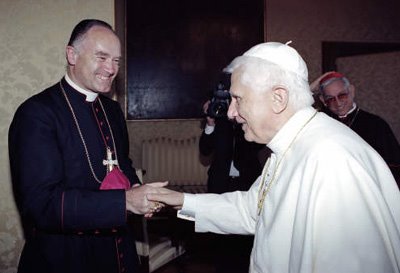 From Rorate Caeli:
Rorate

can independently confirm the report —

hinted at just now

in Le Forum Catholique — that the Congregation for the Doctrine of the Faith has sent a letter with a final offer to the Society of Saint Pius X (FSSPX / SSPX): resume the dialogue with the Holy See by February 22, or else the Holy See will make an offer of reconciliation and full communion to individual SSPX priests. (What kind of offer or structural basis will be offered is unclear.)
I cannot say for certain that this report is accurate (although Rorate is very careful in its reporting), but if it is, I find it very odd indeed.
I had the pleasure of speaking with Bishop Fellay back in October, not as in an interview; but rather in an extended conversation over breakfast. Among many things, I asked His Excellency if, given the fact that the formal discussions between the Holy See and the SSPX had ended at an impasse, he was prepared to make public the Doctrinal Preamble that both parties had agreed to keep secret throughout the process.
His response was characteristically humble. He said, in essence, that while the current state of affairs may indicate that he could do so, he would not presume to make the contents public because he was holding out hope that the Holy See would one day invite him to continue the dialogue.
This being the case, if in fact the CDF has issued an ultimatum saying, "Resume the dialogue with us by February 22nd, or else…" one cannot but wonder, is this a calculated attempt, on the part of those who do not truly desire the Society's regularization, to discredit them (by no mere coincidence, in the weeks leading up to the dawn of a new papacy) by falsely suggesting that Bishop Fellay had until now refused to enter into further discussion?