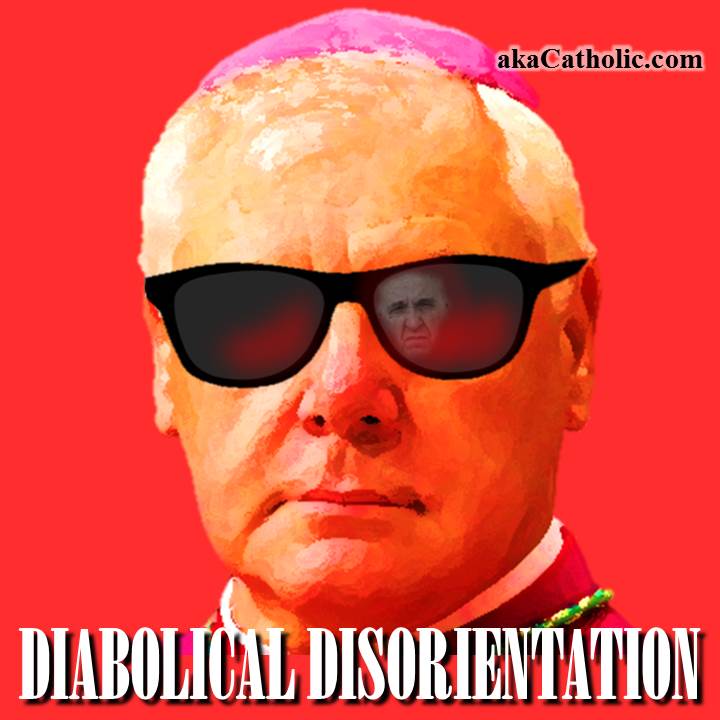 Speaking with National Catholic Register, Cardinal Gerhard Müller suggested that Francis appoint a group of cardinals to engage in a "theological disputation" with critics of Amoris Laetitia; in particular, "some prominent representatives" of the dubia, as well as the Filial Correction.
Müller, according to Edward Pentin, described the theological disputation as "a formalized method of debate designed to uncover and establish truths in theology."
In the present case, it would be specifically about "the different and sometimes controversial interpretations of some statements in Chapter 8 of Amoris Laetitia."
Here we go again… the "interpretation" card.
If anyone needed to be reminded why the removal of Cardinal Müller from the Congregation for the Doctrine of the Faith was no great loss, here it is.
Müller speaks as if Amoris Laetitia concerns theological truths about which the Church has yet to definitively pronounce. Perhaps he never heard of the Council of Trent.
In this, he is simply being true his core convictions.
Müller is a man-of-the-Council – the same that disregarded the bi-millennial witness of traditional in order to create a "New Pentecost;" even going so far as to misappropriate Sacred Scripture in an attempt to fashion a counterfeit church in the image and likeness of man.
It is Jesus Christ who "makes all things new again," but for modernists like Gerhard Müller, it's the purview of mere men in every age to debate anew doctrinal disputes that have long since been settled.
Indeed, that is precisely the purpose for which the Synod of Bishops was established by Pope Paul the Pathetic in the first place.
According to his Apostolic Letter, Apostolica Sollicitudo, the Synod of Bishops has as one of its purposes:
To facilitate agreement, at least on essential matters of doctrine and on the course of action to be taken in the life of the Church.
As Paul VI wrote in 1965, there were exactly ZERO "essential matters of doctrine" upon which serious theological disagreement existed; not among authentic Catholics at any rate.
As for Cardinal Müller's suggestion that comprehension of the present situation is somehow beyond the pay grade of anyone who is neither a cardinal nor otherwise "prominent," it is to laugh.
The fact of the matter is that any moderately intelligent Catholic with an interest in what the Church actually teaches, a lap top, and an internet connection is perfectly capable of identifying the heresies and blasphemies present in the text of Amoris Laetitia.
Want proof?
Reread my post of April 9, 2016 – one day after that dreadful document was published:
Council of Trent declares: "Let Francis be anathema!"
The main difference between what you will find there and the Filial Correction is that the condemnation of Amoris Laetitia posted in this space came nearly a year-and-a-half earlier.
To be very clear, this is no credit to me, but rather is it a discredit to handwringing conciliarists who have not the Catholic faith, as well as to those who posture as defenders of tradition but dared not say the "H" word aloud until very recently if at all.
According to Edward Pentin's report, Cardinal Müller went on to suggest:
The Church needs "more dialogue and reciprocal confidence" rather than "polarization and polemics"…
Yes, quoting Sacred Scripture, the Council of Trent, and previous papal Magisterium reaffirming the same in the face of heresy and blasphemy is just so… polarizing and polemical.
These are the kinds of men we are counting on to confront Francis in the form of a "formal declaration."
I point this out, not to belittle Cardinals Burke and Brandmuller, both of whom are also men-of-the-Council, but simply to reiterate a point made in yesterday's post.
Truly, it is nothing short of a miracle that the Dubia was ever written, and even more so that the promised declaration appears to be in the offing.
As the Filial Correction seems to suggest, God's grace is having an effect on those who were previously blind or perhaps too fearful to make their voices heard.
Let us resolve at this critical hour to redouble our prayers and sacrifices for Holy Church, confident that Our Lord is pleased to respond.