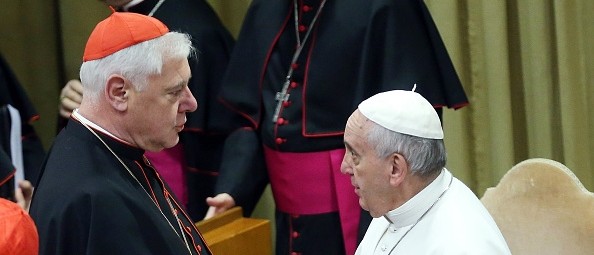 Confusion has ever run rampant in the post-conciliar Church, but the past two months have arguably been especially noteworthy in this regard.
On April 8th, Amoris Laetitia was published; a document wherein it would appear that the pope had declared that fornication and adutlery are not necessarily mortal sins, and what's more, Almighty God Himself occasionally asks us to persist in committing them!
The point apparently being, to open the door to Holy Communion for the civilly divorced and remarried, cohabitators, and perhaps even those who persist in homo-deviant acts.
If this wasn't bad enough, on May 20th, Archbishop Gänswein confirmed what a number of reliable observers had long suspected:
The resignation of Pope Benedict XVI was carried out with the intention of "expanding" the Petrine Office; "transforming" it in such way that he and his successor would each have a share – one as "an active member," the other as a "contemplative."
"Therefore," Gänswein said, "from 11 February 2013, the papal ministry is not the same as before."
Talk about confusion!
Is adultery a mortal sin, or not? Can unrepentent public sinners approach Holy Communion, or not? Was Benedict's resignation valid, or not? Is the blasphemous Argentinian heretic the pope, or not?
With so many pressing questions hanging in the air, it was only a matter of time before a statement would be forthcoming from Cardinal Gerhard Müller, Prefect of the Congregation for the Doctrine of the Faith, which according to its official profile "is to promote and safeguard the doctrine on the faith and morals throughout the Catholic world: for this reason everything which in any way touches such matter falls within its competence."
In a recently published interview with the German publication Herder Korrespondenz, Müller removed all doubt; not as to the aforementioned list of pressing questions, but as it concerns the degree to which he can be taken seriously.
The answer? Not in the least.
Rather than lifting a finger in defense of the faith in the face of so much confusion, Müller decided to speak out on the Society of St. Pius X and what he believes to be the condition for its formal canonical recognition; something that has been rumored to possibly take place some time in the near future.
As reported by the tireless Edward Pentin of National Catholic Reporter:
Cardinal Gerhard Müller has said he expects the Society of St. Pius X, which has always opposed the Second Vatican Council's declarations on religious freedom and ecumenism, to "unreservedly recognize" freedom of religion as a human right, and an obligation to ecumenism.
According to Pentin, Müller said that one cannot discount the Council as "only pastoral chatter" just because it adopted no binding dogmas.
"Religious freedom as a fundamental human right and freedom to protect religion regarding the supernatural revelation in Jesus Christ are recognized by every Catholic without reservation", he said in reference to the relevant Council declarations.
As an example, Müller pointed to Christ's Resurrection, which he took care to note had never been proclaimed ex cathedra [infallible] dogma, and yet it "belongs in the center of the creed, it is the foundation."
I'm not making this up. The head of the CDF actually implied that our obligations with respect to Catholic dogma concerning the Resurrection is comparable to the way in which one should approach the Council's wholesale novelties.
"Key statements, even if they are not proclaimed ex cathedra," Müller continued, "are, for us Catholics, still essential."
As such, he insisted, it is "not acceptable to take one and reject the other."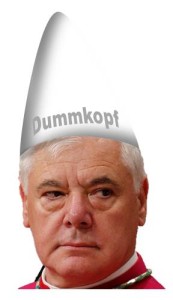 In so stating his case, Müller not only made it clear that he is in no way to be taken seriously, he revealed his Catholic IQ; placing himself squarely in the category of functional idiot.
So-called "traditionalists" (aka Catholics) of reasonable intelligence, by contrast, realize that ex cathedra proclamations do not comprise even a majority of the dogmas of the Faith.
As it concerns the Resurrection of Our Lord and its place in the "center of the Creed," we are well aware of the fact that it comes directly from sacred Scripture!  
We are also mindful of the role played by the First Council of Nicea and the First Council of Constantinople in defining the present formula.
Which brings me to Müller's laughable suggestion that recognition of the Second Vatican Council is "not an unreasonably high hurdle" to overcome with respect to the regularization of the SSPX.
Presumably, by "recognition" he means to say that the Council represents "an integral part of the tradition of the Church;" the prerequisite established by Benedict the Abdicator.
Remember, this Müller is the same German clown that just a few moments earlier said that it's not acceptable to take one "key statement" of faith and reject others – as if the text of Vatican II doesn't do exactly that on any number of points; most notably as it concerns the very matters he chose to highlight, religious freedom and ecumenism.
Oh well… None of this news, really.
Rome has long been Satan's playground, and only a fool ever imagined that Cardinal Müller may have somehow been spared the diabolical disorientation that has infected the overwhelming majority of those in the sacred hierarchy.
Inevitably, the resisters, bless their tenacious but misguided little hearts, took Müller's statements as vindication for the calumnious Bishop Williamson and his relentless attacks on Bishop Fellay's reputation and character.
I would refer such persons to Bishop Fellay's most recent interview wherein he stated unequivocally:
For me it [canonical regularization] is a given, a right to have it, but we're not going to compromise, to hurt the faith, the discipline of the Church, to get that. We consider it as an injustice not to give it to us, and so we claim our point of view. That's all. And so if we are put in a choice, let's say, of between keeping the faith or making a compromise, it's clear what we're going to do. We're not going to compromise.
Get that? No compromises.
At this, I can well anticipate the question being asked:
Given that the validity of Francis' entire (alleged) pontificate hangs on the validity of Benedict's intention to "transform" and "expand" the Petrine ministry, what should we make of the Society's regularization if the Argentinian heretic acts to make it happen?
It's a good question; one that to my mind is fairly simply answered.
Canonical regularization for the Society is a matter of justice; it is, as Bishop Fellay said, "a right to have it."
The key is understanding precisely what canonical regularization is, and what it is not.
First, let's be clear that it is best considered the formal recognition of the Society's relationship with the Church; an objective reality that remains unchanged whether Francis, Müller, or any other functional idiot affirms it or not.

Let's also be very clear that canonical regularization in this case would not represent some sort of alliance between the SSPX and the modernists that Our Lord allows to govern His Church, as if it suggests in any way that the former accepts the errors of the latter.
Bottom line: If the disoriented men in Rome formally recognize the SSPX as being entirely Catholic, along with the canonical regularization that should follow, they are simply acknowledging a truth and correcting a grave injustice; nothing more, nothing less.
To read anything more into it is to reveal the woeful state of one's own Catholic IQ.
So please, don't be a Müller.