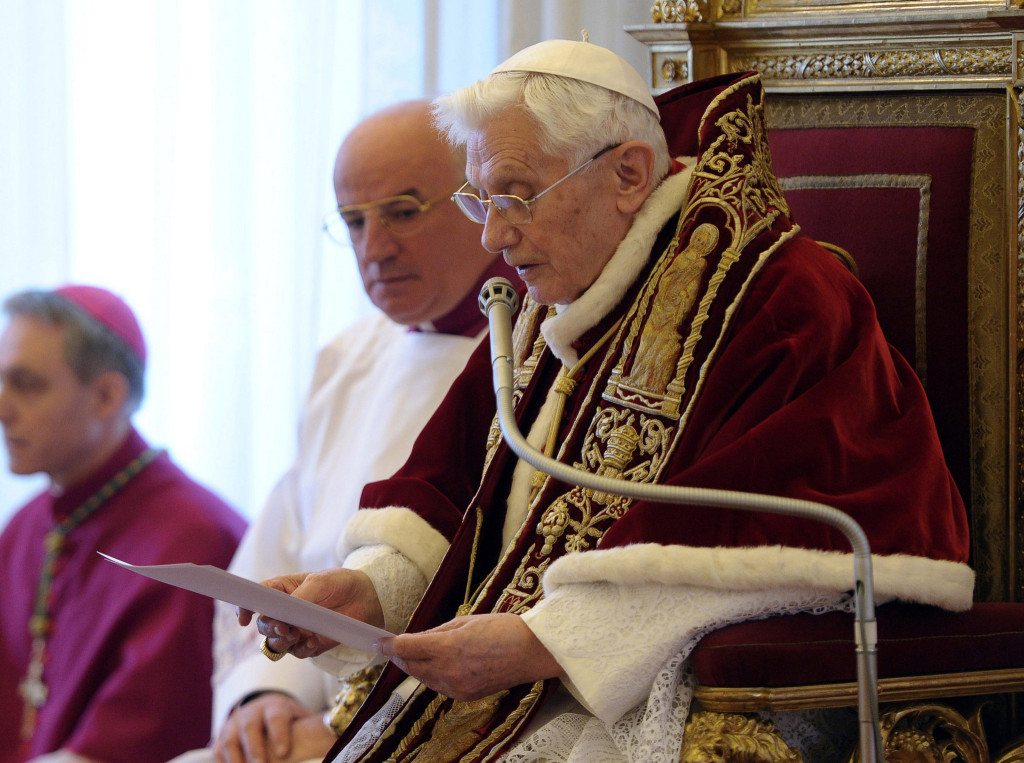 Questions concerning the validity of Benedict XVI's so-called resignation continue to swirl; in fact, it appears that the controversy is snowballing.
The reason: More and more people are coming to the undeniable conclusion that Jorge Mario Bergoglio simply is not Catholic; that is, he is not a member of the Body of the Church as defined by the sacred magisterium throughout the centuries. As a result of this growing awareness, it appears that the numbers of those who, in an attempt to make sense of the present situation, are compelled to seek refuge in the idea that Benedict remains the true pope are also growing.
For my part, I have long been on the record as stating that there are substantial reasons, many of them coming from Benedict himself, to suspect that he did not freely step down (or step aside as the case may be). If this be so, then his apparent act of resignation would be invalid according to Canon Law.
Other arguments to this end exist (e.g., Benedict renounced the ministry and not the munus), but my intention in this post is not to weigh their merits, but rather to discuss one of the side effects of the ongoing resignation debate:
It occurs to me that those who favor the idea that Benedict is still the pope are slowly becoming inured, whether they realize it or not, with sedevacantism.
How so?
For one, they have been warning others about the long-term presence of what they have determined to be an anti-pope, even though the majority of the Catholic world accepts that same man as a true pope – a fact that guarantees, according to some tradition-minded commentators, that he really is the true pope.
In the process of defending their convictions, they have been forced to insist that their ability and willingness to identify the anti-pope, in spite of the majority opinion to the contrary, in no way sets them against traditional Catholic teaching as some would insist.
These things being so, they now find themselves standing on common ground, reluctantly or not, with sedevacantists.
Secondly, and drawing closer to the point, sedevacantism is already an effective reality for the Benedict-remains-pope crowd given what they consider to be the true pope's exile, a condition to which he assented even if under threat, whereby he isn't functioning as Roman Pontiff in any real sense.
Inevitably, however, sedevacantism will become a concrete reality for such persons immediately upon Benedict's death. It's unavoidable. Once Benedict dies, the Church, in their view, will be without a true pope, even as the majority of self-identified Catholics still consider the anti-pope, Bergoglio, to be the true pope.
But what if Bergoglio dies first?
If, as they insist, Benedict is the true pope, then any so-called "conclave" that proposes to elect a successor to "Francis" while Benedict is alive would be as invalid as the one that took place in 2013. This would be so even if a modern-day Giuseppe Sarto is chosen. Therefore, the scenario described above will remain in play. In fact, if a younger man is chosen to replace Bergoglio while Benedict is still alive, the possibility of a decades-long anti-papacy will become all the more real.
This, in a nutshell, is how sedevacantists describe the Church's condition since 1958.
So, what will the Benedict-remains-pope crowd do once he dies and they find themselves sedevacantists practically overnight?
One would hope that they would roll up their sleeves and examine firsthand the sedevacantist argument. That is to say, it would be high time for them to give serious thought to the numerous magisterial texts that seem to favor the sedevacantist position – either to confirm it, or to refute it, once and for all.
Who knows, maybe they will find those texts more convincing relative to the claims of sedevacantists than they presently imagine. Then again, maybe not. Either way, there is no good reason to wait for Benedict to meet his Maker to begin that examination, and every good reason to do so now. After all, the goal is to discover how to genuinely think and feel with the Church, a matter of some urgency at all times, in every circumstance.
You see, for those who sincerely wish to make good Catholic sense of the present situation – whether a Benedict-remains-pope proponent or not – it's absolutely necessary to dive deeply into the abundance of pre-conciliar magisterial texts that articulate the Roman Catholic Church's constantly held teaching on the papacy (e.g., its rights, its privileges, and our duty toward it) and ecclesiology (e.g., the nature of the Church's God-given unity, its indefectibility, and its visibility), subjects that speak directly to the very heart of the post-conciliar crisis.
Be that as it may, the vast majority of self-identified "traditionalists" have never taken the time to explore the above-mentioned magisterial texts in order to determine how they may, or may not, shed light on the present darkness.
And why not? Well, for one thing, one will not find such texts, or excerpts therefrom, neatly presented in easily digestible, relevant and logical order on any "traditionalist" websites. That alone should strike readers as odd.
The only places where such presentations can be found, as far as I can tell anyway, are on certain sedevacantist websites. But let's be honest, the moment most traditionalists (aka Catholics) encounter the "S" word, they turn, tuck tail, and run the other way as fast as they possibly can.
Is this due to complacency? Is it fear? Could it be because so many of us have been conditioned to view sedevacantism the way the Jews of old viewed leprosy?
Sure, many of us have read books that purport to dissect the writings of various Saints, Doctors and venerable theologians that pondered the possibility of a pope falling into formal heresy, but I'm speaking here about texts that are far more approachable; namely, decrees issued by popes and councils past articulating the sure doctrine of the Church in direct, clear and unambiguous language.
I plainly admit that I've been guilty of ignoring these magisterial texts for many years, and I am all the poorer today for having done so. I have a great deal of catching up (and studying and praying) to do, after which I will draw, and share, my own conclusions.
Remember, folks, this has nothing to do availing oneself of editorials and essays; I'm talking about directly exploring the sure teaching of Holy Mother Church, and God help those who find that proposition untenable!
Having taken a closer look at certain of these teachings, I cannot deny that there are numerous magisterial texts that serve, not to confirm certain of my long held opinions concerning the present crisis in the papacy, but rather as an indictment of the same.
In the next post, I will provide some examples.