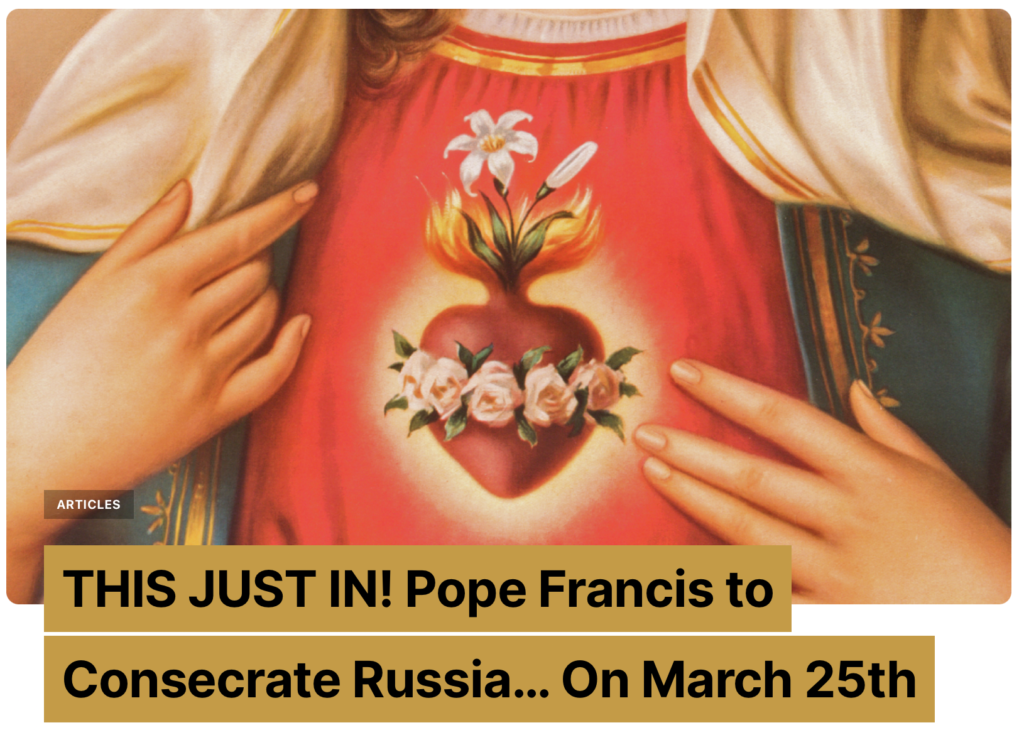 On March 15, Catholic social media exploded as the big news spread like wildfire…
For example, a headline on the website of the "new" Fatima Center blared (see screen shot above):
THIS JUST IN! Pope Francis to Consecrate Russia… On March 25th
Earlier in the day, the Unholy See Press Office had issued a bulletin, stating:
On Friday, March 25, during the Celebration of Penance at which he will preside at 17.00 in Saint Peter's Basilica, Pope Francis will consecrate Russia and Ukraine to the Immaculate Heart of Mary. The same act, on the same day, will be carried out in Fatima by His Eminence Cardinal Krajewski, Apostolic Almoner, as envoy of the Holy Father. 
The reaction of Catholic commentators was immediate, ranging from incredulous to giddy. As one popular tradservative theologian put it in his initial (subsequently amended) Facebook post, "I never thought he [Bergoglio] would take a step that not a single one of his predecessors was ever willing to take."
Truth be told, the unceremonious thumbing of the papal [alleged] nose at the Blessed Virgin is a revered pastime in the halls of Occupied Rome. It's one of the few things that passes for tradition in that wretched place.
To be more precise, it is an impious custom that actually predates the conciliar revolution as neither Pius XI nor Pius XII found it necessary to fulfill Almighty God's very simple request for the consecration of Russia to the Immaculate Heart of Mary.
– In 1952, Pius XII issued the Apostolic Letter, Carissimis Russiae Populis, wherein he states:
…just as not many years ago We consecrated the entire world to the Immaculate Heart of the Virgin Mother of God, in a most special way, so now We dedicate and consecrate all the peoples of Russia to that same Immaculate Heart…
Though some have argued that this fulfilled the request delivered by Our Lady, the issuance of an Apostolic Letter is not even close to a collegial act including the bishops of the world. One notes as well that Fatima is not even mentioned in the text, i.e., there is no indication that this consecration was intended to serve as an attempt to fulfill the request. 
– John XXIII decided that the Third Secret of Fatima wasn't relevant to his time, despite Our Lady's insistence to the contrary. In his opening address to the Second Vatican Council, he even took a shot at the Fatima seers, obliquely referring to them as "prophets of doom," a designation that makes of Our Lady a veritable chicken little.
– Paul VI picked up where Roncalli left off, also ignoring the warnings set forth in the Third Secret, as he plowed full speed ahead with the conciliar revolution. He also has the distinction of being the first of his lot to prance around in public with the FAKE Sr. Lucy. (See the magnificent investigative work undertaken by Dr. Peter Chojnowski.) 
– John Paul II performed a series of consecrations to the Immaculate Heart – in 1981, 1982, and 1984 – that failed to meet the meager demands of God's simple request. He went on to stage two interfaith abominations at Assisi as if to suggest that he had a better idea for obtaining world peace than the plan presented by Our Lady.  
It was also during Wojtyla's watch that the occupants of the Vatican published the vision attached to the Third Secret of Fatima in the year 2000, along with an absurd interpretation that placed the Polish former actor at its center.
– Benedict XVI, as Cardinal Ratzinger, was intimately involved in the aforementioned Third Secret deception. As the man-in-charge he didn't even bother to perform an inadequate consecration of Russia.
You get the point.
Having established that the upcoming Bergoglian charade is just one in a long line of shameful acts of disrespect for Our Lady conducted by men of dubious faith, the recent announcement of the Unholy See Press Office raises a number of questions. This is by far the more interesting aspect of the proposed consecration.  
The same act, on the same day, will be carried out in Fatima by His Eminence Cardinal Krajewski, Apostolic Almoner, as envoy of the Holy Father.
First, why is the proposed consecration being done, not just in Rome, but also in Fatima? Why there?
Obviously, the Bergoglians are wont to convince naïve and the ill-informed Catholics that the upcoming consecration of Russia and Ukraine is somehow related to the request delivered by Our Lady of Fatima. Even they don't believe that! The orchestrators of this mockery know damned well that there is no relation between the two whatsoever. 
In other words, it's a marketing ploy cooked up by Jorge's PR team, i.e., it's all part of the counterfeit church's effort to appear Catholic, and even some tradervatives are swooning.
While nearly every tradservative is clear-headed enough to recognize that the March 25 event as proposed won't even come close to fulfilling Heaven's request, there is a sizable segment of persons among them who seem to believe that the Bergoglians are operating in good faith and genuinely want to appease Our Lord and His Mother.
They're flooding social media with embarrassing memes that bleat:
"Please, Hoy Father, consecrate Russia as Our Lady instructed!" 
One of the more obvious questions that few seem willing to ask is whether an overfed heretic in a pope costume – a man who publicly suggested that Our Lady accused God of lying – can efficaciously consecrate anything to the Immaculate Heart of Mary.  
All of that said, we now arrive at the most intriguing aspect of the story:
Why did the masterminds of newchurch decide to recruit the assistance of Cardinal Krajewski? Why not have the Fatima end of the performance be conducted by José Ornelas Carvalho, the resident bishop of Leiria-Fatima? 
A cardinal is more senior, it delivers a stronger message! Bleat, bleat…
OK, if sending a cardinal to Fatima is more desirable, why Krajewski of all people?
While no one else is reporting as much (as far as I know), the choice of the so-called "papal almoner" provides at least a small glimpse into the dark recesses the diabolical Bergoglian mind.  
Krajewski was profiled in an April 2020 article in Crux that reads in part:
The Papal Almoner is a traditional position at the Vatican, concerned with giving alms within the pope's diocese. Much of its income comes from processing the numerous requests that come from around the world for papal blessings. The almoner's role has risen to new prominence under Francis, who has backed Krajewski's efforts to make the charitable efforts of the Vatican more hands-on and visible…
Get that? Make the charitable efforts of the Vatican more hands-on and visible…
How utterly Bergoglian! In other words, how positively opposed to the authentic Catholic spirit!
Recall the words of Our Lord:
But when thou givest alms, let not thy left hand know what thy right hand doth. That thy alms may be in secret, and thy Father who seeth in secret will repay thee. (Mt. 6:3-4)
The Paparazzi Papa model is built upon a very different operating platform:
But when thou givest alms, or invite the homeless to a meal, kiss the feet of strangers, go to confession, ride in a compact car, or even when though dost something hip like visiting a local record shop late at night, be certain that thy media members and their camera crews are present so that thy left hand, thy right hand, and the entire globe will know just how humble thou art. (Bergoglio 6:66)
The Crux story continues:
Krajewski told Crux the idea for asking the nearly 250 members of the papal chapel to donate their salary when he meditated on the idea that an act of mercy could substitute for the Real Presence this year, when so many people are missing Mass due to the lockdown.
Not only did this creep, Krajewski, run to the media to report his request for donations, thus sending the message to the members of the papal chapel that he is prepared to have the media smear those who decline to be extorted, he blasphemously equated the Real Presence of Jesus Christ in the Blessed Sacrament to a basket full of cash. Does Judas come to mind?
This is how the humanist hierarchy in Occupied Rome thinks, starting with the Heretic-in-Chief. From this perspective, the choice of Krajewski seems to make sense inasmuch as he has made his bones as one of their own. But it's more than that, much more…
In the end, my Immaculate Heart will triumph, the Holy Father will consecrate Russia to me. Russia will be converted, and a period of peace shall be given to mankind. – Our Lady speaking to the seers at Fatima, July 13, 1917
You see, as everyone well versed in the Fatima message knows, the consecration of Russia to the Immaculate Heart of Mary as requested is, first and foremost, ordered toward spiritual ends – the conversion of that nation. Make no mistake, this conversion means one thing and one thing alone, making of Russia a Catholic nation as traditionally understood. 
As for the temporal consequences of the consecration – the promised period of peace – this follows the spiritual fruits. 
Needless to say, the charlatans in Rome have no such faith. They dwell in a purely temporal world wherein supernatural means and ends are of little regard.
Faithful Catholics (like regular reads here) know that, but the Occupied Vatican understands very well just how important it is, as a matter of diplomacy, for Russian leaders to know that as well.
The inclusion of Krajewski – a veritable NGO operative who heads up the Vatican's earthbound campaign to eradicate poverty and hunger – is deliberately intended to underscore the notion that the March 25 consecration is strictly a humanitarian effort, i.e., it's all about food, shelter, life and limb, nothing more.
My confidential contact in Rome, a person with close ties to the Vatican Secretariat of State, has confirmed that exactly this sort of assurance was delivered to Russian authorities via diplomatic back channels over a week before the proposed consecration was announced. In fact, it is only after Russian authorities gave their consent that the decision was made to go forward with it. I fully expect other Catholic media outlets to issue similar confirmation soon (if they haven't already).
Anyone wondering why the Vatican Secretariat of State would find it critical to gain Russia's OK would do well to consider the following comments made by Vladimir Putin in a 2019 documentary  on Ukraine (17:00 mark):
I believe that Ukrainians and Russians are virtually one people. Well, in fact, this is one nation… When these lands which are the core of Ukraine were joined to Russia, these were only three regions – Kiev region, north region and south. No one considered himself something other than Russian. Because it was based on what? Religious affiliation. This attitude… everyone was Orthodox and considered themselves Russian. And they did not want to be part of the Catholic world, where they were being dragged by Poland.  
These words not only provide great insight into Putin's aims, they magnify some very important truths:
For one, the idea that Russia has been consecrated and its conversion has already taken place is patently absurd.
Secondly, and most importantly, until the consecration is done as requested, conflict is inevitable and there will be Hell to pay on earth.
Lastly, the scheming Argentinian heretic in Rome, with his staff of diplomatic strategists, is in no way qualified to do it.